Bollywood movies are not the prime example of an industry known for its strong female characters. In fact, they are often criticized – especially South Indian movies – for the lack of female characters with substance.
While one has to agree that Bollywood movies need to do a lot more on this front, we can't forget the amazing characters we have seen from these movies so far.
1. Aruvi from Aruvi (Stream)
Aruvi is the personification of female rage, a character that symbolizes how a woman could be as gentle as a stream, but could easily turn into a destructive force of nature too. She is an everyday woman whose life is changed when she is diagnosed with AIDS. Her story sheds light on the hypocrisy of the patriarchy, the ignorance and lack of humanity in the conservative South Asian society, and the power of women.
2. Tara from Oh Kadhal Kanmani (Oh love, apple of my eye)
The character of Tara steals the show in this beautifully-modern, realistic, classy and cute love story between two ambitious individuals who won't put their career on stake for a relationship.
Tara is uncompromising, confident, bold and someone you'll easily fall in love with. The best part is that she could easily be the girl who lives next door, and there's a beautiful realism about her that makes her story so meaningful and close to your heart.
3. Nirupama from How Old Are You?
Nirupama is an ordinary woman – a wife and mother with a routine and unexciting life. Her story is a reflection of the average life of middle-aged women in India.
At 36 years old, she wonders whether she has passed her prime, the age where she can do something new, follow her dreams, and become someone special. As she finds the answer to the question, that it's never late for a woman to follow her dreams, she inspires all of us with her uplifting story.
4. Ponni from Iraivi (Goddess)
Iraivi is a movie full of brilliant female characters, each portraying women who exist in a man's world. Ponni's story is undoubtedly the most beautiful – the moving tale of a young bride whose illusions of marriage shatters gradually.
However, Ponni doesn't mope or let her husband walk all over her, transforming into a woman of quiet strength and resolve, and we know for sure that she will bring up her daughter as another strong female.
5. Laila from Margarita with a Straw
Laila's story will make you laugh, cry, feel, and break your heart. It's the story of a girl with cerebral palsy, who doesn't let her disability define her.
We follow Laila as she travels from India to New York, experiences a whole new side of life, finds love, explores her sexuality, deals with heartbreak and struggles to break the news of her bisexuality to her mother. There are times you'll even dislike Laila, but that's what makes her character so human and real.
6. Tessa from 22 Female Kottayam
Life seems great for Tessa as her career is off to the right start, and her love life is wonderful. But it all comes crashing down when Tessa is raped, framed and betrayed by the very man she loved and trusted.
22 Female Kottayam is all about an angry female and the lengths she goes for her revenge. Tessa becomes the embodiment of femme fatale, and she's ruthless in her journey for justice, keeping you rooting for her and her cause.
7. Subbu from Aaranya Kaandam (Anima and Persona)
Never underestimate a woman – this should be the moral of this movie. In a gangster flick full of violence and tense moments, a character like Subbu – the innocent mistress of an aged gangster – could've been completely overlooked but the seemingly hapless female ultimately becomes the game-changer.
A character who at first induces pity for her situation, then affection towards her innocence, will leave you stunned at the end.
8. Geet from Jab We Met (When We Met)
Geet's iconic dialogue, "Mein apni favorite hoon" (I am my favorite person), defines her as a character. She is talkative, happy, optimistic, unapologetic, adventurous and so full of life.
And even after 12 years, she's still one of the favorites of Bollywood rom-com heroines. She teaches us that it's okay to be self-obsessed, urges us to take risks, encourages us to talk our hearts out and inspires us to always do things that will make us – not the world – happy.
9. Sivagami from Bahubali (One with strong arms)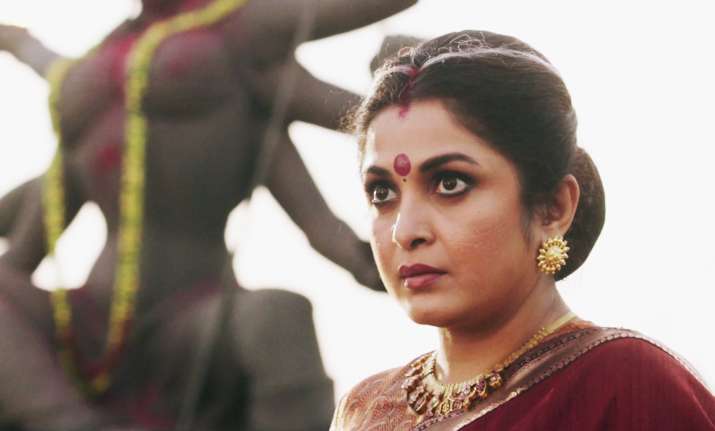 The foster mother of the titular character, Sivagami is a fearless, brave yet vulnerable woman of gray shades. She rules a vast kingdom with ease despite being surrounded by deceit and evil.
The scene where she sits on the throne with so much arrogance, just after killing a traitor – with his blood still splattered on her face – while breastfeeding both her kids, her eyes daring anyone to cross her, gives me goosebumps every time.
10. Roja from Roja (Rose)
Roja is a simple village girl who is married off to a man – an absolute stranger – in the city. Everything about her married life is a revelation, and just as she slowly falls for her husband, he is kidnapped and she is stranded in an unknown city.
The way she struggles to get her husband back, in an alien location, negotiating in a language she doesn't speak with no resources whatsoever, only backed by determination is simply inspiring to watch.
11. Sandhya from Dum Laga Ke Haisha (Give in All Your Energy)
This underrated love story is full of heart, and Sandhya is a character with so much strength and optimism. Plus-sized and comfortable with it, she tries to live with a mistreating husband who doesn't believe he's attracted to her.
Then she leaves him, not tolerating his nonsense. And even as she gives him a second chance, she makes sure it's on her own terms, and the best part is that she doesn't try to become someone else to get love.
12. Devi from Masaan (Crematorium)
Blackmailed by a police officer when she's caught having sex with her boyfriend, Devi doesn't crumble under the pressure, rather remains firm on the fact that there's no shame in her actions.
She is a woman of steel, and throughout the movie, her stiff spine and unapologetic gaze serve as a slap in the face to the patriarchy that tries to victimize her.
13. Shilpa from Super Deluxe
This is a controversial pick as Shilpa is a trans woman played by a male actor. However, she is also probably the first trans-leading character in a mainstream Tamil movie.
Shilpa is flawed and selfish, but she rises through all the insults, humiliation and prejudice she faces through the immense love she has for her son, and it is truly inspiring. Super Deluxe also features three more unconventional and strong female characters who all deserve a nod too.
These characters all have different stories, with totally different lives, yet all of them stand out because of the way they look at life, and the impact they leave on an audience. As we celebrate these characters, it's important to remember that we still have a long way to go, especially in terms of intersectional female characters who belong to different minorities, as well as the casting of the right actors to bring in more authenticity to their portrayals.