Hashtag game: #Petrafied, #PreTweetMode, #EsteBunInTheOven, #EsteBarf, #UrineTrouble.
Highlights: "Not that funny, Jane", a ten-second laughing-for-no-reason scene, World Greatest Griller, Amnesiac Michael, Faith M. Whiskers III, food-coded secret language, "a murderous, powdered-donut-eating criminal".
To paraphrase the Latin Love Narrator, let's continue where we left off: the last episode of Jane The Virgin season two gave us watchers a pretty speculative cliffhanger (re: the beautiful wedding followed by a harmful encounter). When will Jane finally have sex? Is Michael gonna be dead or maybe in a coma? What happens to Petra later? Does Xiomara's relationship with Rogelio change after Esteban scandal? Well…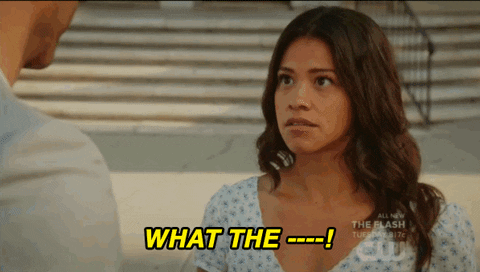 I couldn't feel more oddly bookish when watching Jane The Virgin, especially this new episode, aka Chapter 45, where most of the sequences of event are told in a book-flipping style (also there's a scene in this episode where the 'book' is dog-eared!). Michael's injury drove the narrative of Chapter 45, placing other people with its consequences: Jane and Michael's mother rather unpleasant meeting and some arguing (turned out they have the same habit of keeping a list of questions), Petra's luck, and another investigation at The Marbella.
It also brought up Jane's stories – and imagination as well – both from the past and future. Finding out the fact that Jane had been in a love triangle before #TeamMichael versus #TeamRafael period is arguably more surprising than knowing about her enjoying the spoiler paradox – despite not expending any ending but the happily-ever-after one. If I were Jane, I, too, would dare myself to explore polyamory because choosing either a gullible detective (with whom I kissed like magic) or a bespectacled bibliophile (with whom I've been in love for two years seventeen months) might romantically frustrate me.
On second thought, still on If I Were Jane game, I would choose Michael (as if this episode didn't almost entirely revolve around him). Who else would bring me soup and yell "Keep your head inside the vehicle!" to the guy I was going out with, that he pulled over? Jeez, calm down my dear Power-Abusing Michael. Just don't call me – okay, don't call Jane – a jackass in a parking lot.
Other thing to keep in mind: anyone, please take texting and dating advice from your mother if she happens to be Xiomara.
Alas, the amount of hilarious spontaneity is comparable to the intense exhibit of emotions. The hospital where Michael had his surgery came in the color blue, sort of amplifying the fleeting melancholy of hoping while in shock. "Abuela" Alba with her rosary and prayers, Jane's sudden burst, doctor's sympathetic expression, Michael's police colleagues lining up in the waiting room, Rogelio's cautious behavior in preventing anyone non-stars to capture his presence until somewhat he got handcuffed for it. This indeed is a story about faith.
Not only Jane Gloriana Villanueva is a very organized person but also, judging from her detailed family plan, a visionary wife and mother. I was amused when she chronologically explained how she wanted a future with Michael; three kids, big backyard feast, front porch talk. I got to say I love witnessing both of them growing old together but mostly it was because I want to see more of Gina Rodriguez and Brett Dier covered in thick makeup acting as old couples. Furthermore, my amusement came to its peak when the "this is the story about faith" quote actually contains double entendre. Come on, guys.
On the other hand, Anezka playing Petra did a good job in her improvisation… and a sister-to-sister injection. I still recall her asking the police whether Rafael looked happy when he confirmed her alibi (re: one-off sex from the other night) and lowkey wanting her feeling towards Rafael validated. While Rafael himself was quite impressive in remembering about Sin Rostro's favorite snack to help police investigate the Michael-shooting case, quite sadly after all that he hasn't figured out if Petra is now literally a different person.
Out of my faith I believe he was almost there when he told 'Petra' earlier that their relationship (read: one-off sex from the other night!) felt different and what they had was no longer there thus he wanted them to remain just friends. Poor baby daddy, please try harder next time. (PS: double entendre never intended.)