Tuesday was a monumental day for queer representation in statehouses and congress. Early on in the night, Sarah McBride made history by becoming the first openly transgender state senator. The same day saw the first two openly gay, black congressmen elected to the house, Ritchie Torres and Mondaire Jones. With historical events like this, it's crucial that we take a moment to understand the importance of these elections.
McBride has just become the highest-ranking transgender official in the United States. Previously the highest-ranking openly transgender official was Danica Roem, who became the first out state congresswoman in 2018.
So, who is Sarah McBride?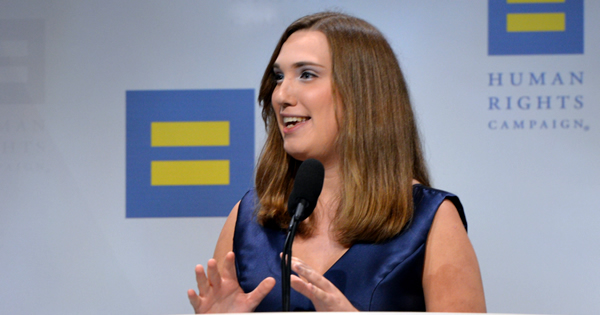 McBride is a Delaware native who has always been interested in helping people through policies and politics. She worked for multiple election campaigns and was elected student body president of her alma mater, American University. Sarah McBride is used to making history. During her time as student body president at AU she made national news when during her last week in office, she came out as transgender. This made her the first openly transgender student body president at the university.
After college McBride proceeded to serve on the board of Equality in Delaware, where she is credited with getting a bill passed which prevented discrimination based on gender identity in employment, housing, and public accommodations. But, McBride wasn't done achieving firsts for trans women.
In 2016 McBride became the first openly transgender woman to speak at the DNC. She endorsed Hillary Clinton's presidential nomination and spoke about the importance of policies which support and protect trans folks.
As she was campaigning to be elected to the Delaware statehouse she partnered with the Human Rights Campaign as their National Press Secretary.
Why this matters to queer folks
Throughout her entire career, McBride has worked tirelessly to create spaces for queer individuals in the world. After it was announced that she won her congressional seat, McBride sent out a tweet specifically for young LGBTQ people.
McBride's win is impacting queer students at her alma mater, too. American University senior Sarah Ross (they/she) felt hopeful about what this means for queer voices. Ross said, "I think Sarah McBride's win will mean she is able to bring conversations to the table that have been relying on the words of queer allies and the few queer people in Congress. Hopefully, her win will enable her to strengthen the fight for legislation supporting queer people and enabling them lives free from harm and discrimination – at least at a legal level."
Many queer and trans activists feel similarly, with praise erupting on Twitter and Instagram seconds after her win was announced.
Getting in the room
Representation is crucial, but specifically in politics. You need people in the room who have first-hand experiences to push policy in progressive directions. With issues such as the trans panic defense and bans for transgender folks in the military, it's crucial to have individuals with lived experiences be given a voice in the inception of these policies.
Sarah Ross also spoke on the issue of inclusion, "Seeing queer representation is important to me because I think queer and trans people will not give up on queer issues. I think queerphobic and transphobic Congress members know this and will try to invalidate queer Congress members' actions, but once they are in Congress they have the ability and right to push legislation as they see fit. I would like to say I trust queer Congresspeople to fight for what is right, and I hope they prove me right."
Straight representatives are able to sympathize with queer issues, but they do not know what it's like to live them. LGBTQ+ senators, congressmen, neighborhood committee members, and school board members have lived the issues that impact their community. They understand how policies affect people's lives because they've had to live through good and bad policies.
Without spending a day in the statehouse Sarah McBride has already made history. Her impact on the transgender community in Delaware cannot be understated, and many in the community are hoping to see her make a mark on politics.
Get The Tempest in your inbox. Read more exclusives like this in our weekly newsletter!