This time last year, we all were celebrating Pride month through a computer screen. While the sense of community was stronger than ever through this shared experience, there's nothing like celebrating LGBTQ+ pride the way it's supposed to be: loud, proud, and in person. 
People have been celebrating pride month since the late 60s when it originally commemorated the Stonewall Riots. The Stonewall Inn was a gay bar in Greenwich Village, Manhattan when police raided it on June 28, 1969. Patrons and employees alike were violently hauled out and arrested (because of bootlegged alcohol and relations to the Genovese crime family). The violence caused people to hurl bottles, pennies, and other objects they found in the street at police, and within moments a full-blown riot had erupted. The fire department had to come and douse the flames that started to engulf the bar (where people were trapped inside), but when the crowd was dispersed, the violence did not end. 
For five full days, members of the LGBTQ+ community rioted, since the Stonewall raid had not been the first time they were targeted by police and other people who discriminated against gay people. In short, the Stonewall riots symbolized a boiling point for a fed-up community, and the legacy of this rebellion is what introduced gay rights as a human rights issue into mainstream conversation. On the one-year anniversary of the Stonewall Riots in 1970, the first gay pride parade blazed through Manhattan. The iconic mantra of the movement was chanted through the streets: "Say it loud, gay is proud". 
But where there are large crowds (and the first crowds are sure to be wild after a year of lockdowns), there are some basic do's and don'ts to stay safe and ensure that you and your friends make the most out of this year's pride month. 
Do:
1. Keep your valuables close.
Always know where your stuff is to avoid them getting lost or stolen.
2. Say something if you see something.
If something is going on that makes you feel uncomfortable, make sure you report it to the nearest authority. 
3. Sign up for emergency texts.
In case there is anything going on in your city that you should know about, such as areas to avoid (you can find out the number for these emergency texts from the website of your city's police department, such as San Francisco's). 
4. Wear a specific color or similar clothes in your group.
This can be an efficient way of staying with your friends and avoid getting separated from them. There is going to be a rainbow (literally) of colors in these crowds, so choose wisely. 
5. Bring water to stay hydrated and remember to wear sunscreen!
Pride is celebrated throughout the entire month of June, so it's going to be hot and sunny! 
6. Practice safe sex.
Embracing sexuality is at the heart of pride month's message, but so is doing it safely and responsibly (this includes birth control and clear consent).
7. Bring hand sanitizer or wipes.
This is important, even if we weren't living in a post-COVID world. With port-a-potties in use and bathrooms with sinks not accessible during parades and parties, it's important to keep germs away so you don't get sick, especially if you'll be eating. 
8. Wear closed sneakers, both for comfort and hygiene.
You'll be on your feet all day, especially if you plan on marching in parades. Choose comfort over fashion; in addition to blisters from open-toed shoes, walking through cities is a sure way to come home with blackened feet. 
9. Know when it's time to stop drinking, especially if you are in a new city.
This is both for safety and for fun; you don't want to be so hungover the next day that you don't remember all the pride-themed fun you had the night before! 
10. Pick a place to meet up with your friends.
This is important because people might not be able to check their phones or charge them, so designating a specific, memorable location to meet in case anyone gets separated is a good idea. 
Don't:
1. Accept drinks or food from strangers.
Even if the item is closed and sealed, don't take anything from someone you don't know. It's always better to err on the side of caution.
2. Hang out with strangers.
Stay with the people you know. You will prevent yourself from being in an uncomfortable situation or getting lost. 
3. Intervene if you see someone getting harassed.
Instead, call attention to yourself so people see what's going on and the attacker gets distracted. This is the easiest way to stop the situation, as well as to get the police involved if there's no time to dial 9-1-1. 
4. Rely on your phone as means of communication.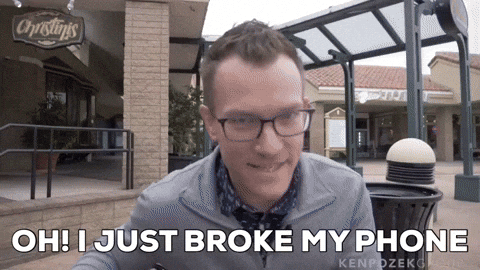 With all the fun you'll be having, you can easily lose track of when you have to charge it, or it can be pickpocketed, lost, or stolen. 
5. Forget to tell your friends where you are going.
While you should stay with your group at all times if for any reason you need to return to your house, car, or hotel, tell them where you're going and ideally, take someone with you. 
6. Bring mostly cash.
People get pickpocketed all the time, especially in major cities where the crowds are the loudest and people are having too much fun.
7. On that note, don't put all your valuables in one bag.
Bags are always in lost and found crates, so remember to hold the important stuff in different places.
8. Forget toilet paper.
Because there is nothing worse than realizing a well-used port-a-potty is the only bathroom in sight and discovering that there's no more toilet paper. 
9. Don't forget to be aware of your surroundings.
No matter how much fun you are having, it's important to stay aware of what's going on around you. 
Celebrating pride is meant to be fun, so despite maintaining caution, don't forget to have a good time. Hey, you made it through 2020, you deserve this! 
Get The Tempest in your inbox. Read more exclusives like this in our weekly newsletter!
https://wp.me/p7kpad-KxI