It's that time of year again. The weather is getting hotter, the days are getting longer, and everyone is on the hunt for the best sunscreen they can find. And if you're like me, with a darker skin tone, then it's a bit harder for you to find the perfect sunscreen. But fear not fellow humans with higher levels of melanin! I have put together the ultimate list of POC-safe sunscreens that won't leave any ugly white cast on your beautiful face.
But before we get into the list, let's talk about the different types of sunscreen available. Most sunscreens are one of two types, chemical sunscreen or physical sunscreen. 
Physical sunscreens are the type that most people use.  They are made using mineral ingredients, like titanium dioxide or zinc oxide, which sit on top of the skin to deflect damaging UV rays away from the skin. This means the sunscreen works fast, you're protected as soon as you put it on, and it offers protection against UVA and UVB rays. But all of this comes at the cost of feeling heavy on the skin, which leads to more frequent reapplication, and sometimes white casts of skin. 
Chemical sunscreens contain compounds that set off a reaction that turns UV rays into heat and releases that heat from the skin. They happen to be thinner, and you don't need to apply too much. However, they aren't always the best for sensitive skin. There's controversy about the safety of chemical sunscreen ingredients, primarily due to a lack of research. Nevertheless, many fans of Asian skincare will recommend chemical sunscreens, as new, safer formulations are constantly being released. 
Now that we're aware of the two types of sunscreen, let's dive into the list.
Neutrogena is a hit-or-miss brand, but this sunscreen falls squarely into the hit category. It's a lightweight chemical sunscreen that leaves no trace of a white cast. It also has an SPF 30 or SPF 50 option, which is always nice. It doesn't apply clear, but it will dry down clear, I promise. On the other hand, I wouldn't recommend it for wear under heavy makeup and if your skin is sensitive to fragrances.
Get it here.
Biore is a staple of Asian skincare recommendations and my favorite sunscreen. This sunscreen is unique because it dries down to a natural matte finish and helps control some of my oils throughout the day. It's lightweight like most chemical sunscreens and blends well with other products. With an SPF of 50, you couldn't ask for much more in terms of coverage. This one applies clear and remains clear when it dries.
Get it here.
It might be an odd choice for some,  but if you need something with very high SPF, then this is it. Neutrogena Ultra Sheer Dry Touch Suncreen goes up to SPF 110, which sounds insane, but if you travel a lot, that might be precisely why you'd choose this. It's not enough to replace a moisturizer or anything, but it dries down to a soft matte finish. I found it felt a bit too heavy for my liking, but it didn't melt or rub off at all. This one applies white but blends in to the skin easily.
Get it here.
You don't get more black girl-friendly than this one, it was literally made for people with darker skin tones, and it does its job well. Black Girl Sunscreen applies completely clear and dries down to give the skin a pretty glow without being greasy. It just might just be heaven-sent. It offers SPF 30, which is the minimum recommended SPF, so prepare to reapply a bit more frequently. Another perk is the fact that it's fragrance-free. 
Get it here.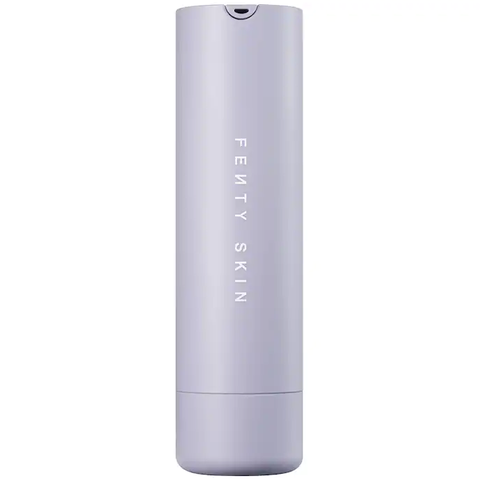 This moisturizer includes chemical sunscreen ingredients to help save a step in your skincare routine. It works well on dark and hyperpigmented skin and feels as good as any regular sunscreen. It also has the bonus of being cruelty-free, vegan, gluten-free, and non-comedogenic. Rihanna outdid herself with the concept for this one.
Get it here.
I'm sure many people have heard of Supergoop and their extensive array of sunscreens. Most of the options are great, but the Unseen Sunscreen is on another level. It is a chemical sunscreen that applies clear and dries down to a finish that leaves a naturally blurred effect on your skin. It's light, moisturizing, and works well with all skin types. It's an excellent all-around option, and if you're an active makeup wearer, then it can double as a primer as well.
Get it here.
It might seem odd to have an SPF of 46, but that's forgivable because this is one of the few physical sunscreens that really does work. There's no white cast once it dries down, no flashback in photos, and it's lightweight, which makes it easy to use under makeup. This is an excellent option for people who might be sensitive to chemical sunscreens. 
Get it here.
Here's another Korean cult favorite and I've found several reviews screaming to the high heavens about how well it works. Now bear in mind, it does leave a cast, but it is a very mild cast that fades after a little while. Most reviewers advise that you work in thin layers to make blending manageable. It's good for the price and can work for most skin types as well.
Get it here.
This is well-loved and raved about in many circles. As a chemical sunscreen, it's light and leaves no cast at all. It's very basic and not greasy, which makes it pretty good for all skin types. It can be difficult under makeup, though, and the size is tiny for the prize. If nothing else is working for you on this list, maybe give it a shot to see how it goes. 
Get it here.
At the end of the day, I hope you found this list useful. I also advise you to check out multiple reviews for a product you feel might fit your needs, and always read the ingredients. Good luck with your sunscreen hunt!
Get The Tempest in your inbox. Read more exclusives like this in our weekly newsletter!
https://thetempest.co/?p=178255