BTS, without a shadow of a doubt, has been the most impactful and culturally significant group in the global music industry as of late.
They've continued to redefine what it means to be a widely popular boy-band. They've broken so many cultural, racial, and geographical boundaries, stereotypes, and world records over the last few years to prove that they deserve the place they've made for themselves – at the top of global musical charts.
However, owing to the fact that they are Korean and sing almost exclusively in their language, their journey has been anything but easy for them, since they became popular in the West. They've been overlooked, underestimated, and subjected to racism and derogation. People outright refused to listen to their music or to look up translations of their lyrics, not caring about what they have to say through their art.
Yet, these same people have the nerve to generalize their entire fanbase as "mindless 12-year-olds who don't have a life." Not bothering to care why so many people of all ages, professions, races, and ethnicities have been enraptured by BTS' music. It's a crude, racist way of putting down a fanbase for a boy-band that's become a global phenomenon.
Racism and racial micro-aggression are still something BTS faces even today, despite their countless and growing achievements.
With the horrific rise of anti-Asian hate crimes and violence in the United States, BTS recently took to their Twitter to lend their support to the #StopAsianHate and #StopAAPIHate campaigns. For the first time, BTS directly addressed the racist experiences they've had to face as Asians.
#StopAsianHate#StopAAPIHate pic.twitter.com/mOmttkOpOt

— 방탄소년단 (@BTS_twt) March 30, 2021
"We feel grief and anger," their statement reads. "We recall moments where we faced discrimination as Asians. We have endured expletives without reason and were mocked for the way we look. We were even asked why Asians spoke in English. We cannot put into words the pain of becoming subject of hatred and violence for such a reason."
They further add that while their experiences are "inconsequential compared to the events that have occurred over the past few weeks, they were enough to make us feel powerless and chip away at our self-esteem."
BTS normally does not address any such experiences directly, choosing to focus on spreading positivity and happiness through their social media and live videos. So for them to outrightly speak up about the hurt and abuse they've faced being Asian is heartbreaking to see.
"What is happening right now cannot be dissociated from our identity as Asians," the statement continues, adding that it took them a lot of time to discuss how to best put this message across. They ended their statement with the same words they used in the one in support of Black Lives Matter last year, with many fans commending it as a way to show how everyone is equal to them.
"We stand against racial discrimination.
We condemn violence.
You, I and we all have the right to be respected. We will stand together."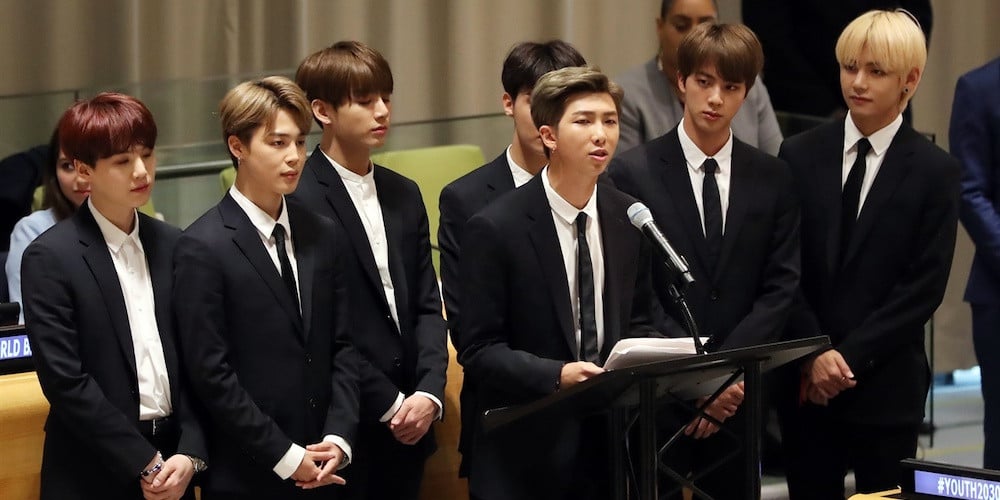 People all over social media, regardless of whether they are fans or not, are both thanking BTS for raising awareness for the social issue and campaign while also being simultaneously heartbroken that the band is still subject to such abuse and disrespect despite their obvious significance in the global music industry. Translators have even pointed out that the Korean text of their speech states that they've faced hatred and abuse even as they walked down the street.
Even after the statement was released, several people decided it's okay to invalidate their trauma because of their success and wealth.
Even after the statement was released, several people decided it's okay to invalidate their trauma by actually equating them to white people because of their success and wealth. As if their celebrity status is reason enough to strip them of their humanity.
After their unfair snub at the GRAMMYs earlier this month, the trading card brand Topps created a Garbage Pail Kids caricature depicting BTS being "bruised" and beaten up with a GRAMMY award. Not only was it heavily criticized for its blatant disrespect, but it was made during a time when anti-Asian violence was heavily on the rise. They've since then removed the caricature off their shelves.
In February, a German radio host came under fire for verbally insulting BTS on-air, comparing them to COVID-19 and saying he hopes there will be a vaccine against them. He refused to apologize for his insults, saying that he was entitled to "freedom of expressing his opinion." However, it is said he hasn't been hosting his show for over a month.
BTS themselves have been repeatedly asked so many questions about if they will collaborate with Western artists, or if they will release songs or albums in English; way before they released their record-breaking single "Dynamite." While the song deserves the recognition and love that it's receiving, there's no doubt that the Western industry only paid them attention because of the song's all-English lyrics.
While their agency, HYBE (formerly BigHit Entertainment), has threatened legal action against those who have made malicious comments, BTS' statement has gone to show that no matter how big an impact you've made in the world, you will always be belittled and subjected to racism if you aren't white.
However, the #StopAsianHate and #StopAAPIHate will always be inclusive to any Asian (East Asian, South Asian, Southeast Asian, etc.) on the receiving end of hatred and abuse, and that includes BTS and any other Asian celebrity. There will always be people who thrive on spreading hate, but we will always stand by our Asian brothers and sisters.
If you want to do your bit, step up to defend them if you see them being assaulted, speak up about it using the hashtags and donate to this GoFundMe page.
Get The Tempest in your inbox. Read more exclusives like this in our weekly newsletter!