For stories of Black history and excellence, check out our Black History Month series. Celebrate with us by sharing your favorite articles on social media and uplifting the stories, lives, and work of Black people.
Let's start with an exercise. When you think of jazz, what females pop into your head? Billie Holiday? Ella Fitzgerald? Me too, and you are absolutely right. These women are icons, but they had to fight, and women are still fighting to challenge the systematic sexism that is rooted in jazz. Let's start in the 1800s. Yes, all the way back to the 1800s. Women were expected to be in the kitchen and were not supported on stage. Because jazz is full of instruments such as the tuba or saxophone, women were discouraged from being interested in jazz, due to the fact that instruments that required them to exert facial energy, and were not feminine enough for women to even show an interest in, apparently.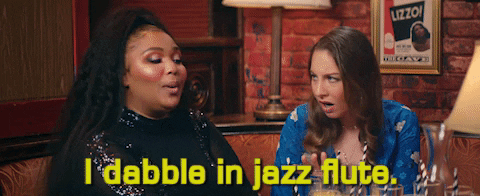 Jazz has been a musical genre commended for its historical fights against social issues, especially pertaining to racism as the majority of jazz is done by African American men. However, this is no excuse for the sexism that has laid down its roots to sew in the world of jazz. When women were first introduced to jazz, they walked into a world of restriction. They were allowed to sing and possibly play piano, but that was only in private, and they were solely used as a pretty face to sell tickets to come to the "real show," the male jazz musicians who could do anything on the tuba or saxophone.
The barriers that women had to face were absolutely unmatched. One pertinent example is Ella Fitzgerald. Yes, we acknowledge her now, but can you name any famous jazz pianists or instrumentalists? Probably not. Ella Fitzgerald had to fight through a male dominated music genre to even be noticed for her voice, which was seen as the most feminine thing a woman could do in jazz to any degree. For example, Neil Armstrong's wife was an excellent jazz pianist but was never once appreciated for her work. She has gained little recognition to this day, and if it weren't for the modern women in jazz today, we probably still never had heard about her. 
Marilyn Monroe and Ella Fitzgerald's beautiful but unlikely relationship took the jazz world and its inherent sexism and racism by storm. Not only was Ella Fitzgerald facing sexism in jazz, but she was also facing racism from venues, which is where Marilyn Monrone came in. Many jazz club owners rejected the idea of having Ella Fitzgerald at their club due to her "lack of glamour," her gender, her race, the list goes on. Marilyn Monroe, being an international sex symbol at this point in time, used this to leverage Ella Fitzgerald's career, refusing to go anywhere if she couldn't bring Ella Fitzgerald, and further, explaining that she would bring attention to anywhere that she went, but would only go to the club if they would let Ella Fitzgerald play. We love a good women-supporting-women moment, don't we?
We still have a long way to go for women in jazz. The jazz world has recently been having their own #MeToo moment, with women citing the abuse that they deal with on a day-to-day basis in their careers. Women in the jazz program at the Berklee College of Music cite specific instances when they still, in the last few years, perform for a panel of men who comment on her appearance rather than her performance. Come on, it's 2020, we are better than this. Ella Fitzgerald is looking down on us with the rest of the women who have paved the way for many women behind them, telling us to keep fighting.
https://wp.me/p7kpad-GVn