I often find myself second-guessing my life choices, but I'm proud to say my shoe game is on point. I have Sex and the City's Carrie Bradshaw and her shoe collection to thank for that. She is my style inspiration and will continue to be.
Soon to grace our screens again, Bradshaw will undoubtedly keep giving us the style tips SATC fans live for. HBO Max has confirmed a revival of the beloved hit show titled And Just Like That. The reboot will feature original cast members Sarah Jessica Parker, Kristin Davis, and Cynthia Nixon, but not Kim Cattrall.
Even though I might not be as obsessed with collecting shoes as Carrie, I have to accept the similarities between myself and the journalist. There are times when I just want to lock myself in a room and get to writing, all while wearing a pair of Manolo Blahnik heels.
On this note, I've rounded up a list of some of her most spectacular shoe looks for all us shoe-junkies.
There is no mountain you cannot climb and no war you cannot conquer when you wear these white pointy pumps. Bradshaw paired these up with a navy pinstripe suit, but you can wear them however you please.
What is the way to mine and Carrie's heart? A pair of emerald studded Hangisi pumps. Mr. Big knew exactly what Carrie wanted, and proposed to her with these gorgeous pumps. Rings are so mainstream.
When it came to rocking a pair of boots, Bradshaw made it clear: there is nothing she cannot wear.
There is nothing a pair of rosy snakeskin high-boots cannot fix! Bradshaw paired them up with furry outerwear. Ensure you only purchase faux snakeskin and fur – animals should not be harmed in any way for you to look stylish!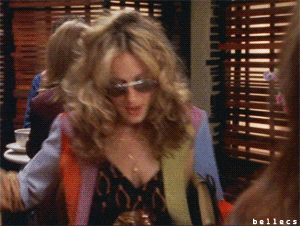 This pair she wore after her booty call with Mr. Big. Considering everything wrong with their fluctuating relationship, these boots made up for some of it (I guess).
If you want to stand out at a party, these are your saviors! Bradshaw donned these with a short dress, and oh boy, she was dazzling!
Want to know how to put life into a dull outfit? Just wear a pink pointy-toe like Bradshaw and you are good to go!
This winter, why not grab a pair of two-tone ankle boots to up your style game? Take note from Bradshaw when she walked the streets of NYC wearing these.
What is better than a two-tone ankle boot? A two-tone pair of heeled pumps.
You can't deny that Bradshaw looked stunning when she wore a pair of slingbacks with her everyday outfits.
Speaking of casual looks, pumps are your go-to like they were for Bradshaw.
I am still in awe of Bradshaw's discovery of Manolo Blahnik Campari Mary Jane pumps during her visit to the Vogue fashion closet. That's a discovery I would be proud of too.
Sneakers don't always mean casual. Dress them up with a stylish outfit and matching accessories.
Bradshaw's unconventional sense of style (with shoes, mostly) was pretty evident, especially when she wore snow boots over jeans with a white flowy top.
I am all for kitten heels. Truth be told, as much I would like to, I cannot walk straight in high-heels. If you are clumsy like me, then it's kitten heels to the rescue.
Episode after episode, I kept note of the shoes Bradshaw was wearing – an amazing collection that I will never own. She's the goddess of shoes and I cannot wait to see her return to the small screen where we'll see Bradshaw styled in more glamorous footwear!
Get The Tempest in your inbox. Read more exclusives like this in our weekly newsletter!