If you were like me and spent the holidays bingeing the much-anticipated Netflix show Bridgerton as a means to cope with all of the madness that 2020 brought us – you would be very pleased to discover that the Shonda Rimes-produced show gave us a refreshing, beautiful and sexy view of Regency-era London. This resulted in the show breaking Netflix records, having been watched by 63 million people worldwide since its release on the platform. The overnight success resulted in Netflix announcing that they've renewed the show for a second season. 
Now, I have a couple of problems with the way modern cinema romanticizes historical era events and the way they casually brush over things like imperialism, colonialism and racism, all in the name of being authentic. But Bridgerton gave me much to think about over the Christmas break as I watched eight episodes over the span of two days.
To catch up readers on what the show is about – Bridgerton is a television adaptation of the Julia Quinn romance novels of the same name, a Regency-era saga that follows the love lives of the eight Bridgerton siblings, a wealthy high-society family living in England. Think balls, coy glances, ladies indulging in snark over feathers and lot of bodice-ripping.
The show follows Daphne Bridgerton (Phoebe Dvynevor), the eldest Bridgerton daughter who makes her debut in high society and is one the lookout for the "perfect match". After being crowned the season's most promising bachelorette, Daphne sort of falls flat because of her well-meaning but hot-headed older brother's meddling in marriage prospects, the very broody Anthony Bridgerton (Jonathan Bailey).
Daphne's marriage prospects become the whole town's business because of a newsletter published by omnipresent Lady Whistledown (a Regency-era Gossip Girl voiced by Julie Andrews). Things begin to look up for her when she crosses paths with the rakish Duke of Hastings (Rege Jean-Page), and they hatch a scheme that has everyone who ever grew up reading fanfiction and a love for story tropes squealing for their dear lives.
I can't tell you how much I enjoyed Bridgerton, mostly because I was obsessed with how the show portrayed its rich story – from the way characters were crafted (all the female characters had much to do and were active players), diversity (I have never been so happy to see a cast which represents how the current world looks like), the exquisitely crafted costumes, the music (I am currently obsessed with the show's classical music renditions of pop songs), lush sets and of course, the blatant appreciation for female sexuality and the female gaze.
Now the show is not perfect like most art isn't and there have been a lot of critical pieces that debate whether adding people of color to the cast does anything to erase slavery, and also the very problematic sexual encounter between the two leads which doesn't really get addressed. Let's just say that if the roles had been reversed, people would have immediately recognized it as rape.
But I enjoyed the way the show was very sex-positive and how they showed a young woman with feminist leanings coming of age and discovering her place in the world in a time where women didn't have much of a choice.
I loved how they presented Daphne's reasons for wanting marriage and showcased the other women in her life and around her – Eloise (her younger sister) who can think of better things to do than marriage, Lady Featherington (sort of the show's anti-hero) who competes with the Bridgertons, Daphne's mother Violet (who only wants her to marry for love) and Lady Danbury (a widowed noblewoman who I low-key wish was my life coach).
There are layers and interesting subplots. There's also a slight alluding to why Bridgerton has people of color in the show but it doesn't really explain much. I wish they had commented on the race aspect because it felt like a missed opportunity there. I also have to disclose that I personally will not object to Rege Jean-Page posing in a sexy calendar spread for charity, I mean – have you seen the GIFS of his chest?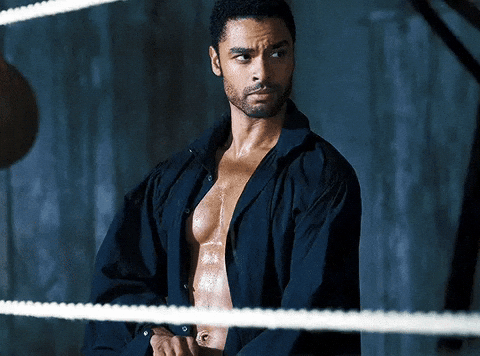 Whew. 
All in all, what made the show stand out was the amount of care that the cast and its characters were treated with. Phoebe Dynevor gave numerous interviews and spoke about how there was a big effort from the production's team at Shondaland to make sure that the actors were comfortable filming the intimate scenes. She even shared that having an intimacy coordinator on set who approached the sex scenes similar to fight scenes choreography and a collaborative scene partner, made everything much smoother.
It is worth noting that the way all the women and sex scenes are framed very tastefully, you never feel like the gaze on the characters are exploitative and when the lead actress is naked – there's no unnecessary zoom-ins on breasts and such, which would sadly be the norm in historical shows like Game of Thrones which position themselves as female-led because of having a female lead. I also enjoyed how the show framed the men, especially as objects of desire, in contrast to its women. We saw more women clothed than men, which was a refreshing first.
A most momentous occasion, indeed. 🐝 #Bridgerton pic.twitter.com/HmqA9ric5m

— shondaland tv (@shondaland) January 21, 2021
Maybe it's not your cup of tea but I enjoyed the blatant escapism, the beautiful English countryside and the promise of true love (even if it's done in a manner similar to Indian arranged marriages) especially when it's pictured on a cast that seems more endearing with every interview I read or watch. If you're looking for a well-deserved break from the mundane, you know where to go. And if you can't wait a year to find out what happens next, you have eight books of Bridgerton content!
Get The Tempest in your inbox. Read more exclusives like this in our weekly newsletter!
https://wp.me/p7kpad-HAb