As of Tuesday night, 38 states have put into motion the legalization or decriminalization of marijuana. Tuesday also marked a momentous day for radical decriminalization; Oregon became the first state to fully decriminalize hard drugs such as heroin and cocaine. 
Supporters of legalization and decriminalization have pointed to how these policies could benefit substance use treatments and end the War on Drugs. 
Overdose deaths have risen amid the pandemic, and states are trying new techniques to combat this epidemic. Oregon is spearheading this historic charge for decriminalization.
The Oregonian strategy
Oregon has always been a pioneer for the legalization and decriminalization of substances. In 1973, it became the first state in the union to decriminalize marijuana, later legalizing the substance in 2014. But Oregon is facing some major issues relating to drugs: currently, one in 11 Oregonians live with substance use disorders.
While Oregon has made strong efforts, such as implementing drug courts and safe injection sites, the state still has high rates of overdose deaths. The opioid epidemic has hit the state particularly hard. Each day Oregon sees the death of nearly two residents due to overdoses. To combat an epidemic that is plaguing their community, Oregonians took a page out of Portugal's book.
Portugal decriminalized hard drugs in 2000 and experienced a 20 percent increase in individuals seeking substance abuse treatment over the next decade. What Portugal did not see was an increase in drug use or overdose deaths. This is a trend that Oregon hopes to mimic in the coming years. Oregon's program will give anyone who is caught with an illicit substance the choice to pay a $100 fine or enter a state-subsidized addiction recovery center.
Backers of Oregon's new strategy point to the failure of conventional methods. The co-chief petitioner of the Oregon measure, Janie Gullickson, spoke about the prospect of decriminalization, "This is such a big step in moving to a health-based approach instead of criminal punishment, and we're devoting significant new resources to help Oregonians who need it."
Conventional methods to address drug possession or use have been jail time or probation. But voters in Oregon believe that those methods are not healing the core issues surrounding addiction, and voted for a different path Tuesday night.
State of legalization and decriminalization of marijuana across the U.S.
Arizona, New Jersey, South Dakota, and Montana all voted to legalize marijuana for adult consumption Tuesday night. They join the now 15 states that have legalized marijuana across the country. Some states are not ready to fully legalize the substance but are willing to explore the substance's medical benefits. Additional states such as South Dakota and Mississippi have passed initiatives to permit medical marijuana.
Magic mushrooms
While many surprises arose Tuesday, an issue that unexpectedly seized the night was the legalization and decriminalization of psilocybin or magic mushrooms. This matter flew under the radar before the election but saw major strides with ballot initiatives.
Breaking the mold once again, Oregon became the first state to legalize the personal use of magic mushrooms Tuesday night. Meanwhile, Washington, DC joined the cities of Denver, CO, Oakland, CA, and Santa Cruz, CA in decriminalizing the substance.
Proponents of Decriminalize Nature DC argued for the possible health benefits for the substance, as well as "ending the failed War on Drugs".
Ending the War on Drugs
War is not something foreign to the United States; it's enshrined into the history of the country. But in 1971 the United States declared war on an inanimate object: drugs. As it is generally hard to prosecute a drug, this "war" resulted in the criminalization of mental illness and the imprisonment of people in marginalized communities. 
The hardest hit by the war on drugs are communities of color. While marijuana usage is similar across racial lines, specifically between Black and white teens, Black people are 4 times more likely to be arrested and charged with marijuana possession. This is not a coincidence. The War on Drugs was fabricated by President Nixon to heavily impact minority communities in particular. President Nixon needed to turn the country against protesters, so he used racial bias and the US criminal justice system to do so. 
To rectify the injustices committed by the War on Drugs activists argue for decriminalization. Rev. Alexander Sharp of Clergy from a New Drug Policy said, "What is really going to end the war on drugs is decriminalization." He then plugged the Oregon decriminalization initiative as a blueprint for ending the war on drugs in his interview with the Chicago Reporter.  
Decriminalization would turn drug possession into a single fine or acceptance of substance abuse treatment. This  allows for an increased number of individuals to get treated for substance use disorders, instead of receiving a criminal record. While there is evidence that BIPOC are more likely to be arrested and imprisoned for drugs, some have questioned how decriminalization of all drugs will positively impact minority communities. 
One of the big questions surrounding the magic mushroom debate is its prevalence in minority communities.  Neighborhood advisory commissioner Perry Redd asked about mushroom decriminalization in DC, "How many Black people get arrested for mushrooms?" These numbers, specifically in DC, have not been made available to the public, but some studies have shown a large racial disparity with the drug. Yet, in 2017 data displayed that twice as many white teens have used magic mushrooms than Black teens. This hesitation is further supported by marijuana arrest data in Colorado.
After marijuana became legalized in Colorado, arrest rates of Black teens soared while their white peers went unpunished. The Colorado Department of Public Safety found that arrests of Black teens rose by 58 percent between 2012 and 2014, while arrests of white teens fell 8 percent. Trends like that cannot continue. If they do the only people benefitting from decriminalization and legalization will be communities that were never targeted to begin with.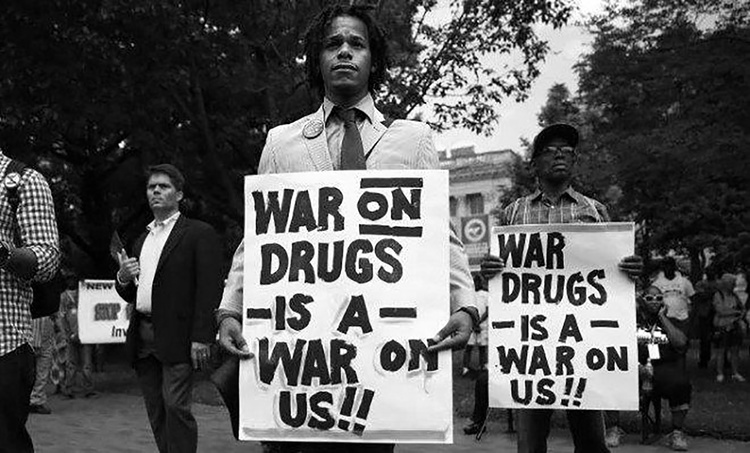 The legal system is not always universally or fairly applied, and drug arrests portray that. A spotlight has been put on the issue of unjust policing in the last year, but racial disparities in arrests have consistently been a problem. The War on Drugs accelerated the deep-rooted issues of injustice and racism in America. It also resulted in mass incarceration and the further criminalization of mental illness. This "war" has plagued America since 1971, with the most recent solution being decriminalization. Oregon has been the first state in the nation to fully enact this plan, and in order for other states to follow, there will need to be noticeable results. In the meantime, activists have to continue to try to rectify the problem and bring awareness to the implications of brutal and discriminatory policing surrounding such substances, as they have for decades. 
Get The Tempest in your inbox. Read more exclusives like this in our weekly newsletter!
https://thetempest.co/?p=159782