I watched Josephine Decker's film Shirley (2020) at the behest of a friend who was preparing to move to Seattle after a lifetime of living in their home state. I've recently left my PhD program as well as my fiancé, and it feels like we're both taking boundless risks in pursuit of the life we truly want to live. They're a filmmaker, I'm a writer, and there's certain reciprocity of understanding that the creative life is all in – and then some.
Shirley is not unlikeable- she is riveting in her uncompromising productivity.
Decker's film Shirley, written by Sarah Gubbins and based on Susan Scarf Merrell's novel of the same name, confirms such a belief. It's a feminist homage to the creative inner life of the titular character Shirley Jackson, best known for her short story "The Lottery" and her novel The Haunting of Hill House.

The film follows newlyweds Rose and Fred who are invited to stay with Shirley and her husband Professor Stanley Hyman as Fred situates himself assisting Stanley at the University. Rose is in the early stages of pregnancy and auditing classes when Stanley implores Rose to take care of the house since Shirley isn't up to it. "How's your rump roast?" he asks before Rose can agree to or decline his invitation. "I love hot food in hot weather."
While Rose is the fresh, young ingénue, Shirley (played by a terrifically acerbic Elisabeth Moss) is briny and bitter. Rose first glimpses her at a house party where Shirley holds court with a group of guests, regaling her audience with anecdotes of writing the most "reviled" short story for The New Yorker.
When one of the men asks what she's writing now she retorts, "It's a little novella called none of your goddamn business." It's evident that Shirley's an alcoholic (she leaves the party early clutching a liquor bottle) and suffers from agoraphobia, and while the Dean's wife dismissively states that "she's gone sick in the head," Rose (and we the audience) know that "no, she's working quite hard."
Decker inserts multiple shots of Shirley writing in her study, surrounded by her books and her typewriter, completely subsumed in her work: nothing or no one else. She's consumed by the novel she's writing which centers around a young woman who has mysteriously disappeared. The woman haunts Shirley, infiltrating her dreams and her reveries.
While there are shots of Shirley's stockings sinking around her ankles or listless in bed, Decker makes clear the ferocity of Shirley's drive and dedication as a writer. "A clean house is evidence of mental inferiority," she quips to her husband early in the film. She may be everything else, but the perfect 1950s housewife she is not.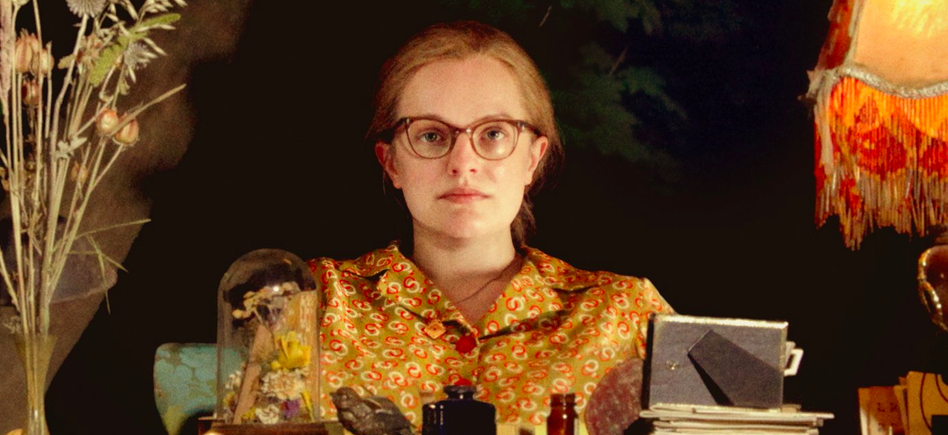 I've often gravitated to women writers who shunned conformity (Sylvia Plath, Edna St. Vincent Millay, Virginia Woolf) and gender expectations. While in my teenage years I might have aggrandized Plath's suicidal depression and, mistakenly, thought that a life of great suffering led to good work, I now know, watching Shirley, that it's not the ceaseless drinking or depressive tendencies that inspire me.
To make art as a woman often comes at the cost of good manners.
What riles me in watching this film (and speaks to this juncture in my life where I am more alone than I have ever been before) is that to make art as a woman often comes at the cost of good manners, of making nice. To write, and to write well, requires copious hours alone. Solitude is not loneliness when you're a writer: it's part of the job description. That kind of dedication isn't always easy for others to sympathize with or to understand. It's a brutal truth that the brass tax of writing happens when you're alone. Of course, company helps with inspiration; but inspiration only gets you so far.
I want to be clear: I didn't leave my ex or my PhD solely because I wanted to devote myself to my creative writing. These decisions were fraught, and complicated, and riddled with contradicting impulses. But wrapped up in both major life-changing decisions was the needling fear that if I wanted to be a writer on my own terms, I needed to make space so that my artistic soul could loosen and expand.
I can never settled for the role of someone's woman.
The glaring disparity between Rose, the dutiful housewife, and Shirley, the ferociously talented writer, affirms my intrinsic belief that I can never, ever, settle for the singular role as someone's woman – but I can keep reaching to be my own kind of writer. To summarize the actress Katherine Hepburn's famous adage, if you always do what you want, at least one person is pleased.
While some may claim Shirley is an unlikeable character, it's a moot point because she's riveting in her uncompromising productivity. When Rose clutches her baby toward the end of the film, you can see her inner life diminishing as she attempts to creatively bond with Shirley in ways that feel increasingly desperate. To experience inspiration is to be inflamed with a plurality of possibilities; Shirley reaffirms the importance of this fire. But beware – it burns.
Get The Tempest in your inbox. Read more exclusives like this in our weekly newsletter!
https://thetempest.co/?p=148711