A recent study in JAMA Dermatology surveyed 3372 women in the U.S. on their pubic hair grooming practices. 83% reported some measure of "grooming" (defined as anywhere from trimming the hair to taking all of it off). 63% said they opted for complete removal at least once. "Grooming" was highest in both the 18-34 group and in white women.
The most common reason women reported for pubic hair removal? 59% cited "hygiene" as the leading factor in this decision.
But the perception that having pubic hair is somehow "dirty" is wrong.
Pubic hair is thought to have an evolutionary purpose.
According to Dr. Jennifer Gunter, a gynecologist, it functions as a protective cushion for a sensitive-skinned area and, like eyebrows, traps microbes and foreign invaders from getting into that sensitive area.
The vagina also has a self-cleaning mechanism, which is why vaginal douching is no longer recommended: it can destroy the natural balance of healthy bacteria and normal acidity of the vagina, leading to irritation and yeast infections.
Some cite that shaving and waxing can increase the risk of infection because these practices essentially make little cuts on the skin.
This allows a direct passageway to blood for vulvar bacteria, outside of the defense system of vaginal mucus. Group A streptococcus, Staphylococcus aureus, and Staph's resistant form MRSA all are common causes of skin infections.
Dr. Tami Rowen, an assistant professor at UCSF School of Medicine, has reported seeing grooming-related cases of folliculitis (inflammation of the hair follicle), abscesses, lacerations, and allergic reactions to waxing burns.
And a study in the American Journal of Obstetrics and Gynecology found that 60% of women who removed their hair experienced some of these complications.
Complications were twice as likely for overweight and obese women, and three times more if they removed all their pubic hair.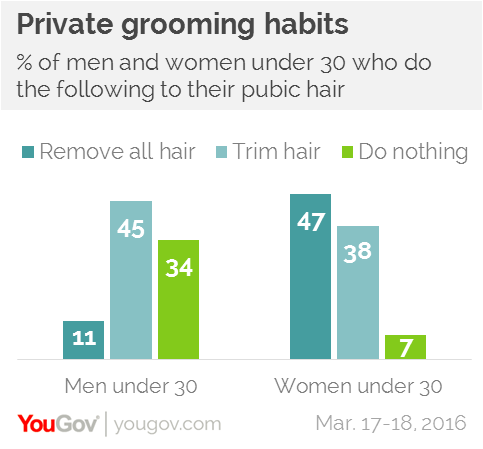 Now, is this to say women shouldn't remove their hair if they choose? No.
Human eyebrows also had an evolutionary purpose, but we can totally shave them off if we damn well please. And just because something may carry minor health risks does not mean we lack the right to do it.
We do all kinds of things to our bodies by choice that may involve some minor health risks, like waxing/shaving elsewhere, piercings, or tattoos.
But a YouGov poll showed that while only 56% of women ages 18-29 feel that they should remove their pubic hair, 72% do it anyway. We must get rid of false narratives perpetuated by society that dictate the choices we make.
"Hygiene" is only one of the reasons women give for removing pubic hair, but it is a harmful reason. It perpetuates a false stereotype that women who do not remove pubic hair are unclean. The argument that pubic hair is unhygienic is the patriarchy acting under the guise of science.
Your vagina is not dirty for existing in its natural form.
Do what you please with your body because you like it, and for no other reason.