As an aspiring poet and avid reader, poetry books are what get me through everyday life. Words are my happy place and I cannot explain how helpful some of these books have been for my mental health. They each hold a very special place in my heart.
Here are some of my favorite contemporary poetry books.
1.  Your Soul is a River by Nikita Gill is both beautifully emotional and incredibly empowering.
Your Soul is a River is my all-time favorite. I adore Nikita Gill and her ability to use the weather and the infinite galaxy to make me feel things. She makes broken things and imperfect people sound so powerful. Whenever my depression is getting the best of me, I try and read a few of her poems to remind myself that I am more than what I sometimes feel like. This book has healing powers.
What people are saying: "Nikita Gill's words are filled with understanding, courage, hope, loss, recovery, pain, healing, and love. Such an incredible collection of poems for everyone who's going through rough times and think they'll never make it. You can make it. You will make it." – valreads
Price: $33.93
I love all of Naveed Khan's poetry books. Honestly, the way he writes is magic; all of his books flow so beautifully and make me way more emotional than I would like to admit. But Everything is Excruciating & Awkward in Doorways, in particular, is special to me because it portrays mental health as a casual part of life.
Naveed writes about trauma and heartbreak in a way that is not romanticizing it but showing you that it does not define you. It was something that I really needed to read, and appreciated.
What people are saying: "Loved it." – Aarti Nair
Price: $16.99
3. Nayyirah Waheed's Salt addresses healing and embracing all the messy parts of yourself.
Salt is what made me fall in love with Nayyirah, but her book Nejma is equally as majestic. Nayyirah is endlessly talented and unafraid to put down raw feelings and turn them into art, and Salt does it by discussing heartbreak, colonization, and self-love
What people are saying: "Her work says what we've been thinking in the best, most beautiful way possible. My heart gushes over each page. She's beautiful, clever, and encouraging." – Renee McKenzie
Price: $22.50
4. teaching my mother how to give birth by Warsan Shire is a lot smaller than the others, but in no way is it less powerful.
It is intense, painful and brilliant. teaching my mother how to give birth explores many sensitive narratives such as immigration, loss, adultery, and womanhood.
As an immigrant of sorts, I can relate to many of the emotions although I do not claim to have felt things as strongly as her. It gives you short stories in the form of poetry and is just incredible to read.
What people are saying: "To understand yourself and where you are, you must first start at the beginning. This artist can take a situation and make it every woman's story. If you are looking for a good read, read this. It could help you understand yourself or possibly someone else." – smanson
Price: $7
5. Questions For Ada by Ijeoma Umebinyuo embodies all of the pain and loss of women everywhere.
Questions For Ada for me is about womanhood and self-empowerment, using the pain and loss and turning it into something bewitching. It builds great respect for all the women who have got us to where we are in life. It explores sacrifices, diaspora, and harsh realities.
The poem that stood out for me is "First Generation", an ode to all first generation immigrants that made me fall in love with Ijeoma Umebinyuo.
What people are saying: "I loved this book from beginning to end. As a twenty-something, Nigerian-American, I can really relate to a lot of the poems Ijeoma Umebinyuo used. I think a lot of women of color are able to relate as well because so many of us face the same issues growing up in one culture at home and another one outside of the home. Her literary talent had me completely enthralled from beginning to end. I plan on buying this for all of my sisters." – HELEN
Price: $11.99
6. Heterogeneous by Anthony Anaxagorou is simply revolutionary.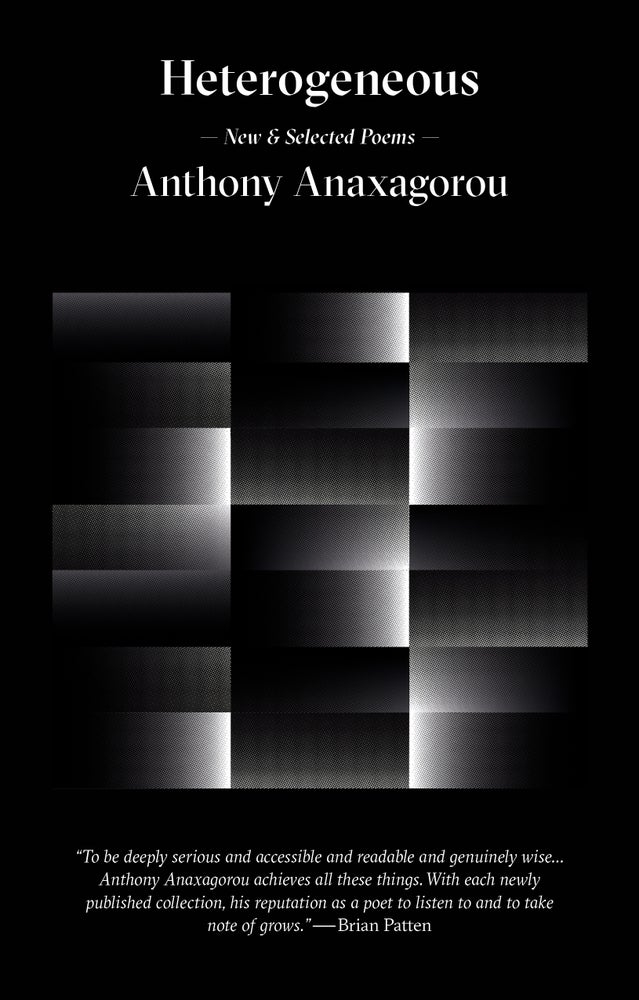 Anthony Anaxagorou is one of my favorite poets in existence.
He is better known for his spoken word and seriously if you haven't heard of him – YouTube him. It will change your life. Anthony has a way with words that is so eloquent that it is almost inhuman. I have yet to find someone contemporary who his work can be compared to.
Heterogeneous is a stunning collection of poems that tackle a range of important issues in this day and age.
What people are saying: "Saw him live and he blew my mind. If you can, get his book. Even better, of course, is to see him perform his pieces live." – Illi Syaznie
Price: $12.76
7. Key Ballah's Preparing my Daughter for Rain reminds me of conversations I had with my older sister about love and the world.
Preparing my Daughter for Rain is a collection of stories and lessons to teach future daughters, and is written in the form of poetry. If I could describe the way this book makes me feel in one word, it would be calm. Key Ballah discusses so many important issues but everything is written with a touch of self-love. It is an important book that I hope to pass onto my daughters, should I ever have any.
What people are saying: "Kay Ballah's words are more of a fight song, born from pain, struggle and experience, all of which are described with unparalleled beauty and rawness. She writes to the daughter inside each of us." – gloombunny
Price: $17
8. This Is How You Survive by Lana Rafaela Cindric is an emotional rollercoaster.
This beautiful collection depicts the gritty, resilient sides of ourselves when having to deal with a world that isn't always going to be kind to you. These poems range from soft and soothing to tough and breathtaking – every single one makes me feel a different emotion that I never want to stop feeling.
Lana Cindric is one of the most talented poets of our times and I cannot wait to see what more she produces.
What people are saying: "I wanna be this book when I grow up. The poetry in this book is so alive it's like it's breathing with you. I've found so much inspiration about life and living in these pages." – Jill V Abernathy 
Price: $4.94+
9. Samihah Pargas' Early Mourning Hours is fifty shades of emotional pain.
Have you ever had to grieve a love? The ending of something that you thought would last forever?
Because I have, and one of the things that provided me solace was in the pages of Early Mourning Hours. It is an emotional book which portrays heartbreak, finding yourself, and having faith in God in a way that really leaves you speechless. Many a time, the words were so raw that I couldn't keep reading through my tears.
But it was worth it because everything I felt, I saw reflected back at me through these words. It is a special sort of talent to make the reader feel as though you are rummaging around in their brain.
What people are saying: "Thoughtful, self-aware sentence poems reflecting mainly on the author's emotional pain as she moves into adulthood. Somewhat reminiscent of Rupi Kaur, perhaps because the writer is also a young woman. However, Samihah Pargas has very much her own voice, which I'm sure will strengthen over time." – CE Dawson
Price: $11.11
10. If They Come For Us by Fatimah Asghar is going to be studied in schools one day.
I mean, this cover is a stunning enough reason to buy this book.
Fatimah Ashgar explores important issues of being a Muslim woman, the partition, grief and so so much more. Through her own unique lens, Fatimah allows you into her life and I cannot thank her enough for this honor. This collection goes through a variety of emotions, some which you connect to and others, which you feel just as intensely.
What people are saying: "A debut poetry collection that looks into what it's like to be a Pakistani Muslim woman in America. Filled with anger, joy, confusion and love.  For such a short book, it packs a wallop." – Amber Garabrandt
Price: $6.32
It was painful to write this because to narrow down my favorite poetry books to 10 felt like a betrayal to all the other amazing works out there. Have you read any of the poetry books above? Do you agree or have I missed a crucial book out?
https://wp.me/p7kpad-f1k