I'm watching Gossip Girl with different eyes now. Politically correct, aware, activist, feminist eyes. And so much of what happens on this show is messed up. Mainly, the glamorization of Chuck Bass' (played by Ed Westwick) character.
I first watched the series when it was released. I was only 13 years old.
So naive. So innocent. So out of touch with ideas of consent and independence.
All I knew was that I was watching this show, along with all of my friends. The series ran until my final year of high school. By then, I had changed so much but my addiction to the show and my awe of the characters had not. Recently, after a few years, I decided to rewatch it and realized just how fucked up it really is.
Here's the devastating truth about bad boys: they don't always change.
Season one? So much shit goes down but the one thing I absolutely cannot get over is Chuck's rapey behavior. In the first episode alone, he racks up two accounts of sexual assault. First with Serena van der Woodsen and then with Jenny Humphrey. In both instances, he got off scot-free.
Instead, the audience is made to focus on yearning over the will they/won't they of his and Blair's (his love interest) mess of a love story. In the second season, they do mention that night again, but Chuck just apologizes to Jenny and in the typical fashion of our current society, it's pushed under the rug. And damn, it did not sit easy.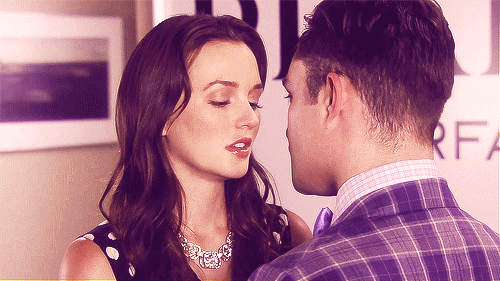 And yet I continued to watch to see what else I'd notice.
Season two works beautifully in building Chuck out to be this hot, mysterious all-encompassing 17-year-old billionaire, which he reminds everyone multiple times. His hair, outfits, everything seemingly changes aside from the inherent darkness within his character. And we, the gullible audience, dote over that darkness, waiting for it to sprout into something beautiful. It may be because so many of us lend ourselves over to the idea of the bad boy finally turning good.
But here's the devastating truth about bad boys: they don't always change.
Season three (yes, my binge watching is problematic) comes with another dark side of Chuck. Everything about his and Blair's relationship is shaded with this deeper and desperate need for pain. In season three, episode 17, 'Inglourious Bassterds', Chuck basically sells Blair for his hotel. He plays her into believing that the only way to save the empire is for her to sleep with his uncle, and Blair, full of naïveté and misconstrued pretenses of love, falls for it.
Love should never justify treating women as objects.
Chuck also carries around this black book that lists all the girls he has at his beck and call. It's seriously disgusting, and just kind of ignored in the show. It's weird that there are these unspoken rules for men and women where a man exploring his sexuality is deemed as alright, or he's just called a fuck boy and he wears that as a badge, but for women, they're constantly shamed and blamed for acting in the same way.
The truth of the matter is that this entire situation was so chucked up that I don't understand how Blair ever forgives him. Watching this show as a teenager and believing that their love could overcome anything was so problematic for me. Love should never justify treating women as objects. Thankfully, Blair finds the strength to push him away. Though his response is that she should stand by him through the worst of the worst.
How is any of this okay? And how on earth was this the TV show of our generation?
In the final season, they end up getting married, and as a teenager, damn, I celebrated it. I remember all of us girls were so happy that the on-screen relationship we were pining over finally come to fruition, but it wasn't okay. I will not glamorize his character. I will not allow myself to ignore all the bad in men anymore.
How is any of this okay?
Growing up, so much of what I was taught about heterosexual relationships was based on a power dynamic – the man has to earn, the man has to be strong, the man has to be manly. But I've realized that all that was bullshit. Balance is everything. So while TV shows, and characters like Chuck, will always remain at the front lines of our lives, we have to compartmentalize.
We have to stand up and say, this isn't okay. This never will be.
https://wp.me/p7kpad-tqm