Surviving the Holidays, Culture, Humor, Life
25 life struggles every Pakistani expat has to deal with when they go "back home"
You actually thought people stood in lines? Or stopped at red lights? Where do you think you are?
1. You're constantly dealing with prying relatives.
It doesn't matter that you haven't met these people for years or maybe never at all, they fully believe they have every right to ask you the most personal questions and be all up in your business from the minute they see you.
2. Your parents go through a whole personality change.
The same parents of yours who will only want to eat one particular brand of cheese or refuse to drink coffee if it's not from their favourite brand at home, will suddenly call you out on your preferences as "having airs" and being "high-minded" to show their relatives how down-to-earth they still are while the kids have been spoiled.
3. It's unorganized. Deal with it.
You actually thought people stood in lines? Or stopped at red lights? Where do you think you are?
4. You learn to love street food again.
The cornucopia of delicious street food that you won't find anywhere else in the world is enough to turn anyone into a foodie.
5. You have to get used to the environment – fast.
There's going to be a lot of noise, a whole lot of pollution and tons of mess and inconveniences. Things locals don't even notice, and if you're there long enough, you won't either.
6. The blackouts.
There's going to be rolling blackouts, usually several times a day and for quite a few hours. It's pretty much the way of life there. Nothing you can do about it.
7. Political correctness is not a thing.
You know that thing about not being racist or sexist or prejudiced? Yeah, that doesn't exist. You'll often find people making judgemental statements without batting an eye. They might even get offended if you tell them it's wrong.
8. You have to meet relatives you didn't even know existed.
They're going to be coming from everywhere. The distant cousins, the aunts and uncles, the relatives of relatives. And you'll have meet and greets with all of them.
9. You have to deal with complete strangers the same way you would with family.
You mean you don't remember your dad's second cousin's neighbor aunty? She took care of you all the time when you were 3 months old!
10. Your marriage or lack thereof is open to discussion by ANYONE.
People you haven't seen for years will have no qualms about asking you right out why you aren't married, when you're getting married, why don't you have kids, or want more kids than you have already.
11. Your every move is going to be observed.
People are going to be watching you like hawks, waiting for the first thing they can criticize or make a point about.
12. You're expected to pay for everything.
You're automatically expected to pick up the check wherever you go. After all, you're the one who brought your fancy ass back from abroad.
13. You're resented by your relatives for being different, while also held as an example for their kids.
They don't like the fact that you are different. Then other times they're telling their kids to be more like you. It can be very confusing and not always logical.
14. You don't want to see the "posh" places everyone wants to show you.
Your relatives are going to try to show you the fancy restaurants and hangouts, and you really won't care because you've seen a hundred of those where you came from. Show me the dhabas, the roadside restaurants that serve the best niharis, and the open beaches.
That's the stuff I'm interested in.
15. Pushy salesmen.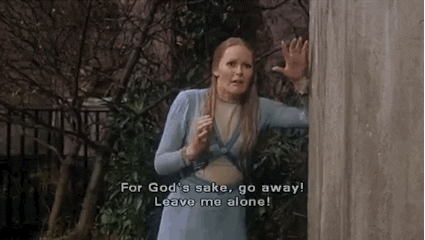 People who try to sell you stuff in the streets won't easily take no for an answer, and will actually follow you down the road to get you to buy something.
16. You get offered more food than any human can consume.
The hundred relatives you have to visit will offer you so much food, with so much enthusiasm, that even though it's not humanly possible for anyone to eat that much, you'll feel guilty about turning it down.
17. You learn weird and funny things about your parents' past.
You're going to hear the strangest stories about your parents from relatives, like the time your dad snuck out of the house to watch a movie when he should have been studying, or the time your mom glued flowers to her hair and then couldn't get them off.
18. If you follow all the rules, you're too naïve (read: stupid).
Nobody has 'high-minded ideas' like insisting you should be on time for things or queueing in line and waiting for your turn.
19. Your fluency in your native language or your general knowledge about your country are treated like academic achievements.
There's this belief that kids who've lived abroad are:
1. Always bad at their native language,
2. And have very little knowledge of their home country.
So, if you show the least bit of aptitude in either one people are going to be surprised and treat you like you've won some secret contest.
20. The hugs are coming, and you can't escape.
Personal space is not a thing. People are going to hug you, it doesn't matter if you like it or not, you're being hugged. Otherwise you might seriously offend them or even cause an argument. Just grin and bear it.
21. The meninists. All of the meninists.
You're going to have to deal with men, even if they're only 16, mansplaining the simplest things to you or expecting you to not be able to handle yourself because you're female.
The worst part is that not all meninists are going to be men. Some women are just as emphatic about being anti-feminist.
22. Even very young kids will have full-blown political opinions.
You might overhear a conversation among very young kids, and it will be an all-out, highly opinionated, and heated debate about some political issue.
23. Everything is inexpensive. Everything. 
The discounts and prices you will find things at will amaze and delight you.
24. The mangoes. 
The only explanation possible for them is that beams of sunshine and rainbows got together to make the heavenly fruit that are the mangoes of Pakistan.
25. Everyone speaks a language that you understand.
There's something very comforting that there is no language barrier. This entire populace speaks a language you know and is yours.