Valentine's Day is coming up – lovebirds and palentines – follow along with our Vday series right here.
If you listen closely, you can hear the hearts beating. Lub dub. Lub dub. That's right – it's Valentine's Day. All around me is red. Red balloons line the stalls of streets, the smell of chocolate wafts around, heart shaped bouquets take over social media.
I always contemplate how I truly feel about this holiday and my opinion seems ever-changing. For some, it's that one day where they shower their significant other with endless love. For some, it's a day to dive into self-love because that is the best form of love. And then there's the anti-Valentine's day crew – everyone is entitled to spend this day and view this day however they choose.
This is how some of our team members plan on spending the day:
1. Two words: Baby Llamas
I'm going to my local knit night at a local llama farm where I can be kissed by baby llamas and a pig and be very happy about it all.
2. Grab your gals and get girly
I can't spend Valentine's with my boyfriend this year because he's moving to Atlanta, GA for his job (literally tonight) so instead I decided to spend Valentines with my girlfriends! We're having a dinner party/sleepover where we're just cooking, drinking wine, doing facial masks, going in a hot tub, and watching a movie.
Valentine's day is about spending it with someone you love, that's not to say it's exclusive to only your partner/significant other. It can be your mom, dad, sibling, grandparent, friend, pet, or yourself!
3. I spy my Valentine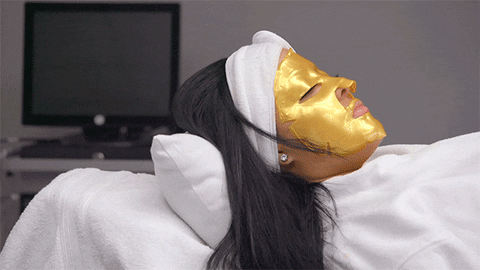 I think my plans are just chilling with my family, watching my (unrequited) Valentine Michael B. Jordan in Creed 2. Probably a little face mask and lip scrub action as well before getting eight hours of sleep for the first time this week! Exciting times.
4. Self-care, self-care, self-care
I don't have any plans specifically for Valentine's Day but to make up for it I did take myself on a mini-date last week. I had an extra long luxurious bubble bath with my favorite sparkling, colorful bath bomb, got ready as though I was pampering myself, got dressed up, took myself to the fancy cinema that has sofas, cushions and pizzas and watched Mary Queen of Scots (loved it!).
On my way home I bought all the Valentine's-Day-themed sweet treats from the local bakery and spent the rest of the night snuggled up reading a positive book in the candlelight. I've been super ill lately and it was my Valentine's Day gift to myself!
5. Family bonding is KEY
For V-day, I'm going out for dinner with my family probably, I plan on eating A LOT of chocolate. We have this tradition where every Valentine's Day, we share one thing we love about each other and why.
6. Cherish your platonic connections
I'm throwing a Palentine's Day gathering for my friends to come together and to remember the power of platonic connection.
7. Fort Valentine's GOALS
This Valentines day, I'm avoiding the cold and the crowds and staying in. My husband and I are going to pull out the sofa bed and turn the living room into what we call Fort Valentines. We're going to watch movies, drink some awesome unfiltered Catalan rosé and order in from the best Fish and Chip shop in the world which happens to be right down the road. It's nothing fancy but I'd have it no other way.
8. Sleep is always a good idea
I have two essays due on Valentine's Day and a presentation, so I plan on falling asleep at an extremely early hour because I will be exhausted. Shout out to my professors for having stuff due today!
9. Love love exhibits
I might not like the concept of celebrating this capitalistic, consumeristic holiday, but the rest of the world plans things in accordance to VDay, so it's really hard to just ignore. I will go see an art exhibit that's all about… you guessed it… love!
I'm just really into art, and I'm not going to pass the opportunity to see some art just because a bunch of couples are going to take selfies of themselves making out in front of masterpieces. (Gross and disrespectful, that. Not in front of my salad, Harold.)
10. Sometimes, VDay can be just another day
I've been married for almost 12 years now and Valentine's Day has always been a regular day for us. I think the only time I celebrated it was the first year of our marriage so I think that's why I've never had that expectation. However, this year my husband did ask me if I want flowers and you know I'll never say no to fresh flowers!
I've realized that the beauty of Valentine's Day lies in perspective – the way everyone celebrates in their own way. So this year, I'm leaning towards this holiday. It isn't just about the affection or the presents, for me, it's about understanding that I have value and realizing that the people that matter most will love you to their fullest every single day.
Whether you're a big gesture, over-the-top, showering others with presents and love kind of person, or you're a subtle, every day is about appreciating those around you kind of person, this day holds some form of truth.
It doesn't have to be about the commercialized day, or the cookies, or the roses – it can be about giving yourself and the ones you love a well-deserved day. So buy yourself a rose and a cake and a card because why the fuck not? Take the day off. Shower yourself with love. Remind yourself that you are a badass and all the work you put in every day, it's worth it.
Love to ALL this Valentine's Day.
Get The Tempest in your inbox. Read more exclusives like this in our weekly newsletter!
https://thetempest.co/?p=103003