Movies, Pop Culture
Nappily Ever After highlighted how I shape my life around my hair – and it's not healthy
Hair can make us feel secure, but it shouldn't be the key to our validation.
You've probably heard all about the Netflix Original film Nappily Ever After by now, but it's more than a story about grabbing the shears when life gets tough.
In the film, Sanaa Lathan plays Violet, a career woman who is all about image. Thanks to her mother, Violet is taught early on that she needs to be proper at all times – starting with perfecting her hair through hot comb treatments.
I received my first perm at 11 years old and shortly after, the flat iron became my best friend. Like Violet once did, I spent most of my teen years avoiding pools for fear my hair would poof out like a Chia Pet's. Being out in the heat and breaking a sweat was out of the question too, which is a difficult thing to do living in Texas.
I started to believe my curly hair was too much of a hassle. I never once left for school without having it straightened. Now that I look back, I wouldn't call it self-hatred, but more of a desperation to conform to feminine and Westernized beauty standards.
For black women, femininity and respectability tend to go hand-in-hand. We're known to manage our hair textures through chemical treatments like relaxers, or hair additions like extensions and wigs. These neat makeovers can come at a cost. What does "neat" really mean anyway? Apparently, anything that covers up our natural curls and kinks.
One question that's been raised is why do black women go to extreme lengths for beauty? Like Violet's love interest asked throughout the film, why not just embrace what makes us natural?
This was explored in Good Hair, a documentary directed by comedian Chris Rock. After his daughter raised a concern about not having "good hair," Rock trekked through hair salons across America to find out what the term meant.
As a review pointed out, Rock never fully explained the cultural relevance and reasoning. There was a mention of the Westernized racial stigmas, but it seemed more like an insinuation that black women got hair treatments because they wanted to be white.
Three years ago, I decided to bleach my hair. Going blonde was something I hoped would bring some color into my life. I was told it was a daring choice. In Nappily Ever After, Violet also went blonde with a weave and was suddenly perceived as a wild girl by another romantic interest.
I obviously didn't want to "look white" when I went blonde, and I doubt Violet did either. But there's a glaring correlation between how widely accepted blonde hair is and how the rest of the world shapes its beauty standards around lightness.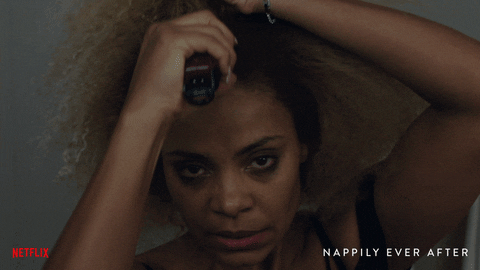 On top of bleaching my hair, I also had it shaved into a pixie cut. I was a little nervous, but I wanted a break from the flat iron and thought short hair would be more manageable. I honestly wasn't too worried about my peers' reactions because I felt comfortable in my skin.
Good hair is described as long and silky smooth. Which means that short hair is the antithesis to femininity. As one character in the film said, men like long hair. My old hairstylist once told me she wore a wig at home because her husband hated her natural hair!
Are short lengths doomed to be associated with masculinity forever? Too short of a trim can even raise red flags about sexual orientation as if it's an insult to be anything other than straight. I also think about some of the girls on America's Next Top Model who cried because of their short haired makeovers – remember Cassandra?
And I understood their tearful reactions to an extent. Society has taught women that we essentially are our hair. Beauty has been marketed to us for so long that our hair has become our personal security blanket.
Overall, Violet's story made me sad. However, at least she got her happy ending by wholly embracing change. I still feel hopeful for women who also want to break out of normalized standards. Let's put more energy into accepting that everyone is different – whether you want extensions down to your back or to rock the bald look – be your own definition of beauty!
I'm happy to say I haven't picked up the flat iron in almost a year. Although I still sort of damage my hair by dyeing it wild colors (which I'm stopping soon!), I'm always happy to let the curls fly loose. On lazier days, I'll tie it back into a bun. Whatever hairstyle I choose ultimately doesn't change the person I am. It's been said a million times, but we're more than what's on the outside.
Now I don't freak out at the sight of rain clouds. They're just part of nature – as our hair is too.