I'm sure that by now, the K-Pop band BTS needs no elaborate introduction. Even if you haven't heard their music or seen their faces, you've heard the name. And whether or not you're an ARMY or you understand why they're so popular, you have to admit how that shows the strength of their global impact.
The band of seven young men from South Korea, who quite literally started from the bottom, are now in the midst of their world tour after having released their latest album "Love Yourself 結 'Answer'" to conclude their Love Yourself era. They have now made history as the first K-Pop group to attend and give a speech at the 73rd UN General Assembly as part of the #Youth2030 campaign.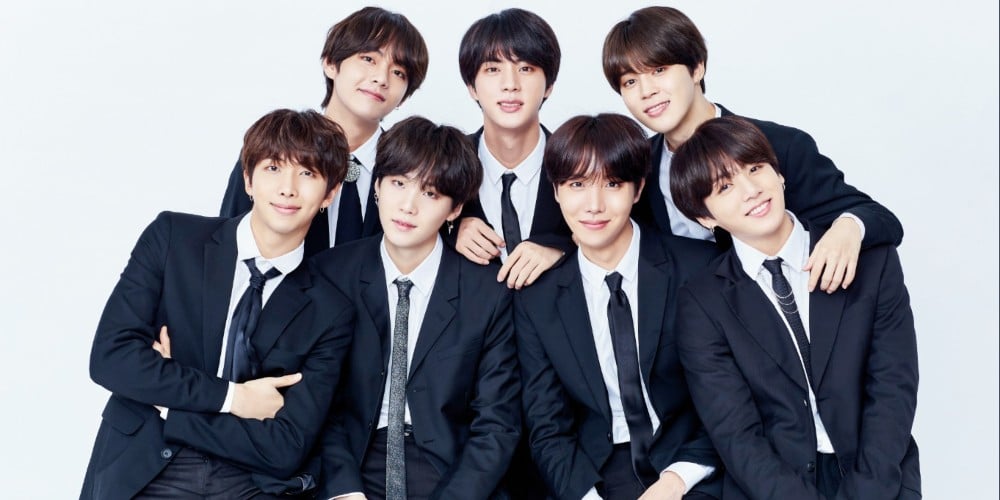 BTS have previously partnered with UNICEF to launch their Love Myself campaign last year, which aimed to end violence and to protect children and the youth from its disastrous effects. For people who still question their relevance, you might want to rethink your battle strategies the next time you have shit to say.
Yesterday, the seven men took center stage yet again, albeit it was a stage of a different kind. Their leader, 24 year old Kim Namjoon (also known as RM) delivered a six minute speech in fluent English to the numerous world leaders, ambassadors and royalty present at the event.
Namjoon talked about how, being an ordinary boy growing up in the city of Ilsan, he had extraordinary dreams of saving the world.
However, those dreams began to dull due to the fear of what others thought of him. Fear that was caused by people, including themselves at times, doubting their chances of success.
"No one called my name, and neither did I.
My heart stopped and my eyes closed shut.
So, like this, I, we all lost our names
We became like ghosts…"
He then talked about how all of the members, individually and collectively, have battled numerous hurdles in order to get to where they are now. He also insisted that they will continue to do so, only this time, with help of ever-growing faith and love for themselves and that their fans (the ARMY) give them. 
There is no doubt that ARMY have been inspired by the boys to love themselves and use that to overcome their hardships and conquer their own peaks. Namjoon acknowledged that and concluded his speech by encouraging us to "Speak Yourself". He urges young people to find and own our names and voices, to embrace our passions and faults alike, and to be love ourselves in all our imperfectly perfect glory and tell our stories.
You can view the speech here:
A few hours later, #SpeakYourself is now one of the top trends on social media, with ARMYs from all over the world sharing their hearts, fears, flaws and dreams to the world with pride.
I had a lot to say and it's still not enough #SPEAKYOURSELF pic.twitter.com/wZEhYx8A64

— m⁷ (@MINTYOONGIl) September 24, 2018
https://twitter.com/twinktansus/status/1044322116148056070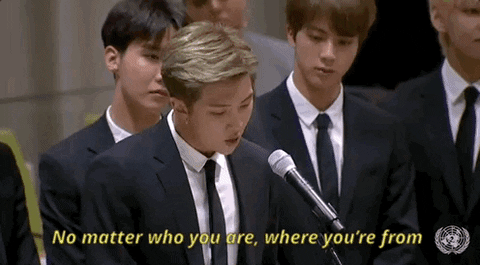 Aside from their success story, BTS have won over millions of hearts because despite their celebrity status as idols, they never hid or suppressed their humanity. They never fail to remind us that they, too, are just as human as the rest of us. They have individual and collective flaws, they make mistakes, stumble from time to time, and have dealt with mental health issues (a subject still considered taboo in South Korea). They can be unabashedly goofy and silly and do not lead perfect lives.
They've all come from different cities, financial and educational backgrounds. Instead, of shunning their differences, they've treated them as bits of the uniqueness that collectively created the magic that is BTS.
Most importantly, they acknowledge that the process of loving themselves was just as tedious and taxing for them as it is for everyone of us. It won't always be easy and mistakes (both big and small) will be inevitable, but that's okay. The key is to accept that, learn from that, and continue.
Knowing all that and knowing their influence, they use it to encourage us to take that rocky road to personal well being in a dog-eat-dog world. It's as if to say "We know what you feel because we've felt it too, but this is what helped us to be happy and can help you. It may be hard, but it will be worth it in the end. We believe in you."
BTS have proven time and time again how they are not just your everyday run-of-the-mill boyband, but an actual force to be reckoned with. They've shown that pop culture, depending on how it's used, has the power to affect even international politics. That just through spreading self-love and positivity, once we own our voices and 'our names', we will have the power to change the world.
So…what is your name?