On some scale, the item number has always been a part of the Bollywood film.
Generally defined as a musical number in a South Asian film that has no relevance to the plot and is purely for marketing purposes, item numbers have existed since as far back as the 1930s. Back then, the vamps performed musical numbers to inject an element of risqué sensuality into otherwise fairly tame cinema. In 2010, two lovely fictional ladies called Munni and Sheila changed that.
Their eponymous item numbers revolutionized the place of item numbers in Bollywood.
Before the release of Munni Badnaam and Sheila Ki Jawaani in the same year, item numbers were a novelty. Since then, they have become a regular occurrence. Considering that the basic premise of an item number revolves around a scantily-clad 'item girl' who is almost always depicted dancing provocatively for an exclusively male audience, the gender implications are impossible to ignore.
There is a very clear message that is obvious across these iconic songs: The 'item girl' is an 'item', an object put on sexual display. It's common for item numbers to be composed of an audience of leering unknown men who have gathered to watch the dance, performed by the item girl either alone or with faceless backup dancers. The women are always dressed in sensual clothing and the lyrics highlight female sexuality and desirability.
On paper, item numbers form the perfect formula for female sexual empowerment.
In reality, they mostly result in the most blatant objectification. Camera angles zoom in over gyrating hips and linger over bare waists as blatantly as the eyes of the ogling men with no subtlety. The gaze in these dance numbers presents itself as vaguely voyeuristic, at best.
There is a very deliberate implication present; that the item girl is not only inviting the leers and jeers,but she is also enjoying them.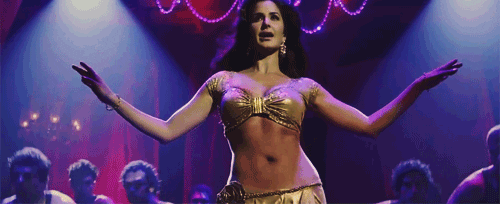 It sends an ugly message, one that not everyone agrees with. Film-making giant Karan Johar has admitted to the implications of item numbers and themes of stalking in Bollywood, promising not to use them again. Veteran actress Shabana Azmi has also been particularly vocal about her stance against them. "These item numbers are forced in the movies. They think that the movie will do well because of the item number when the truth is they have absolutely no connection with the film and story," she reportedly said. Actress Sharmila Tagore, on the other hand, opined that not all item numbers are "vulgar", but sexuality is presented similarly in most forms of media.
That said, in a society that already champions hypermasculinity and male dominance, showing a woman happily submitting to being a whirling piece of meat for a crowd of lechers is nothing short of catastrophic. Does that translate directly to rape culture? Maybe not.
South Asian society is not yet at a place where discussions of rape are commonplace in most places. The effect of these seemingly harmless songs is much more intrinsically sinister.
When you put an absurdly catchy tune on the television for weeks on end, people will be caught. They are drawn to that song, getting it stuck in their head whether they like it or not. Item numbers are fun, catchy and often irresistible. It's understandable.
But when that song shows a woman who has no significance to the plot and exists purely to be a sexually submissive pastry to glorify how appealing and desirable the male protagonist is, it sends a message that this is a women's place. They have to be submissive and sexually available and, most importantly, enjoy being leered at.
A considerable percentage of society considers this level of harassment normal. They think boys will be boys and girls should be flattered if they're catcalled. They think women are forgetting the difference between harassment and flirting. When Bollywood gives us iconic dance numbers that say yes, women love attention like this, why shouldn't people believe it?
It's just teasing and flirtation, right?
It doesn't seem to matter to the film industry at large that uses item numbers as a major marketing tactic, even if impressionable children are regularly exposed to them. As a result, maybe one can argue that they don't promote rape culture but, are you sure?
They sure do promote the toxic mentality that gives birth to it.