Fashion, Lookbook
5 ethical clothing brands that everyone should know about
Rid yourself of fast fashion and check out these sustainable brands instead.
Presented in partnership with Fashion Revolution.
I'm an adamant believer that if you believe in something, you should apply it to all parts of your life – you don't get to pick and choose where it fits in. 
So I can't pretend to care for the world and continue to buy products that are not human/animal/ environment-friendly can I?
I don't know about you but knowing that my clothes and jewelry are produced and sourced in an ethical and sustainable way definitely makes me feel good. If I feel good on the inside, it always reflects on the outside. I know, you're now imagining very dreary potato sack-like outfits, but its 2018 folks. It's time we buy from ethical clothing brands.
Fashion Revolution is a global movement calling for a fairer, safer, cleaner, more transparent fashion industry; the UAE edition of Fashion Revolution took place a few weeks back and was action-packed with pop-ups, panel discussions, workshops, and a sustainable fashion show, with collections designed and created by students!
It's super easy to dress up with ethical clothing brands and slay at the same time.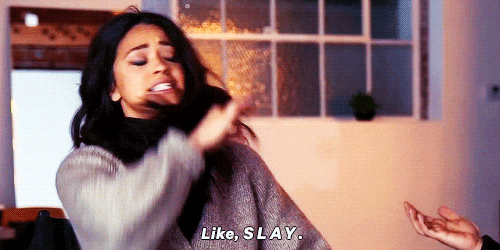 1.Teesing
Teesing is a Dubai-based company that produces cute tops made out of 95% bamboo fiber.
Why bamboo? Well, the benefits are actually too many to count. The first and most obvious reason is that bamboo fiber is eco-sustainable. Yaye! Another ethical clothing brand!
Fun fact: bamboo is a super fast growing crop that doesn't need fertilizer and regenerates without the need to be replanted. So if you're going for a hassle-free, good-for-the-world clothing choice, then bamboo is the one. It's also great for sensitive skin, has inbuilt UV protection, high absorbency, and natural antibacterial properties.
We get it, we get it: Teesing is great for the world, but did I mention how cute and sassy some of these t-shirts are?
This is a stunning collection of jewelry and accessories made from recycled gold, sterling silver, and brass. More than that, you can instantly see the effort that has been put into making each piece an unforgettable addition to your own collection.
The collection was created by Melika Dahlouk, as part of her mission towards "sustainable creativity."
The entire process of creating these gorgeous pieces from start to finish follow human- and animal-friendly guidelines, which makes buying yourself one, two,  – or maybe three! – pieces totally justifiable, right?
If you are looking for custom made, breath-taking jewelry that will last you a lifetime, then Eklectik is perfect. Now, this isn't the place for flimsy seasonal pieces that barely survive the month. Eklectik creates the kind of wearable art that you want to pass onto your children (I mean if you don't want to be buried in it that is). Have you ever wanted something but struggled to find it in real life? Like you can imagine it perfectly, but there is a chance it doesn't exist? Well, fear not, you bring the vision and they will create the jewelry for you.
Personally, I love the idea of owning something that is truly one of a kind.
For pieces of jewelry that are a little more affordable but just as creative, Vice Jewellery has you covered.
This UAE-based brand offers women's jewelry and men's jewelry, all of which is far too tempting to pass up.
Each individual design is bold and created to stand out from the rest. There is just something so rustic and unique about these designs- personally, I'm in love with their super cute bloom stud earrings.
Okay, so you've all probably heard of Swarovski's beautifully-crafted crystals – they really are something to behold.
But what you possibly don't know is how committed to sustainability this brand is. Swarovski is committed to using the most responsible crystal available, as well as other materials of the future.
They are constantly for more ways to ensure that sustainability is incorporated at all stages, as well as ways to collaborate with others so that the industry does better as a whole. I mean, sustainability is a great plus to these absolutely stunning pieces of jewelry.