Gender & Identity, Life
23 seriously iconic Muslim women who inspired me to fall in love with Islam
You definitely don't want to mess with these leaders and changemakers.
Presented in partnership with Penny Appeal USA.
It would be an understatement to say I wasn't really looking for religion, it found me.
When I first came across thoughts of entering Islam, I was aware of the basics but not as educated as one would have hoped. One of the biggest put-offs I had was that how could I, a self-proclaimed feminist, enter a religion where women were apparently so oppressed?
Was there a place for me in this religion?
So I did my research and found myself floored. I learned about women who helped form the societies we live in, women who continue to help make this world a better place. Women with whom I felt a kinship so deep with that they drew me in and helped me make the best decision of my life.
1. Khadijah bint Khuwaylid 
There is no narrative in which Khadijah bint Khuwaylid (may God be pleased with her) is not an incredible human being, sorry.
Khadijah (may God be pleased with her) was the first wife and follower of the Prophet Muhammad (peace be upon him)  and is referred to as the "Mother of the Believers." She was an indomitable businesswoman in a male-dominated time. Despite being older than the Prophet and divorced, she was the one who initiated marriage talks with the Prophet. Khadijah was a woman who went after what she wanted and didn't let society influence her decisions.
She broke all the barriers back then, and learning about her was one of the reasons I fell in love with this beautiful religion. Let Khadijah bint Khuwaylid be a constant reminder of what a woman can achieve.
2. Dr. Hawa Abdi Dhiblawe
Dr. Hawa Abdi Diblaawe is a Somali human rights activist and physician, she's also the founder of Hawa Abdi Foundation (DHAF), an NGO providing emergency relief to Somalia and that has helped around two million people to date.
Their mission is to "create access to basic human rights in Somalia through building sustainable institutions in healthcare, education, agriculture, and social entrepreneurship."
Often referred to as the "Saint of Somalia," Dr. Hawa is living proof of how each individual is capable of changing the world.
3. Nusaybah bint Ka'ab
Nusaybah bint Ka'ab (May God be pleased with her) was one of my favorite discoveries in the history of Islam. I'm always a little upset that not everyone knows about her. Also known as Umm 'Ammara, Nusaybah fought alongside the Prophet Muhammad (PBUH) and was one of Islam's first female warriors.
During the Battle of Uhud, she realized that people were fleeing and leaving the Prophet (PBUH) exposed, so she picked up a sword and dove into battle.
Like seriously, can you imagine a woman in such a time running into a battlefield where grown men were running away from?
4. Yasmin Elhady
Born in Egypt and raised in Alabama, Yasmin Elhady is an incredible attorney and public policy specialist. Yasmin uses her vast expertise in community building, civil rights, and immigration to act as a human rights activist. On top of that, The Washington Post noted that she" moonlights as a matchmaker and comedian, produces online videos to counsel her peers on things like the importance of character and the false promises of 'a swipe left, swipe right culture.'"
At the time of converting, I was completing my law degree and struggling to see where this faith could fit into my life. So, to see a Muslim woman who not only went down a similar path – but thrived in it, too! – gave me the direction and motivation that I needed to keep pushing myself forward.
5. Mona Haydar
Syrian-American Muslim rapper and chaplain Mona Haydar is smashing the patriarchy through hits like "Dog" and "Hijabi (Wrap My Hijab.)" She has taken her music and turned it into activism. Her work has been featured in featured in media outlets like Marie Claire, Glamour, BBC, CNN, and Buzzfeed, just to name a few.
I mean, a female Muslim rapper taking on misogyny? There is nothing about this talented woman that I do not love.
6. Sultan Raziyya
Sultan Raziyya was the only female ever to rule the Delhi Sultanate from 1236 to 1240. She refused to be treated differently as a woman, taking the title "Sultan" over "Sultana" because the latter implied "wife or mistress of a Sultan," which she was not. Moreover, she wore gender-neutral clothes and ordered coins to be minted in her name.
Along with being trained in warfare, Sultan Raziyya was a brave warrior who also set up educational institutes and libraries. She defied tradition and proved herself time and time again.
7. Anousheh Ansari
Anousheh Ansari is best known for being both the first Muslim woman and the first ever self-funded woman to go to space. She is also known as the "first female space tourist and space ambassador."
Anousheh is an Iranian-American engineer and businesswoman who, in September 2006, made headlines for spending eight days at the International Space Station.
I know that there are be little girls growing up who have seen Anousheh – and now know that they, too, can reach for the stars.
8. Begum Rokeya
Begum Rokeya Sakhawat Hossain never fails to remind me that I may think I'm trying hard, but I can try so much harder.
Her accomplishments ranged from being a writer to social activist, but what she is most well-known for was founding the first-ever school for girls in Bengal. In 1902, she made her debut in the literary world writing a story named 'Pipasha'.
All of her written works reflected her ideologies and she continued to fight against the misogynistic mindset of her time despite heavy criticism. Begum went on to found the Muslim Women's Association in 1916 and spent her entire life championing women. While she died in 1932, her legacy lives on. The Bangladeshi government established the first public university named after a woman in her honor, in Rangpur.
9. Aisha bint Abi Bakr
Aisha bint Abi Bakr (May God be pleased with her) was one of the wives of Prophet Muhammad (PBUH). A formidable authority on his life and teachings, she served as a teacher years after he passed away, narrating Ahadith that we still use to this day. She was known as the most knowledgeable female Muslim jurist of her time and considered one of the best scholars in our ummah.
During my time learning about the faith, it was Aisha's life story – along with how well-respected she was! – that really helped me understand the status of women in Islam.
10. Asma Jahangir
Asma Jahangir was a Pakistani lawyer and human rights activist and a feminist icon for many women around the world.
In 1987, Asma co-founded the Human Rights Commission of Pakistan, an NGO aimed at protecting people from human rights abuses by educating and spreading awareness. She spent her life fighting for what she believed in and in 1983 was actually imprisoned for being part of a movement against the military regime of Zia-ul-Haq.
As well as working with the United Nations on various humanitarian projects, she also became the first female President of the Supreme Court Bar Association in Pakistan. She passed away of a heart attack in 2018.
11.  Malia Bouattia
Malia Bouattia made headlines as the first Black Muslim woman to be elected the national president of the National Union of Students (NUS) in the United Kingdom. Malia used her time in office to campaign against the government's Prevent strategy and called for greater diversity in candidates for the National Union of Students.
Malia faced a lot of criticism for her appointment but stuck to her principles and did not let others stop her from speaking out about important issues. I'm pretty sure we haven't heard the last from her.
12. Fatima al-Fihri
Fatima al-Fihri is best known as the founder of the world's oldest-standing university and library. Wealthy and well-educated, Fatima refused to let knowledge be something only a few could attain. Instead, she chose to spend her entire inheritance on building the historic institution.
Fatima founded Al-Qarawiyyin in 859, which, according to the Guinness World Records, is the "oldest existing and continually operating educational institution in the world." The university also claims to house the world's oldest library.
13. Ibtihaj Muhammad
Ibtihaj Muhammad is an American fencer who became well known after becoming the first Muslim-American woman to wear a hijab whilst representing the US in the Olympics. Ibtihaj is a 5-time Senior World medalist, once again proving that there is nothing a Muslim woman cannot do.
Ibtihaj also inspired the creation of a Hijab-wearing Barbie by Mattel, which no doubt will go on to inspire many young girls to come.
14. Maïmouna Guerresi
Maïmouna Guerresi is an Italian multimedia artist who works with photography, sculpture, video, and installation.
If you've seen any of her work, you'll know that it represents spirituality and faith on a level that is just so beautiful. Her work has been shown at exhibitions all over the world and she is very well known for her Islamic art.
Maïmouna is inspiring on many different levels for me: not only is she killing it in her chosen career but she is unapologetically Muslim. Instead of shying away from it, she is using it in her art and sharing it with the world.
15. Malala Yousafzai
At the age of 20, Malala Yousafzai is the youngest Nobel Prize Laureate and is most widely known for her work advocating female education. In 2012, Malala was shot by a Taliban gunman for her activism.
Despite her age and the trauma that this event brought forth, she did not let it stop her from and has only become more committed to ensuring young girls are given the right to education. She founded the Malala Fund and continues to work towards a brighter future for girls everywhere.
16. Dame Zaha Hadid
Dame Zaha Hadid DBE RA was an Iraqi-British architect who was made a Dame Commander of the Order of the British Empire by Queen Elizabeth II in 2012 due to her work in architecture. She paved the way for women in a male-dominated industry, refusing to allow anything stand in the way of her groundbreaking works.
She won the Stirling Prize and later became the first woman to receive the Pritzker Architecture Prize (considered the Nobel Prize of architecture) in 2014. While she passed away in 2016, her vision lives on within works all over the world, which are universally respected and regarded as some of the best works of architecture.
17. Rufaida Al-Aslamia 
Rufaida Al-Aslamia (May God be pleased with her) is an icon. The title wasn't only for being one of the first people to accept Islam, but because she went on to become the first female nurse and surgeon in Islam. During the time of the  Prophet Muhammad (PBUH), Rufaida also worked as a social worker in her quest to solve social problems that contributed to diseases.
Throughout her life, Rufaida provided care to warriors who fought battles and trained other women in the field of medical care. She also worked to solve social problems associated with healthcare inadequacies.
18. Baroness Warsi

 Baroness Sayeeda Warsi was British member of the House of Lords, as well as a politician and first female lawyer. She made history as the first female Muslim to attend Cabinet and did not shy away from her Pakistani identity, showing up in full shalwar kameez! She thrived in an environment that was not kind to women of color, but what I most admired is how she stuck by her values by resigning in 2014, due to the government's policy on Gaza.
Sayeeda continues to change the world through the Baroness Warsi Foundation. Through it, she enables others to create high impact programs that improve social mobility, increase gender equality and promote religious understanding.
19. Nana Asma'u 
Nana Asma'u was a Nigerian princess, poet, and teacher. Born in 1793, Nana wrote poetry in three different languages and went on to become a highly respected scholar in the Islamic world. Her poetry focused on faith and the empowerment of women through Islam.
Highly educated herself, she also trained women to become educators. Her legacy lives on, as she continues to be held up by some as an example of education and independence of women possible under Islam, and by others as a precursor to modern feminism in Africa.
20. Margari Aziza Hill
Margari Aziza is a woman of many talents. As well as being the Co-Founder and Programming Director of Muslim Anti-Racism Collaborative (MuslimARC), she also works as an assistant editor at AltM, a columnist for MuslimMatters, and is the co-founder of Muslims Make It Plain. If that isn't enough, she is also an adjunct professor who gives talks and lectures on a variety of subjects. Her research includes colonial surveillance in Northern Nigeria, anti-colonial resistance among West Africans in Sudan during the early 20th century, and race in Muslim communities. Her achievements are far too many to mention, and I'm sure the list is only growing as we speak.
Margari converted to Islam in 1993 and her life forever reminds me of the things I could accomplish, too.
21. Nujeen Mustafa 
Nujeen Mustafa is the badass author of Nujeen: One Girl's Incredible Journey from War-torn Syria in a Wheelchair.
Born with cerebral palsy, Nujeen spent her life in a wheelchair. Nujeen didn't have the chance to go to school because her city in Syria did not have any facilities for the disabled. But, she taught herself English by watching TV and possessed phenomenal knowledge of history and science through watching documentaries on TV.  When the war broke out in Syria, she was forced to flee alongside her family at only 16 years old. Her story is both heart-wrenching and just plain incredible. Her resilience is a lesson for us all.
After reading her book, I was just taken back by how well she was able to tell her story, and, in truth, I'm excited to see all the other brilliant things she can do, too.
22. Funmi Abari 
When Funmi Abari was just 16, she became the first non-elected member of the House of Commons to make a speech in the House of Commons. As a 24-year-old, she set up the Equal Empowerment Project, which aims to serve communities by tackling traditions and cultural norms that feed into sexual abuse behaviors in the Gambia.
In an interview with the Nigerian Networking Community, Funmi stated, "Through my interests and passions, I have worked tirelessly to emulate these attributes and ultimately place myself in positions where I can best utilize my skills to serve people, communities and all those around me."
She is committed to creating a better world for all, and we're all better off for it.
23. You!
You – every single woman reading this article – because let's be honest: to be a Muslim woman in a world fighting to keep us down, is a superpower in itself. Seeing women make a change, even the smallest in the world, renew my faith in humanity.
At the end of the day, each of the women mentioned above were (or are!) have made a difference, and should be celebrated for it.
It's so easy to be a superhero in this day and age because there is no need to run into battle (unless you really want to). In fact, just making the decision to make a gift for those in need can make an immeasurable amount of difference to someone's life. Through the number of initiatives run by Penny Appeal USA, it's so much easier to become like one of these heroes.
My advice to you? If you aren't already involved, sign up and show the world that Muslim women are a force to be reckoned with.
If they haven't figured that out already, that is.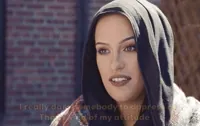 The world consists of so many incredible Muslim women past and present. Even in compiling this list, it was almost impossible keeping a reasonable number – so I am well aware that I have missed some major players. Weirdly enough, though, that makes me excited. I have no doubt that there are a million more amazing Muslim women to come, still making their way up.
And I can't wait to join them.