It's hard to describe the rush and exhilaration of entering a new fandom to someone who's never actually partaken. But, it's kind of like opening an immaculately designed door and revealing an endless buffet full of all your most favorite foods. For me, that's exactly what finding BTS felt like.
As someone with depression and anxiety, getting through winter is always extremely difficult for me. Between the short days and the frigid temperatures, it becomes far too easy for me to do nothing but stay in bed and wallow.
When BTS was in the US for the American Music Awards last year, I saw endless tweets about their arrival and even after watching the performance live, I was curious but managed to stubbornly avoid their lure for months. When I finally, tripped and fell headfirst into this new fandom, it was the best thing I could have done for myself and for my mental health.
As cheesy as it sounds, in the harsh and brutal darkness of winter, BTS became a much needed glimmer of warmth and light. And now, with their comeback and new album rapidly approaching (May 18th!), I feel like it is now my duty to spread the good news. So let's do this! Here are the answers to five burning questions I'm sure you have:
1. So who's BTS again?

BTS, also known as Bangtan Sonyeondan, is a seven-piece Korean music group. They debuted in 2013 and since then they have gone on to slowly but surely take both Korea and countries abroad by storm. BTS members include RM, Jin, Suga, J-Hope, Jimin, V, and Jungkook. The group can also be further divided into the rap line (Suga, RM, and J-Hope), the vocal line (Jungkook, Jimin, Jin, and V), and the dance line (J-Hope, Jimin, and Jungkook).
2. Why should I care? What have they accomplished so far?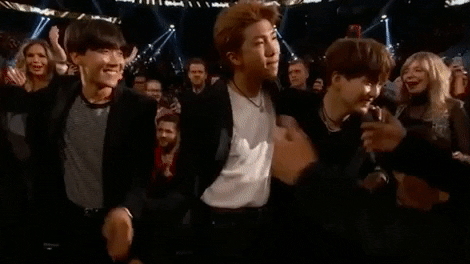 In addition to boasting an impressive and exhaustive list of Korean music honors (including multiple Gaon Chart Music and Golden Disc Awards), BTS became the first K-pop group to perform at the American Music Awards last year. Similarly, this weekend, they are set to check another "first" off of their list: the first K-pop group to perform and have a comeback stage at the Billboard Music Awards.
3. Uhhh what's a comeback?

When a K-pop group releases a new single or album, it is known as a "comeback." Unlike that of their Western counterparts, Korean comebacks are a bit more involved and exciting. With every comeback, K-pop fans can expect new hair, new makeup looks, new wardrobe, and a new overall aesthetic from their favorite idols. With each comeback is a chance for the group to completely reinvent themselves.

On May 18th, BTS will officially have their comeback with the 11-track full-length album entitled Love Yourself: Tear.
4. Do they have any upcoming US performances or appearances?

YES! First up, as I mentioned previously, they have the Billboard Music Awards performance this Sunday, May 20th at 8pm EST. Afterwards, on May 24th, they have an extended comeback special premiering on the Korean station MNET, as well as an appearance/performance on the Ellen show on May 25th. And finally, James Corden hinted on Twitter that the boys paid his show a visit as well. However, there hasn't been any official confirmation as of yet. Needless to say….I'll be riding the euphoria of these May performances well into the summer.
5. Any last things I should know?
The most exciting thing about entering a new fandom is all of the uncharted content. And the scariest thing about entering a new fandom is…well…all of the uncharted content. Especially with a band like BTS, who are supreme Kings of Fan Service, the music videos, the interviews, the reality shows, and the weekly game shows can feel incredibly intimidating. But, that's exactly why comeback in the perfect time to climb aboard the Bangtan train!
As your trusted and primary guide through this comeback season, I would first advise you to watch the intro video that was released last week. "Singularity" is the first track of the new album, Love Yourself: Tear, and sonically and visually, was the very first taste we got of this new era. Therefore, that should be your jumping off point. Next up, you should continue on to watch their new video "Fake Love," that debuted on May 18th. After that, feel free to fall headfirst into a YouTube spiral. There you'll be able to go back and watch all of their older stuff at your leisure.
So get out there, have fun, and congratulations….you're an ARMY now.