BRB Gone Viral, Pop Culture
Met gala 2018: The saints, the sinners, and the holy grail
This year's Met gala was literally other worldy. From popal highs to angel lows, here's our break down.
I woke up that morning and as routine goes, began scrolling through Instagram. I'm mindlessly going through memes when I stop and realize, the Met Gala just happened. The first thing that went through my mind was YAAAS, I need to see what everyone wore.
Usually, I don't spend much time focusing on who wore what in Hollywood but something about the Met gala enchants me.The place is beautiful, the people are beautiful, the art is beautiful!!! The world seems so far away from my own and getting lost in the pictures of people and the decor is my guilty pleasure (oops).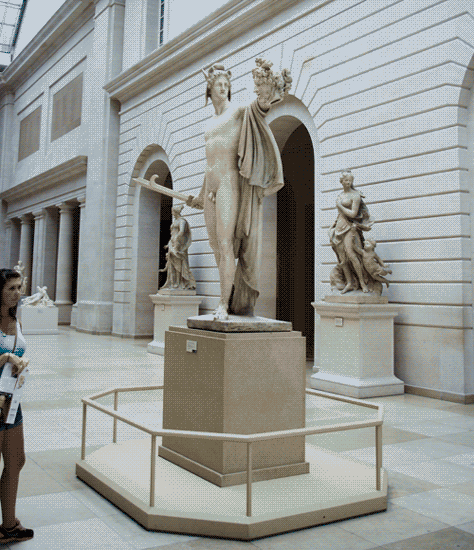 #TBT: Started from the bottom
I remember the first time I saw the Metropolitan Museum of Art. I walked in and felt other worldly. The high ceilings adorned with art over the ages, the majestic feel, the atmosphere of bewitchment – it felt like magic. And that's the same magic I think of when I think of the first Monday of May. The gala started off as an annual fundraiser and up until the 1970s, it wasn't as glittery and it wasn't even held at the Met.
In 1972, the editor-in-chief of Vogue, Diana Vreeland, became the consultant for the Costume Institute. During that time, the gala was a one-of-a-kind party. In fact, Vreeland even brought in the idea of the themes, which are now an intrinsic part of the night. That was when the glitz began, and with the glitz, came riskier and brighter pieces. It wasn't just the gala that was becoming experimental, it was also the world and everyone had to keep up.
From 0 to 100, real quick
Today, the gala has become the place to showcase art and design. It holds the utmost position in the art community. This year's theme was Heavenly Bodies: Fashion and the Catholic Imagination and I do feel there is a certain level of appropriation that follows most of the gala's themes.
Heavenly bodies may have taken it too far. I saw bad gal Ri Ri's outfit and I thought, why is she wearing a blinged out version of a pope's hat? Hello, Papa Riri? And then I found out what the theme was.
Yes, I guess Catholicism has influenced fashion over the years, and it's important to acknowledge that but that didn't discount the fact that it made me uncomfortable and it isn't even my religion. Catholicism has been inherently been linked to notions of creativity, grace, and reformation. But I'm still questioning whether that was projected through this year's outfits.
[bctt tweet="We all know a party isn't a party until Bey struts her stuff." username="wearethetempest"]
Speaking of musical goddesses, Beyonce made the biggest statement of all and skipped the gala altogether. She skipped last year's gala because she was pregnant but this year was definitely a surprise given the fact that she had a dress in the making. Bey, where are you? We all know a party isn't a party until Bey struts her stuff.
[bctt tweet="The Met gala sometimes turns into the freaky Halloween of our nightmares" username="wearethetempest"]
Who wore what:
When it comes to appreciating pop culture, the Met gala is one platform that brings together everyone's creativity in a collaborative fashion.
But lest be forgotten, the Met gala sometimes turns into the freaky Halloween of our nightmares. This year was no less and celebrities, as always, adorned the craziest outfits.
The sinners?
Ranging from Priyanka Chopra's scarf: This is giving me a mix of Cleopatra vibes and a really odd desi bride….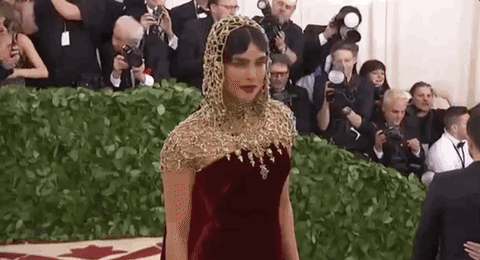 Shailene Woodley's alien getup: I don't really get how this went with the theme, but either way, I was not a fan.
Shailene au Met Gala 2018 #Shailenewoodley pic.twitter.com/v8EIuxfINa

— Fifty Shades/Jamie/Dakota & autres (@phoebevox) May 8, 2018
Katy Perry's wings: I sure hope she can fly in those because her look is definitely taking things a bit too literally…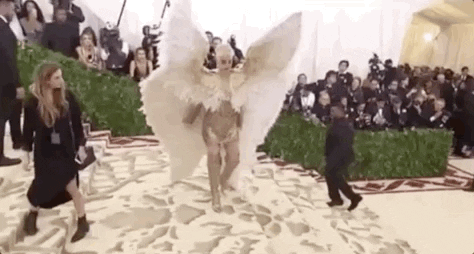 Sarah Jessica Parker's extra AF gold dress (even though I love her with all my heart): Ouch, her dress actually made me cringe. And what was up with that headgear?
#HowIMakeAnEntrance at the #MetGala #SarahJessicaParker #Vatican #ChristianTheme pic.twitter.com/5TQWeaKhS8

— I can have #Starbucks again! (@BENDlTA) May 8, 2018
The saints?
At the same time, we had people like Amal Clooney looking classy with a capital C. I guess when you're married to the man of every woman's dreams, you gotta be elegant as fuck.
? #lifegoals #metgala #AmalClooney pic.twitter.com/5A62f6auT8

— andrea✈️ (@andrea_wanders) May 8, 2018
All three of the Migos men – Quavo, Offset and Takeoff – looked swaggy as ever. Donned in Versace, they are for sure bad and boujee.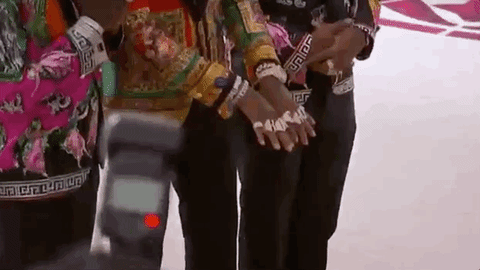 There's a reason why Blair was always insecure when it came to Serena – LOOK AT HER! Blake Lively's beautiful trailing dress made her look like the real queen of the Met steps. Xoxo.
"Blake-" "Did someone mention Queen Lively?" ? #BlakeLively #MetGala2018 pic.twitter.com/0NlVtDaLkU

— So Lively (@solivelycom) May 8, 2018
Gigi Hadid took the word ethereal to another level. Her look encapsulated church stained glass, and in a word, she was a freakin vision.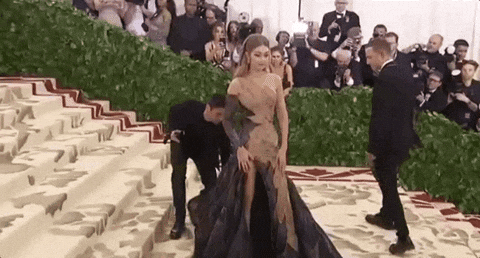 Let's not forget the younger Hadid, Bella took flawless to another level. Her look is giving me bad-ass bat girl feels and I love it.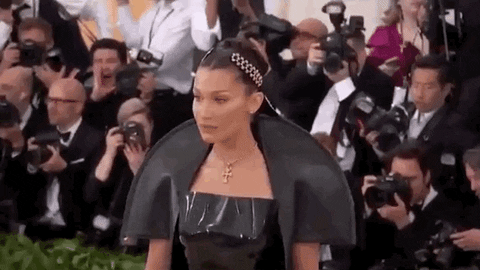 Cardi B made her first ever Met gala debut (she's back bitches) and as always, she brought it. Her outfit screamed look at me (AND SHE's PREGNANT), like everything else she does. That is one of the reasons why I love her though. Slay, queen, SLAY.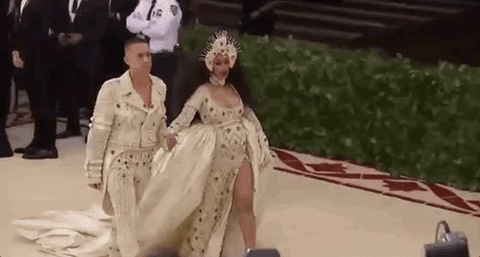 Nonetheless, it is all for the sake of honing a connection with art. And that's what artistic expression is all about, isn't it? That is essentially what we, as lovers of the written word, the visual, the lyrical, all crave. 
Saint, or sinner, regardless, the Met gala is the real deal. It leaves me questioning, oh, are we worthy? Will we ever be?