Movies, Pop Culture
21 Tamil movies that are giving Bollywood a run for its money
Queue the ones you haven't watched for the weekend.
India has a prolific history of movies. For years, the country has produced amazing movies, however not all of them get their due, especially in a global level. Indian movies automatically equal Bollywood for most people, and in the meantime, thousands of regional movies go unnoticed.
Not that I have anything against Bollywood, but as a Tamilian who grew up watching the fantastic movies the language has to offer, it often annoys me to see the erasure of these regional language movies. So today, I decided to give an expert's list – just kidding, I am not one – of the best Tamil movies of the 21st century you have to watch.
P.S – There's no way I can narrow down the best Tamil movies of all time, considering that it's an industry spanning almost a century itself. So I have settled with those releasedpost-2000ss. I have also excluded remakes, and bilingual movies whose primary language focus is not Tamil.
1. Kakkamuttai (Crow Eggs) (2015)
The storyline of this movie is simple. It's all about two boys who want to eat pizza. The length the two of them go to get a chance to taste the food would have been cute if it hadn't been so realistically presented in a way that would make us all think twice before taking a bite from a pizza slice in the future. A beautiful movie that captures class differences, the little boys' innocence, and the actors' authentic portrayal will leave a lasting impact on you.
2. Vaaranam Aayiram (A Thousand Elephants) (2008)
An emotional journey of a man from adolescence to adulthood. The heartwarming story captures his love, tragedy, growth, maturity, and relationships. And as the base of it all is the beautiful relationship between a father and a son, which is inspired by director Gautham Menon's own adoration and respect for his late father. It's a movie with heart and soul, and it's guaranteed to make you drown in all the feels.
3. Dhuruvangal Pathinaru (16 Extremes) (2016)
Directed by a highly ambitious debutant of just 21 years, D16 is a murder mystery that will keep you on the edge throughout its run. It's the kind of a story that makes you suspect everyone, and the attention to details in this movie is mind-blowing. You will never see anything coming, yet everything makes perfect sense when the truth is revealed. The movie will make you feel like you've finished reading an Agatha Christie novel on a rainy night.
4. Anbe Sivam (Love is God) (2003)
A chance encounter sparks an unlikely friendship between two very different men, and the movie explores the contrasts and extremes they represent. A cult classic that discusses socialism and capitalism, it dabbles in the concepts of atheism, altruism, globalization, compassion, and rebellion. The movie teaches without preaching. Kamal Hassan (left) proves why he's unarguably one of the best actors of India in one of his finest performances.
5. Joker – 2016
A hard-hitting political satire, this movie will break your heart, then open your eyes. Narrating the story of a man who is called a joker because of his political thinking and revolutionary moves, the movie shows the reality of the lives of rural Indians. The wish to have a toilet in the house is an indulgence, the access to an ambulance is a miracle and finding justice is impossible. Joker is full of harsh truths and so so important.
6. Pudupettai (New Hood) (2006)
This movie narrates the making of a gangster and the creation of a villain, but the best part is that this is no backstory. There's no reason for our lead character to do what he does, he's unapologetic – the whole movie is – and there's not a single good person in this movie. Pudupettai is about the unsatiable want for power, money, survival, sex and it is a cult classic in its entirety.
7. Mankatha (Card Game) (2011)
A heist movie that featured a beloved actor in a grey shade, Mankatha is the story of an antihero and his gang of heist mates. The beauty of the movie lies in the fact that none of these men trust each other, and they surprise and shock the audience and each other at every second. Featuring director Venkat Prabhu's signature black comedy, witty dialogues, grey characters and twists you never see coming, the movie is an absolutely engrossing ride.
8. Kadhal (Love) (2004)
A rich school girl falls in love with a poor mechanic. Her family is against their love and they elope. Sounds like the perfect love story, isn't it? But Kadhal is all about the imperfections. It shows the aftermath of the supposed happily ever after, and this tragic tale is so realistic, to the point where the two leads look like your average girl and boy from the neighbourhood, and every second of the story is absolutely relatable in a heartbreaking way.
9. Visaranai (Interrogation) (2015)
Let me say this first: this movie is not for the lighthearted. A raw take on police brutality, corruption and injustice, the movie doesn't shy away from anything. The gut wrenching violence will shed light on the dark side of the police system. The performances are so authentic, the incidents so close to real life and the painful love story will touch your heart.
10. Kannathil Muthamittal (A Peck On The Cheek) (2002)
Before there was Lion, there was Kannathil Muthamittal. This movie is poetry in motion, and my favorite movie of all time. 9 year old Amudha discovers that she is actually Sri Lankan, and was adopted during the civil war. Amudha's search for her birth mother strains her relationship with her adopted mother, and this emotional feature explores love and its nuances – whether its parental, platonic or romantic, and captures the wartime Sri Lanka perfectly.
11. Jigarthanda (Cold Heart) (2014)
If you have a soft spot for villains – like me – you'll love this movie. The hero of the movie – at least in terms of moral compass – might be an aspiring director trying to realistically portray the lives of gangsters, but the real star of the movie is the gangster in question. He's menacing, intimidating, ruthless yet hilarious. You'll hate him and root for him, and almost nod at his way of thinking before coming to your senses.
12. Aruvi (River) (2017)
Aruvi is all about being a female in a country dominated by men and prejudices. A bold take that explores sexual harassment, rape, victim blaming, sexually transmitted diseases, media hypocrisy, social injustice and politics, Aruvi is a simple girl who is forced to take a stand against the struggles that life throws at her, and her story will touch every woman's heart and – hopefully – give a rude awakening to every man.
13. Onaayum Attukkuttiyum (The Wolf and the Lamb) (2013)
Everything about this neo-noir crime thriller is dark – its content, the lighting, the atmosphere, the music that gives you goosebumps. A medical student gets entangled in a cat and mouse game when he unknowingly saves a criminal from a gunshot wound. The gritty, fast paced nature of the movie acts as a solid base to the metaphor infested plot and is as emotional as it is thrilling and captivating.
14. Vinnai Thandi Varuvaya (Will You Cross The Skies For Me?)  (2010)
Karthik's unconditional love for Jessie, told from his point of view is so emotional, so beautiful and so heartbreaking, that it's impossible to not fall for him and his love. VTV did what Ae dil he Mushkil tried to do, and Karthik becomes so dear to you, that you'll laugh, cry, love and feel with him, and try to find the answer to the iconic question, "out of all the girls in the world, why does Karthik only love Jessie?"
15. Moodar Koodam (Fools' Gathering) (2013)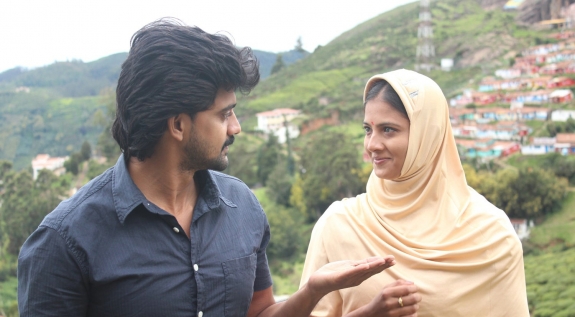 The most underrated film of this list, this black comedy is brilliant. Following a group of misfits on a failed heist, this movie has a huge cast, yet every character makes a mark, with backstories full of pain and humour, and will make you laugh. The dialogues and lines are so crisp, funny and memorable, and the little metaphors and symbolism make it much more interesting.
16. Aayirathil Oruvan (One in a Thousand) (2010)
Most people call this movie bizarre, weird and would not agree with my choice. But to me, this movie is a gem, often not understood by its audience. It's a fantasy that weaves its plot around the ancient Tamil civilizations, and delves into the cultural and historical nuances of the ancient kingdoms and their mysteries. It's also the movie that inspired me to write, especially fantasy based on South Asian history and culture, and that means something.
 17. Aaranya Kaandam (Anima and Persona)  (2011)
If Martin Scorsese directed a movie in Tamil, this would be it. This movie doesn't hold back on anything – whether it's violence, language or the authentic portrayal of the underworld of Chennai. Following the life of six individuals and a misplaced bag of cocaine, everything happens within 24 hours, and every single second is painstakingly perfect. The movie is raw, crude, dark and has an ending that will leave you speechless.
18. Aadukalam (Playground) (2011)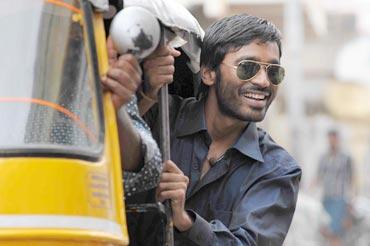 The film revolves around cockfighting, and narrates the story of a man who breeds and trains roosters for his living. While his vocation is a bit bloody and disgustingly fascinating – and the movie's detailing on this concept is on point – as a character, he is just adorable. There's so much heart in his story, and you'll root for his innocence, whether it's regarding his passion for his roosters or for his cute little love story.
19. Soothu Kavvum (Evil Will Befall) (2013)
A journey of an unreliable narrator, and his equally odd ball gang of misfits, this black comedy is just stunning. The hilarious story centers around a man and his five golden rules for kidnapping, and the entire story is bonkers, but you'll love how nutty it is. Every character, incident, twist and dialogue is brilliant. This is how you create a wacky movie on purpose I guess, and the results are perfect.
20. Alaipayuthey (Waves Are Flowing)  (2000)
The ultimate definition of a classic. A movie that inspired generations to love and to confess their feelings, the beauty of the story lies in its simplicity. The non linear narrative tracks the ups and downs of the relationship of Karthik and Shakti, as they fall in love amidst train rides. Their love story and married life is realistic more than dramatic, and the waves of ( no pun intended) joy, jealousy, sorrow, suspense and love are woven together masterfully.
21. Vikram Vedha (2017)
A retelling of the folktales of Vikram and Betal, this cat and mouse game between a cop and a criminal is entertaining, thrilling and utterly compelling. With suspense that will keep you guessing, a tight screenplay where even a small product has a purpose or a later meaning and so much symbolism – even the colours ( like the ones in the still above ). Besides, the performances of these two acting power houses make this movie a treat to watch.
These are just 21 of my choice from the amazing palette of stories that Tamil cinema has to offer. It's high time that these movies, the industry and regional movies in general get the credit and recognition they deserve. Do make sure to check out the the wonderful movies listed above, trust me, they're a must watch, even if you have to resort to subtitles to understand them. And if you know Tamil, what are you waiting for?