'90s babies can rejoice at the fact that a reboot of Charmed is nearly here. When I heard the news, I was incredibly excited – after all, Charmed was my favorite childhood show ever. I was also worried: the Rocky Horror reboot was a fuckup, and I don't want my dear Halliwell sisters to be disrespected in the same way.
But so far, the reboot looks promising. The CW has promised that the fresh take on the '00s classic will be more feminist, which is already interesting. The cast of the reboot includes Madeleine Mantock, Melonie Diaz, and Sarah Jeffery. This is exciting because the three main actors are Latina – which is quite a change from the previous cast, which wasn't diverse at all. More excitingly, it looks like Diaz's character is entangled in a romance with a detective played by Ellen Tamaki. The original show looks pitifully white and straight in comparison to the reboot. Not to mention that it includes Rose McGowan who's seriously such an asshole nowadays.
[bctt tweet="The 'Charmed' reboot will include people of color and queer women – making the original look pitifully white and straight in comparison." username="wearethetempest"]
Growing up, Charmed was one of my favorite shows ever. It ran between 1998 and 2005. Since every show hit South Africa slightly later than it hit the states, I watched it when I was about 7 to 12 – meaning Charmed was a huge part of my childhood. Now that I'm a practicing witch and Pagan myself, my love for witchy things has only deepened.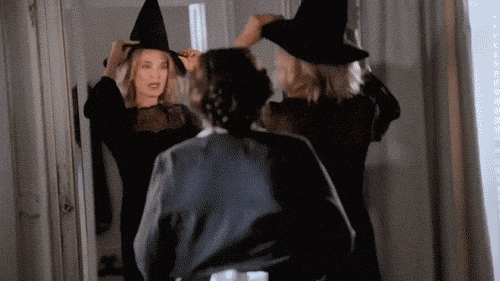 Firstly, something I love about Charmed is the clothing. Every time I re-watch an old episode, I feel like I got sucked in a time machine and landed in the early '00s. The Halliwell sisters often take advantage of the vampish, witchy fashions that were popular at the time. They often sported crushed velour, scalloped hems, chokers, cowboy boots and slip dresses – and, because of the cyclic nature of fashion, those looks were really in last year. I envied the Halliwell sisters' wardrobes, and I still do.
My love for Charmed goes deeper than the sartorial choices, though. The show was an exciting mixture of action and drama. On the one hand, the Halliwell sisters had to navigate normal social issues, like their careers, their relationships with one another, their romantic lives, motherhood, and grieving over their sister. On the other hand, they were badass witches – the most powerful witches in the world, in fact – working together to save the world and protect their loved ones from evil supernatural beings.
[bctt tweet="The appeal of Charmed is just like the appeal of witchcraft itself. It epitomizes power within femininity." username="wearethetempest"]
The appeal of Charmed is just like the appeal of witchcraft itself. It epitomizes power within femininity. It combines nurturing and action, femininity and toughness, emotionality and a willingness to fight. The sisters have men in their lives who care for them, but they're more than capable of protecting themselves.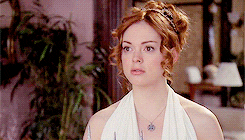 For example, think about Piper – she stops at nothing to protect her family from harm, she manages to manage a club and then a restaurant, she's a great mother, wife, and sister and a brilliant witch. She's tough, brilliant, and matriarchal – and I love complex multi-dimensional female characters. None of the witches are forced to choose between their magic ancestry and their families, as for them it's one and the same. They all go on to have three children each while maintaining their identity as witches. Essentially, they end up passing their magic onto future generations.
Something I love about witchcraft is that it shows us how magic in the traditionally 'feminine' crafts – potion-making, cooking, herbalism, nurturing. Scrying, which is using a crystal to find someone or something, is such a mom activity – if anyone can find something I lost in my room, it's my mom. At the same time, it rejects notions of traditional femininity because it contradicts the idea that women should be powerless. While femininity is often seen as weaker than masculinity, magic suggests that there is a power beyond societal oppression – a power that can be on the side of the marginalized. Magic isn't limited to women – most traditions allow men and non-binary people to practice – but it certainly subverts gender roles.
[bctt tweet="Witchcraft shows us how magic in the traditionally 'feminine' crafts while rejecting traditional notions of femininity." username="wearethetempest"]
That's something that I'd really love to see from the reboot of Charmed – more feminism, more gender-role-challenging, and more bold clothing choices (really, I don't want to seem shallow, but the clothing is really important to me). The original Charmed was praised by critics for its pop-culture timing, and it looks like the reboot has the timing right too. Now that both representation in pop-culture and witchcraft are timely topics, the show looks like it's primed to do well. Let's hope the reboot doesn't disappoint!