Weddings
Here are 5 things you need to know to be the best bridesmaid ever
Girl, we have your back.
At every wedding reception, there is a small militia of bridesmaids with an entire pack of bobby pins in their hair, blisters on their feet, struggling to breathe from how tight their dresses are. For the last several months they've been in the trenches together, catering to the bride's every whim and keeping everyone involved in the wedding on the same page. From organizing the perfect bridal shower to planning the best bachelorette party, to being messengers to the rest of the wedding party to make sure the bride has the best day of her life, they are truly the unsung heroes of any wedding day. If you find yourself presented with the large, yet honorable task of being a bridesmaid, here are a few key ways you can ace the job.
1. Put money away for the cause.
 You know for certain that you'll have to buy your dress and shoes, but that's not all. Things are about to get really expensive. With the bride putting all her money into the big day, you may have pay to get your hair, nails, and makeup done for the big day by yourself. In addition to that, there's the task of pitching in for all the odds and ends for the bridal shower and bachelorette party. In the off chance that it happens to be a destination wedding, you'll also be responsible for setting up your own means of getting there, accommodation, food, and even some activities.
2. Figure out your role.
On the bride's side of the wedding party, the key figures are the bride herself, the matron of honor, and the maid of honor. If you're not in any of those roles, the brunt of the work is and isn't off of you. Think of you and your fellow bridesmaids as a band: everyone has an instrument or part that they play. Everyone contributes something. Someone may contribute by making sure that everyone gets fed. Someone else, most likely the maid of honor, will serve as a liaison to the bride to make sure that everything runs smoothly before and during the big day. Your contribution doesn't have to be huge, just supplemental enough to where it alleviates some of the stress off of others in the wedding party.
3. Friends or not, fake it till you make it.
Part of the aesthetic that goes along with being a bridesmaid is that you're all the best of friends. Sometimes the only thing that bridesmaids will have in common is that they're all close to the bride in some capacity, and that's okay. Keep things friendly, or at least cordial, with your fellow bridesmaids for the sake of the bride. And who knows, you may go into this not know anything about each other, but by the wedding day, you're bound to know everything about each other. Even some stuff that you didn't necessarily want to know.
4. Wear the damn dress.

 Contrary to popular belief, not all bridesmaids dresses are cringey. However, if you do happen to get stuck with an unforgivable tulle concoction, put on your best fake smile and pay the arm and leg it costs to buy it. Besides, it's only one day.
5. Know that you have the right to respectfully decline.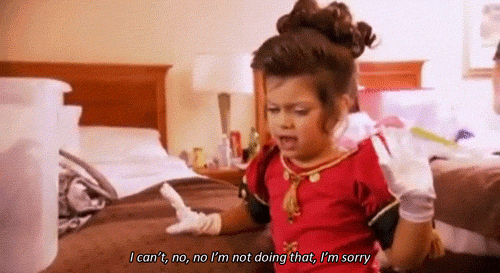 Many girls think that just because you were asked to be a bridesmaid means that you have to go through with it, which is not the case. If you simply can't make the commitment due to financial reasons or you just don't have the time; say so. It'll save you tons of stress and anxiety later on.
Above all, the key to being a great bridesmaid is your attitude. A positive attitude goes a long way in any situation and the best part is that it's contagious. A happy bridesmaid equals more happy bridesmaids, which equals a very happy bride.