So I'll admit wine hasn't exactly had a cool, feminist image but its time for that to change. There's still a pervasive idea outside the wine and food world that being into wine is something reserved for crotchety old white men who collect ancient bottles of Bordeaux, but the culture of wine has changed rapidly and young women are at the forefront of that movement.
The same things that make the slow food movement appealing have allowed wine to have a resurgence. millennials are discovering wines that are handmade and sustainably farmed. These wines are the heirs to a long history of making a beverage that's as delicious as it is steeped in tradition.  It's time that the awe-inspiring stories of wine are made accessible to everyone. These women are paving the way as visible examples of women succeeding in the wine world, but also by democratizing wine education with accessible, hilarious and honest resources and by shaking up how great wine gets to the people who want to drink it.
1. Whitney Adams
Whitney Adams is an actor, podcast host and former sommelier based in L.A. Her first podcast, The Crush (which ended in 2013), is still one of the best resources for anyone interested in learning about the cool side of wine without the pretension of traditional wine media nor the patronizing tone of people who "cater" to the uninitiated. Even though I've had to say farewell to her podcast, she continues to make videos on her Youtube channel, pairing wine with everything from weed and Cheetos as well as going over the basics of varietals, wine labels and how she became a sommelier. You can keep up with Whitney on Instagram and Twitter.
2. Talia Baiocchi Talia Baiocchi is one of the most influential voices in wine today. She approaches wine and spirits journalism with intellectual curiosity instead of reverence and that has really set her apart from other writers.  She jumped into the wine world with no training immediately after college and has developed a voice that has inspired a generation of wine writers, myself included. She's written books on Sherry and the classic Italian sparkling wine cocktail- Spritz. Talia is now editor-in-chief of the website Punch, a funny, informative source on all things wine and spirits. Check out Talia on Twitter and Instagram.
3. Marissa A. Ross Marissa A. Ross is the wine world's version of your best friend's very cool older sister. She has a way of talking about wine that just grabs you and makes you want a drink of the wine she's talking about like, now. She's wholly unconcerned with using the "insider" wine-tasting vocabulary that's been trotted out through the ages, she uses language and references that are immediately understandable.  This pretty much sums up how Marissa talks about wine on her blog:
"Grolleau is only AOC approved to be used in rosé.  And you know what I have to say about that? LET GROLLEAU LIVE ITS GOD DAMN LIFE! I want to take Grolleau aside like a young girl, grab her shoulders and tell her that she doesn't have to be a rosé just because some old French men say she has to. Grolleau has so much potential, and can be anything she wants to be– a red wine or even president!"
She also puts all wine she reviews through the "Ross test" which is a taste test drunk straight from the bottle.  It's a wink and a nod to the breadth of ways we interact with wine from solo cups to crystal and yeah, sometimes standing in front of the fridge after a long day at work with a bottle of Beaujolais in one hand and a string cheese in the other. Marissa is a wine editor at Bon Appetit and her first book, "Wine. All the time." is out now. Do yourself a favor and follow Marissa on Twitter and Instagram it's a good time.
4. Sunaina Sethi Sunaina Sethi first discovered wine while working in finance in Frankfurt, Germany and after falling in love with German wines she left her career in finance and returned home to London to become involved in the restaurant and wine world. She's since become a sommelier and is the wine buyer, owner and operations director for the JKS restaurant group which she runs with her brothers. JKS which includes some of London's trendiest eateries including Trishna, Bubbledogs, Gymkhana, Lyles, and Bao.
Sunaina is total behind the scenes wine #bosslady.
5. Madeline Puckette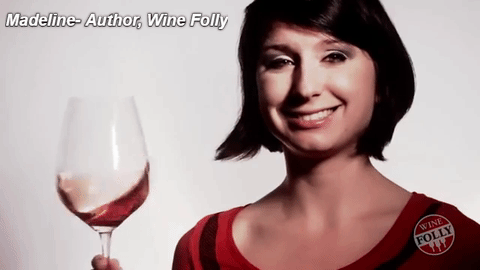 Madeline Puckette is the co-founder and author of the indispensable wine reference, Wine Folly.  She combined her training as a graphic designer with her love for wine to produce infographics that break down wine regions, tasting notes and history. Madeline is opposite to the dense, unapproachable culture of wine that has dominated for past decades.
Her book and website of infographics are a perfect quick reference so you can learn your stuff and get back to enjoying your wine. Follow along on Instagram and Twitter.
6. Ruth Spivey
Ruth Spivey is a sommelier who's shaking up the way people buy wine. The reality is that as much as seasoned wine enthusiasts trust and love their local wine shops, they can be intimidating. Ruth is tackling that with the Wine Car Boot sale in which debuted in 2013 and is similar to a flea market where people sell out of the back of their cars, but with wine selections from independent shops instead. The informality helps break down the intimidation factor that can keep newcomers from entering a wine shop. This year, Ruth will be a judge at the Decanter World Wine Awards. Check out her Instagram and Twitter and follow @winecarboot for updates.
What astounds me as I write this is that there are just so many incredible women who are smashing the status quo in wine. Choosing just a few was tough. Women-run wine shops, wine bars, and wine media abound and that wasn't the case until fairly recently. I believe in the power of this representation and openness and I'm confident that the future of the industry will be more inclusive, diverse, younger and more femme than it's ever been before.