Now + Beyond
Here's how The Tempest team celebrate Halloween
Oh, it's the most wonderful time of the year.
For a lot of us cool kids, Halloween is the best time of year. It's Autumn, the leaves are creating beautiful walkways, cozy jumpers are finally acceptable, hot drinks are everywhere and it starts to get dark early. It's the perfect setting to cuddle up and get scared out of your minds.
The team at The Tempest are already preparing and we have decided to share our favorite Halloween activities.
Not being an American, I sadly didn't get the whole Halloween experience, we had a few kids trick or treat but that was about it. Then Disney Channel got me hooked and the adult me never grew out of the fascination for all things spooky.
A must for my friends and I are spooky mazes, there is a theme park in the UK which does Fright Nights. Essentially this means that the park is open later at night and I don't know about you but rollercoasters in the dark are too tempting to say no to. Last year we managed to go on Halloween night and as the universe would have it, it was foggy and perfect. People were all dressed up, I mean going on a rollercoaster with a creepy clown is just a life experience everyone should have. It was actually quite funny there was a "creepy maze" advertised but they didn't put anything in it, you'd wander around and get scared by another visitor doing the same in their creepy costume – clever.
It is my favorite thing to do and I look forward to it every year.
– Mitta Thakrar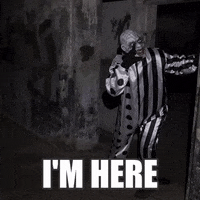 My first Halloween memory is being dressed up as a joker. Not the Batman one.  An actual Henry the 8th era court joker with the hat and everything. Second is watching a scary movie marathon on SyFy and seeing Chucky for the first time.
You could say my horror junkieness was born that night.
I blame my grandmother's lax babysitting habits and intense cable package. From then on, I would spend the month of October, and subsequently the rest of the year bingeing all of the horror movies I could. At the time people told me that my obsession with gore and true crime was weird. Fast forward to 2017 and being a horror fanatic is cool.
In my eyes,  if you're watching anything but horror movies or Forensic Files in October, you're doing it wrong.
Although I keep up my horror and love for all things murder around all year long. October and Halloween season allows me to embrace my inner freak.
Being that we're only a week and a half away from Halloween. I've put together a quick list of my favorite classic and new movies to check out!
(honorable mention to Hocus Pocus because what is Halloween without the Sanderson sisters?)
– Tiffanie Woods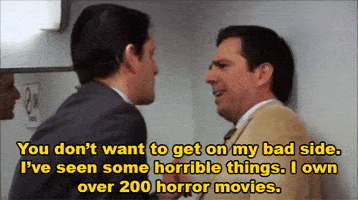 As someone who takes pride in being as spooky as possible every day of the year, October is the month I get to bask in my element. I let my freak flag high and black. I don't have a set Halloween tradition, but I try to do all the obvious stuff: watch the classic horror films, watch Halloween-themed episodes of my favorite shows, eat and drink my weight in chocolate and wine….
This year though, in order to get myself into the holiday spirit, I found myself listening to a lot of podcasts. More specifically, true crime podcasts. I honestly cannot get it enough of them. (Even when they make me paranoid and keep me up at night). There's something so bone-chilling about the monsters that walk and stay hidden among us.
There are still a few more days until the big event so if you want to get into the creepy swing of things, here's a quick list of my favorite Halloween-time podcasts:
– Shanicka Anderson
2017 will go down in history as the year I learned that imagery of witches flying on broomsticks dates back to the middle ages, when some women were believed to have vaginally applying hallucinogenic potions to themselves. In other words: the broomsticks have always been dildos, you guys. Ruminate on this fact the next time you watch Hocus Pocus.
I know it's a cliché for millennial women to call themselves "witches," but I don't care. For me, it's not about crystals and tarot cards (though huge shoutout to folks who have been practicing Wiccans long before it became trendy). It's about embracing all the things that make society disgusted and afraid of women. I'm not talking about pretty girls on Instagram wearing black dresses and crystal necklaces; I'm talking about women who are perceived as being hags because we have the power to give ourselves pleasure.
I've never been into horror movies because I don't like feeling scared. However, I do like scaring being people by being my most vulnerable self and visibly unapologetic self. This Halloween, I'm dressing up as myself. I'm doing rituals to embrace my spookiest, weirdest self. I'm wearing floral dresses and knit scarves for fall and decorating my room with a taxidermied tarantula and a shrine to my epilepsy medication. I'm lighting a candle and making fun of old episodes of Charmed. I'm writing poetry about period sex. I might be considering buying a dildo, because what's a witch without her broomstick? 
I haven't figured out exactly what my Halloween ritual is going to look like, but I know it's not going to be about dressing up in a sexy costume. It's going to be hideous. Want to join my coven?
– Hannah Dean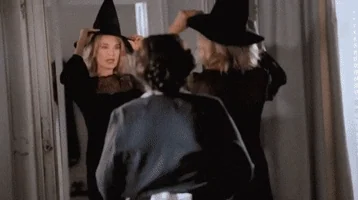 What is your favorite thing to do this Halloween? Let us know.