Although Netflix is usually for binge-watching the newest, addictive TV show, it also holds a treasure trove of incredible documentaries. These top documentaries helped me learn a lot more about the world we live in.
1. Cries from Syria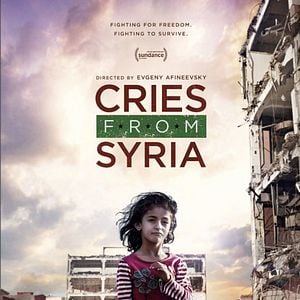 This heartbreaking documentary explores the ongoing crisis in Syria. It explains the situation from the beginning of the revolution and discusses how and why all the political and military groups emerged. Cries from Syria showcases individual stories of war, loss, and displacement. With all that is being said about refugees and Syrians in the media; this documentary is a great insight into the lives of people that are so commonly discussed as though they are not real human beings.
This documentary is extremely graphic. It shows a lot of footage that is fairly painful to watch. I'm pretty sure I cried throughout this entire production, which why I think everyone should watch it.
2. 3 1/2 Minutes, Ten Bullets
This documentary follows the shooting and killing of 17-year-old Jordan Davis in the USA. In 2012 Jordan was shot and killed after an argument at a gas station regarding loud music. Michael Dunn, an older white male shot into a car of unarmed black teenagers. 3 1/2 Minutes, Ten Bullets provides an insight into the American legal procedures surrounding self-defense and the stand your ground aspect.
Furthermore, it shines a light onto the racism in America and the entitlement that a white male has. For me what was most frustrating to see was that the shooter showed no remorse at having killed a teenager who had his whole life ahead of him.
3. Audrie & Daisy
Audrie & Daisy is an American documentary that follows three separate cases of rape. This documentary addresses the sexual assault culture among teenagers. In these instances, the girls are bullied, shamed and humiliated even further for daring to speak out about what happened to them. Furthermore, the attitudes of those within the law enforcement and other males in this documentary infuriated me.
It explores how the victim is so commonly blamed in these sorts of situations. I found this documentary shocking and in all honesty, it made me feel quite sick. Audrie & Daisy is a heart-wrenching reminder that as a modern society, we still have so far to come.
5. Amanda Knox
This documentary follows the tale of Amanda Knox who was accused and convicted of killing Meredith Kercher, a fellow exchange student whom she shared an apartment with while in Italy. Amanda Knox and her boyfriend Raffaele Sollecito spent almost four years in an Italian prison before they were released.
Amanda Knox takes you on a journey through the entire incident from discovering the body, the evidence through to the trial. This is an addictive tale that is well put together and really makes you question everything. Even after watching the whole thing and doing my research – I have no clue as to whether she did it or not.
6. Winter On Fire: Ukraine's Fight for Freedom
Winter on Fire explores the political unrest in Ukraine that had students calling for a revolution after being denied the opportunity to join the EU. It depicts how a peaceful protest became so bloody and beautifully portrays the Ukrainian civilians in their fight for freedom and justice. It also documents the horrific violence they were met with by the Ukrainian authorities. I'll be honest with you, I knew nothing about Ukraine or why there were protests occurring. This documentary taught me so much about Ukraine, its people, and their reliance.
7. Daughters of Mother India
Daughters of Mother India shows the aftermath of a rape and murder of a young woman in 2012. The rape itself was so violent and appalling that I barely have words to describe it. It is a harrowing tale of gender violence which is such a common occurrence in India. This documentary highlights the deeply embedded patriarchal and entitled views that most men have in India and the need to change this. I feel like all men should have to sit through it at least once.
These are just a few of the incredible documentaries out there. In this day and age, it is so important to learn about the struggles of others and educate ourselves with what is going on in the world.