Growing up, I always wanted to find the perfect guy.
I was a Disney fanatic so obviously, I was all about meeting "Prince Charming" and falling desperately in love. Unfortunately, I didn't have a lot of luck with my love life and it always left me wondering what was wrong with me. I spent a lot of time thinking that no-one wanted me and trying to understand why. It wasn't very good for my self-esteem.
Thankfully I grew out of that boy-obsessed phase. It took me some time, but I realized that someone did choose me. About a decade ago, someone chose to befriend a shy, weird, teenage girl, and she has stuck with me ever since.
My best friend chose me.
When someone sees you through your awkward teenage phase with those bad haircuts and even worse fashion choices and chooses to stick around – they're a keeper.  Together we are idiots, we make each other laugh until we cry. We share the same interests: reading, binge-watching TV shows and eating way too much. Our friendship spans years of days out, unspeakable crushes, heartbreaks, and laughter.
What's most important to me is that my best friend has stayed by my side even when I was in the wrong. She always called me out on it but she never left me. We created a safe, non-judgmental space to discuss things but never let our friendship excuse bad behavior. We have had a few disagreements over the years but at the end of the day, we can't stay mad at one another.
About a year ago, I was diagnosed with severe depression.
She hadn't realized that I wasn't doing so well because when I was with her, I was genuinely pretty happy. But once she learned about my diagnosis, she put in so much effort to make sure I was getting out and not locking myself away. She didn't always understand my mental health problems, but she tried as best as she could to help me work through them.
In the past years, I have watched her grow from an awkward, bubbly teen into a beautiful woman. We build each other up. I'm so proud of her accomplishments and she has always been my no.1 cheerleader. She always believed in me, especially when I didn't have faith in myself.
Everyone has their one person right?
The one they can go rant to after a crappy day and magically everything is much better. The one you can have an entire conversation with, without saying a word. I think friendship is too broad of a term to describe the sisterhood between us. Simply put she is my favorite person.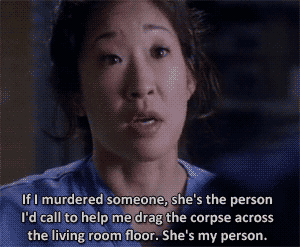 These are emotions we feel but never really need to discuss because we know what we mean to each other. I'm pretty sure I will never live down the incessant bragging when she reads this.
See you grow up thinking you need a guy to save you. That your soul mate will be the person you end up marrying – fuck that. My best friend is my soulmate. The one who knows my darkest secrets and still chooses to love me, the one who has seen me ugly crying and hysterical and didn't run away. The person who I know will always be in my corner.
I can survive losing a guy, hell, I can live through losing a thousand guys. But losing my best friend?
That's unimaginable.
Whether I find someone on a romantic level or not, I've already found the person that I'm going to spend the rest of my life with.