Tech, Now + Beyond
5 steps to using social media without the negative side effects
It goes way past just dealing with FOMO.
As a digital media professional, social media is as much a part of my day-to-day as much breakfast, lunch, and dinner. As I sip my first cup of coffee in the morning, I'm also checking Facebook analytics, scheduling posts on social platforms, or sending love to my bestie for looking fabulous in their latest #OOTD.
I appreciate how social media connects me to friends, family and my favorite memes. But as someone who has suffered from depression and anxiety, overexposure to social media can have adverse effects.
Social media use over multiple platforms has been linked to depression and anxiety with increased use. For me, this couldn't be more prevalent when I'm feeling at my lowest professionally or personally and I've fallen into the trap of the social media newsfeed.
Many of our newsfeeds are saturated with news of tragedy and head-shaking national and global politics, which can be hard to digest in one sitting. It might also be triggering to see a former friend or ex when Facebook conveniently reminds you of memories of them.
When your livelihood depends on logging onto social media daily, the struggle to keep away from online triggers can be tough. While I've had several people tell me to avoid social media altogether, removing it from my daily routine would be pretty detrimental to my professional life. I had to find a way to balance my presence on social media while also watching out for my mental health.
Over recent years, I've developed my own strategies to navigate social media in my professional and personal life, while also keeping my mental health in check. While this list isn't exhaustive, what's most important is that you're learning and growing from your own process of trial and error.
1. Make sure social media isn't the first thing you see in the morning.
Although I do technically plug into social media in the morning, I make sure that my social media accounts aren't the first things I see when I wake up. My wake up routine includes quickly checking my emails and the news on my mobile device, making my bed, then getting ready for the day ahead of me. I typically won't touch social media until my work day starts because I want to make sure I'm physically and mentally present.
2. Remove push notifications from your mobile/desktop devices.
Unless you need to keep push notifications for work related reasons, challenge yourself to disable them. There's nothing more anxiety-inducing for me than to constantly hear the buzzing of my phone or see my screen light up. Turning off push notifications for your social media apps not only keeps your phone at bay but it also keeps your mind at bay. It's also helped me be more present in my day-to-day activities and interactions.
3. Only use work accounts, if possible.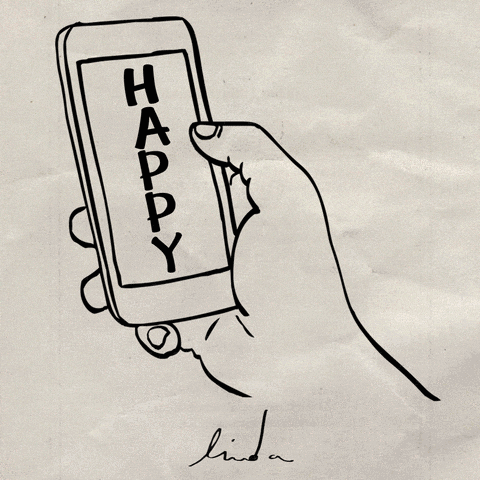 If you absolutely want to avoid your newsfeed, challenge yourself to log onto work-related social media accounts only. Doing this is easier with platforms such as Instagram, Twitter, or Snapchat, because you can log into an entirely different account. When it comes to Facebook, you have to connect your own account to a company page in order to manage it. Using Facebook takes an incredible amount of discipline to not check your notifications or roll through your newsfeed, but it's not impossible.
For platforms like Facebook, I find it best to have an accountability buddy, whether it be a co-worker or a friend to nudge or text you every so often to get off your Facebook.
4. Take breaks. Lots and lots of breaks.
Create increments for yourself to approach social media use. If possible, limit your social media usage to a time frame per hour. For example, log off social media after 20 minutes. Or alternatively, take breaks from social media every 15 minutes. This will help you to get out of the trap of potentially exposing yourself to triggering content.
5. Remember self-compassion.
Remember this: You're only human. Navigating social media can be a risky terrain for people who deal with mental health struggles, but it can be done in a productive and positive way. Remember to appreciate the efforts you're making in using social media, especially if it's been difficult to use in the past.
With a healthy amount of self-discipline and routine, navigating social media can be self-affirming.