Time has come and you are thinking about putting together the perfect wedding. Aside from your stunning outfit, the beautiful venue, and all the other magical things you have planned for your special night, you cannot forget about the decor. What other way to personalize your wedding than by DIY-ing the little things?
Not only is this incredibly fun to do, but it will add a special touch to your perfect day. Your guests will leave remembering all the hard work and effort you put into carefully specializing these crafts.
1. Illuminate your reception with a little bit of glitter: 
You can even add them to your centerpieces! Candles always look elegant and classy, while the glitter adds a bit of personality.  You could also coordinate the color of the glitter you use with your wedding colors and the reception will be even more beautiful. Find out more about these here.
2. Share your most dorky moments, which will also be the perfect icebreakers: 
These are adorable as they are easy. It's a simple task to just print these out at your own home and it's a fun talking point for each of your guests.  Table numbers are always something of a hassle, and then people don't sit where they are supposed to half the time.
This idea makes the table numbers much more fun and gives your guests some more cute information about the bride and groom.  This is completely unique and will leave a memory with your guests.
3. Keep your wedding going months after it happened with this adorable guest activity:
Another fun way to entertain your guests is with a date jar. You can buy chalkboard and mason jars and just provide a box for the ideas. A simple and fun way to get date night ideas as well as to enjoy a laugh or two with your guests. This is a cheap and elegant way to keep your guests entertained, and it leaves you and your partner another great gift that can last a lifetime. It will also help keep the magic and fun of being in a relationship.
4. It's easy to get creative with centerpieces with simple arrangements: 
Easy, simple, and elegant – what else could you want?  Just look at how beautiful this arrangement is, and everything is functional. After the wedding, you have an entire bar set ready to go for your new home with your partner, instead of just hundreds of flower vases that will most likely sit in a closet for the rest of your marriage.  Also, this way you would spend less on flowers and therefore save money.
This is an adorably elegant and cute way to save money because you're buying fewer flowers and more functional pieces.  You could even use the plate holder mirror as a beautiful mirrored collage in your home afterward! For more DIY ideas for centerpieces look here.
5. Keep your invitations personal and elegant with a simple tweak: 
Stop paying for expensive wedding invitations and make these instead. Send something that says I specifically want you to come to my wedding, with a more personal touch.  These are so fabulous and cost significantly less than it would be to pay a company to send our your invitations.
This works especially well for smaller and more intimate weddings because each invitation is unique and could be tailored towards the person receiving it.  More information about how to do these can be found here.
6. Give guests the perfect way to give you a send-off: 
Remember how guests used to throw rice? This is the next best thing!  Make sure you get paper that is compostable or biodegradable, so you are in the clear.  These are an easy way to make your wedding more of a celebration than a formal affair.  Find out more information about this DIY project here.
7. If you're really adventurous, make your own beautiful boutonnieres:
Why buy it when you can make it yourself? This is an easy and classy way to put your creativity to the test.  You can personally coordinate your wedding colors into the boutonnieres and make each one unique. You can even use flowers from your own garden and save money while adding an intimate touch.  Or you could use fake flowers so the memories could last forever. Check them out here.
8. Add some themed flair with beautifully handcrafted flowers: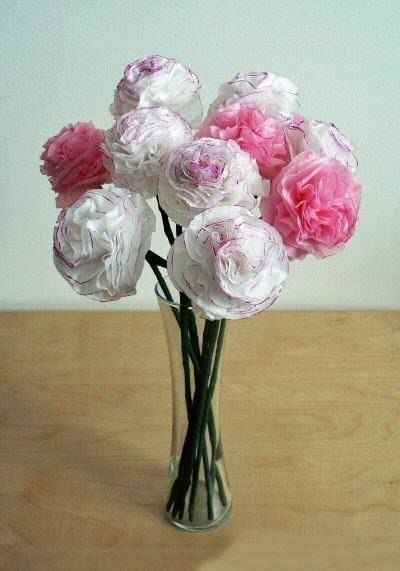 Check out these awesome paper flowers to decorate on your special day. These are cheaper and easier to discard than twinkle lights or anything else. These flowers can coordinate with your wedding colors or just hang on their own.  This is a great way to make your wedding personal and adhere to your personal taste.  Find out how to make these here.
9. If an open bar isn't your thing, make it a mini bar:
If the open bar concept is too daunting of an expense for you, here is a cute replacement. On the wedding invitation, add a section for preferred alcohol and have these little airplane bottles waiting for your guests at their seat.  This would be less expensive than a typical open bar and this is an easy way to make sure nobody is drinking too much. Originally this post was presented as a wedding favor for the groomsmen, which also works. There are endless possibilities when you put drinks into a little mason jar! For more info go here.
10. Keep the memories of the wedding going for your guests this summer:
If you're a gardener, then this idea is absolutely perfect for you. Just set up a box or wheelbarrow with packets for seeds that your guests can use and plant in their own gardens and the memory of your wedding day will last even longer. I suggest getting perennials so you and your guests really can remember the day for years to come.  This works especially well for spring weddings.