USA, World News, The World
Arkansas Executions, North Korea, and Turkey: The Week in Review
Also included: Over 27,000 racers take part in the Boston Marathon, Steve Stephens is found dead, and former Microsoft exec wants to track government tax-dollar spending.
We get it, Wednesdays can be tough to get through. In an effort to keep up with the world's ever-changing news landscape, we've put together 10 headlines to keep you on top of things.
1. Mike pence visits Korea, US sent warships to the Peninsula
Mike Pence went to DMZ (demilitarized border) to reaffirm the ties between South Korea and the United States while simultaneously hoping to intimidate North Korea. He said, "This president has made clear that we're going to abandon the failed policy of strategic patience.  But we're going to redouble our efforts to bring diplomatic and economic pressure to bear on North Korea. Our hope is that we can resolve this issue peaceably."
A little over a week ago, the Trump administration said they were sending warships towards North Korea after the nuclear provocation, but this was later proven incorrect. The President said, "We're sending an armada," and the many governments in East Asia reported on their fears of a pre-emptive military strike. The story of the wayward carrier might never have come to light had the Navy not posted a photo online Monday of the carrier called "the Carl Vinson" sailing south through the Sunda Strait. It was taken on Saturday, four days after the White House press secretary, Sean Spicer, described its mission in the Sea of Japan.
Now the Carl Vinson is finally heading towards the Korean Peninsula according to Navy sources.
2. Steve Stephens: a live-streamed murder and apparent suicide
Since April 16, the American midwest has been abuzz with concern over the whereabouts of the now-infamous Cleveland Murderer, Steve Stephens. For a while, it seemed the police would never be able to find the man who brutally murdered a man on Facebook live. The victim was Robert Godwin, a grandfather of 14 and beloved family man.
Steve Stephens was caught when he went to a McDonalds and the crew decided he must be the guy everybody was looking for. They withheld his fries to secretly call the police. Unfortunately, Stephens didn't care as much about his fries as the McDonalds crew had hoped so he drove away, but police were already on their way. The police used a "PIT" maneuver in their vehicles to apprehend him but once his car was hit, he shot himself on the scene.  Steve Stephens claimed he took the life of another man because he was mad at his girlfriend before he committed suicide.
3. Coachella Weekend
This passed  weekend, the famous Coachella festival took place in Indio, CA. Many music artists, celebrities, and festival goers attended this yearly event to soak up some sun, chill, eat, and listen to music. The Coachella Music Festival hosted performers from Kehlani to Two Doors Cinema.
While the festival draws in thousands of attendees every year, "Coachella Culture" has been heavily criticized for promoting cultural appropriation.
4. Two inmates on death row are executed on hours apart in Arkansas
In Arkansas, a string of executions have been halted because of many protests and responses from faith leaders. The five men left scheduled to be executed are currently on hold as the Supreme Court reviews the case.  Currently, the individuals' lawyers are fighting for the lives of their clients and stating their innocence. Due to the executions being blocked for those still on death row, their death penalty is set to restart from the beginning. Those that have to restart their sentencing will have to go through the clemency process.
5. Steve Ballmer, former Microsoft exec, launches start-up to track government spending
On Tuesday, Steve Ballmer announced he was launching a database that tracks government spending federally, locally, and throughout the state.  Although this is just a start-up website at this time, he believes that it will expand into something more evolved and much needed for the country.
6. Former New England Patriot  Found Dead
Former NFL player, Aaron Hernandez, was found hanging in his jail cell as he was sentenced to life in prison after being charged with the murder of Odin L. Lloyd. Officials say that he hung himself with the bed sheets in his cell.
Although it appears to be a suicide, many that knew Hernandez  believes he was not capable of doing something like that to himself. They believe someone had the motive to harm Hernandez. Apparently, Hernandez was looking forward to a second chance at life. Since the tragedy was under the eyes  of the law, the murder conviction he was guilty for will be overlooked because the individual has not had the ability to clear his name.
7. "Girls" aired its series finale, and we have mixed feelings
HBO TV series "Girls" aired its finale this week and those who tuned in remember it as the next step beyond "Sex and the City." "Girls" was supposed to be the show that brought about more feminist television, and sure, it certainly did push limits. The approach to body positivity consisted of the show's writer and star Lena Dunham's choice of clothing and lack thereof, and that was just her style. However, Dunham has become increasingly associated with white feminism, not simply because of the peripheral roles of racial minorities on her show, but because of public commentaries she has been associated with. Indeed, not all female identifying people can understand just what it means to be a middle upper class white woman in Brooklyn, but "Girls" does not have to be the show we turn to for that fulfillment.
8. The first female to race in the Boston Marathon 50 years ago does it again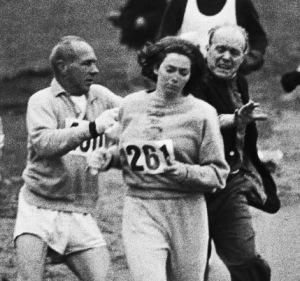 The "fragile women" of the 1960s could not bear to run the distance of the Boston Marathon- but apparently they could. Katherine Switzer became an icon when she ran the marathon with a bib number, which she managed to attain by signing her first name with her initials. After all, there were no official rules restricting women from running the race, nor a gender box. Yet, there are photographs of men nearby trying to do away with the dame as she tries to get through the marathon. It would have been interesting to see them try during this last Boston Marathon, where Switzer ran again 50 years later.
9. Erdogan expands his power overseas
Recep Tayyip Erdogan, leader of the AKP party in Turkey, has gained even more power recently. The constitutional amendment drafts that create an executive presidential system were approved earlier this week. The Prime Minister post was abolished in the draft and Erdogan can identify with the AKP Party under the changes.
10. Sophia Amoruso's #GIRLBOSS is coming to Netflix 
Coming soon to Netflix, the highly rated novel of a woman making it on her own and building her own business from the ground up, #GIRLBOSS is soon to be the next trending series of the year.
The show will be based on how Sophia, the founder of Nasty Gal, came to be such a success and what she did. Being a 23-year-old is not all its worked up to be, according to Sophia, and it takes dedication and hard work. The author of the novel displays how its all about finding yourself and also making mistakes on the way to the top. Netflix decided to take on this project because they are interested in original content and plan to spend around $6 billion on the project.
Until next week: