USA, World News, The World
Syria Gas Attack, Bill O'Reilly, and Russia: The Week in Review
Also included: Michael Flynn seeks immunity in exchange for testimony, new developments with Brexit, and hundreds are affected by mudslides in Colombia.
We get it, Wednesdays can be tough to get through. In an effort to keep up with the world's ever-changing news landscape, we've put together the top 10 headlines of the week to keep you on top of things.
1. North Carolina wins over Gonzaga in the NCAA
On Monday, North Carolina won the 6th NCAA Championship with a 71-65 win over Gonzaga. The victory literally came down to the very last second, with Justin Jackson delivering the final, winning 3-point play only 1 minute and 40 seconds before the final buzzer.
2. Deadly St. Petersburg, Russia train blast
This week in Moscow, Russia, a bomb was set off in two locations of public transportations. One woman said that she saw someone throw a bag in one of the train cars. 11 people on the train were killed and many still missing. The explosion occurred during the Russian president's visit to his hometown. As of right  now,  the source of the bomb is  unconfirmed but an investigation is under way.
3. Neil Gorsuch's nomination heads to the Senate
As Neil Gorsuch's nomination heads to the Senate, we should know what to expect in terms of his ideologies, as they may very well be affecting daily American life. Gorsuch is known for his extremely hostile feelings towards Planned Parenthood primarily because of the abortion services Planned Parenthood offers (although that is only a small percent of the women's health services they offer and by no means their primary purpose, meaning that Gorsuch wants to eliminate abortion essentially more than he wants to provide healthcare in general for women).
It is probable that he will work to overturn Roe v. Wade. He has also stated his belief that employers should not be required to provide employees with contraceptive coverage if doing so interferes with their religious beliefs, putting religion above the health-related rights of female employees. In addition to voting in favor of decisions that undermine women's rights and employee rights, Gorsuch can be expected to fail to prioritize the rights and needs of people with disabilities, as well as civil rights in general.
4. Mudslides in Colombia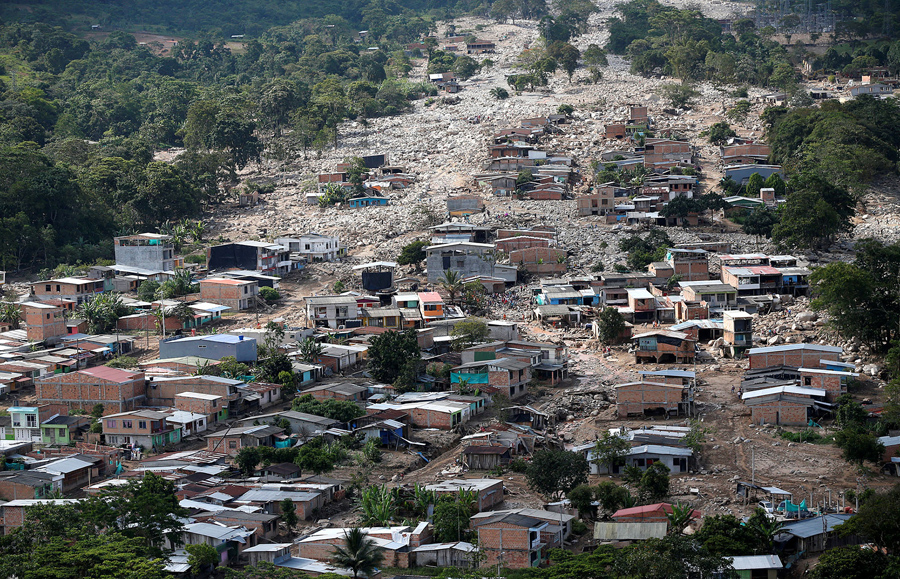 Heavy rainstorms in Colombia this week were the unfortunate impetus for powerful mudslides in the southwestern region of the country. Torrential downpours, coupled with floating debris, upheaved neighborhoods, have left over 273 and counting dead. Over 300 people are missing in the city of Mocoa, with local forces working as quickly as they can to launch efforts to find survivors.
5. James Rosenquist passes away
James Rosenquist passed away at 83 this past Friday in New York City. Rosenquist was, and will continue to be, widely renowned for his immense contributions to the early Pop Art movement. Pop Art can be defined as combining or juxtaposing fine art values with mass media and modern popular culture, often to make some kind of social or political commentary.
Rosenquist's life was a vivid testament to the value of breaking away from the norm and embracing change; his art, although ill-received initially as it strayed away from the traditionalism of the early 60's, inspired and gave way to today's greatest Pop Artists: Andy Warhol and Roy Lichtenstein. Rosenquist was also known for the sheer size, scale and boldness of his pieces, many of which covered billboards that loomed over places like Times Square.
6. Syria chemical gas attack
In Syria, many are dying from the toxins of a chemical bomb. Many innocent lives were taken and some children are now left without their families. There are about 25 survivors being treated of the chemicals. A chemical bomb is not completely the reason, as of this moment, but many claimed they saw a bomb being dropped from a plane causing many to be killed from the chemicals.
7. New developments with Brexit
Today with the European Union, Britain has voted for the United Kingdom to be kicked out of the Union. The campaign began on June 23 of last year and was just confirmed of their victory on the campaign.
8. Egypt's authoritarian leader is welcomed to the White House
Egypt's authoritarian was welcomed at the White House by President Trump on the 3rd of April 2017. Trump emphasizes how great of a leader Sisi is, but he has done nothing but show ignorance towards his people, especially the women that reside there. The President also mentioned how he has similar tactics that the Egyptian authoritarian has towards his government.
9. Bill O'Reilly sexual assault allegations put Fox News in trouble again
In a vein similar to that of Fox News CEO and Chairman Roger Ailes stepping down amidst similar claims, The New York Times reported that five women were paid between 2002 and 2016, either by O'Reilly himself or Fox News, a collective $13 million to settle harassment allegations, agreeing not to pursue legal action or publicly discuss the incidents. Two of the women were former producers on Bill O'Reilly's show, and the other there were former on-air personalities at Fox News and Fox Business Network. 4 of the 5 claims involved sexual harassment claims.
O'Reilly has not addressed the allegations on his show. He has only posted a statement on his website explaining that his fame made him a target for publicity stunts, and that no complaints have ever been filed to Fox News' Human Resources department thus far, not even anonymously. In addition, 21st Century Fox, Fox News' parent company, stated that O'Reilly"denies the claims, but has resolved those he regarded as his personal responsibility.
"Resolved" or paid off?
You decide.
Consequently, BMW, Hyundai, and Mercedes-Benz have all pulled their advertisements from O'Reilly's show.
10. Michael Flynn seeks immunity in exchange for testifying on Russia
Retired Lt. Gen. Michael Flynn served for a short amount of time as national security adviser to Donald Trump, before he was asked to resign due to allegations of ties to Russia, which were at the time confirmed by Trump, although the extent of the ties was not clear. Flynn is now is seeking immunity from prosecution in exchange for testifying regarding the president's ties to Russia, as reported by the Wall Street Journal on Thursday. Flynn's attorney has stated only that "discussions have taken place" with the House and Senate Intelligence Committees, but that is all the information that is been released to the public for now.
Until next week!