The Korean music industry is huge, full of dedicated and talented artists; It's not just pop music-it covers ballads, electro-pop, rock, hip hop, R&B, and more. It continues to demand an international presence as it grows in popularity, and its increasing global reach has been part of a phenomenon aptly called the Korean Wave. I started listening to K-pop in high school, and I still listen to it now. There's a song for every mood, whether I feel like dancing or reading a book or, sadly, studying.
Because K-pop encompasses so many different types of music, I've compiled a list of smooth, mellow songs that are perfect for relaxing or getting some work done, a quintessential study playlist I definitely would turn to. I've selected songs that shine light on other artists in the industry, and with mellow instrumentals, chill beats, and dreamy vocals, these songs might lull you to sleep or be the perfect accompaniments to your favorite book and a mug of tea.
 1.  D (Half Moon) || Dean ft. Gaeko
Kwon Hyuk, better known as Dean, is an R&B solo artist who first debuted in the United States instead of South Korea. His song "Half Moon" brings to you chill beats and soothing vocals with an even tempo. When rapper Gaeko comes in, he adds an extra layer, segueing effortlessly in and out of the song.
2. Dream || Suzy and Baekhyun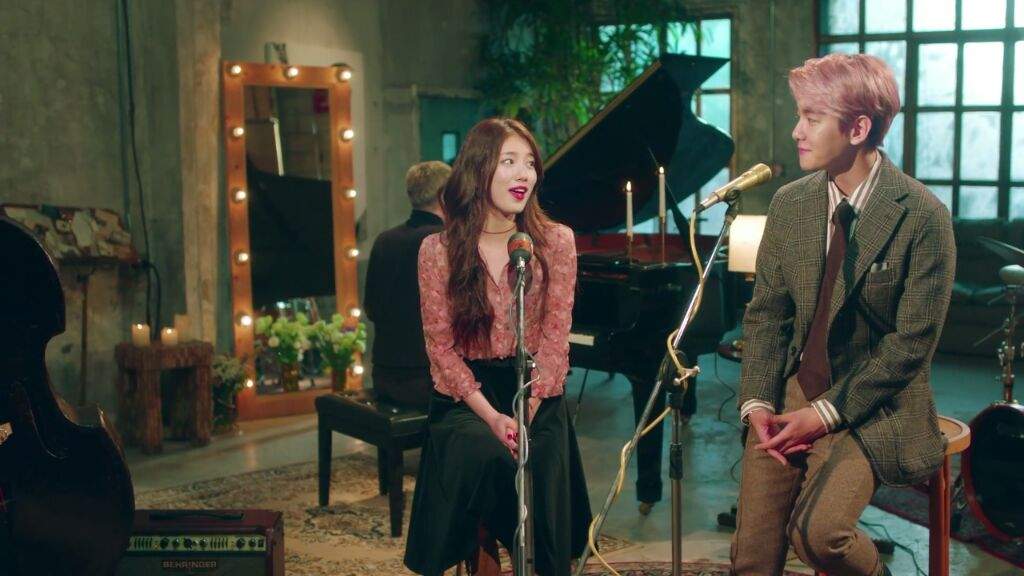 A duet by Suzy, soloist and member of Miss A, and Baekhyun, member of EXO, "Dream" is a love song aptly titled. Suzy's high, airy voice harmonizes perfectly with Baekhyun's deeper one. With its jazzy vibe, acoustic instrumentals, and gentle vocals, this is definitely a song I can imagine myself sitting in a cafe and drinking a latte to.
3. Ordinary Love || Park Kyung ft. Park Boram
Another love song and duet, this time by Park Kyung (rapper from Block B) featuring Park Boram (soloist), this song is a little more upbeat. Kyung's rapping works well with Boram's vocals, and layering their voices adds to the melody, creating a fun yet easygoing vibe.
4. Across the Universe || Baek Yerin
Baek Yerin debuted at only 15 as a member of 15&, and has also branched off into being a soloist. Her debut solo song, "Across the Universe," evokes a relaxing, hopeful mood through her sweet voice and mellow instrumentals as she wishes for her lover to come join her.
5. Melted || Akdong Musician
Lee Chanhyuk and Lee Suhyun make up brother-sister duo Akdong Musician who debuted in 2014. "Melted" showcases their beautiful vocals against piano and string instrumentals, creating a haunting mood with a sense of longing and melancholy.
6. So-so || Baek A-yeon
Baek A-yeon's dreamy vocals tell a story about her lackluster love life, where she is just "so-so," still ending up alone despite attempts to find someone. The uplifting instrumentals contradict A-yeon's frustration, but the song is still easy-going and relaxing, perfect for curling up and reading a book.
7. Drunken Shrimp || Lim Kim
Lim Kim is a soloist known for indie pop and her unique vocals. Her airy, dreamlike voice is paired with an acoustic guitar in "Drunken Shrimp." The song also creates a relaxing yet slightly upbeat mood, and is something I'd study to or hear in a cafe, or both.
8. Two One Two || Urban Zakapa
Urban Zakapa, an R&B singer-songwriter trio, uses mellow instrumentals and harmonizes beautifully. "Two One Two" is a relaxing, easy-going song with an uplifting mood about being with someone you love, and is the kind of melody I'd find myself daydreaming to.
9. 11:11 || Taeyeon