TV Shows, Pop Culture
9 of the best women-centric shows streaming right now
Looking to binge watch some shows that center on strong female characters and their stories? Here's the best women-centric shows that are streaming right now.
Mainstream media is notoriously bad at telling women's stories. Women are often secondary characters on TV. When they're not secondary characters, most of their story revolves around the men in their lives. On the rare occasion that women are the main characters of the show, their story line still often focuses on their dating foibles. For the most part it all comes back to men.
These story line are old, played out, and women are tired of watching them. Many TV executives haven't gotten the message yet, but a few have. The shows on this list all focus on a central female character or characters, their relationships with other women, and the stories are not all about their relationships.
The shows on this list also portray women as the layered, multifaceted beings they are. The characters are authentic, not contrived stereotypes. Each female character is not all good, and not all bad, not strictly likeable or unlikeable, they are complicated humans.
So, if you're looking for a new show to binge check out some of these:
1. "Z: The Beginning of Everything" (streaming on Amazon Prime)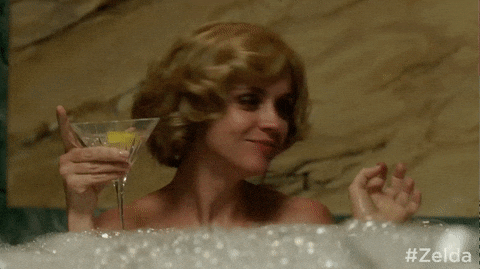 "Z: The Beginning of Everything" is the story of Zelda Fitzgerald, F. Scott Fitzgerald's wife. You know, the guy who wrote the "Great Gatsby," which you might have been forced to read in High School English. Though the story is largely about their relationship, it's also about how Zelda was a fierce, independent woman in a time where that was still not accepted. It's also about the fact that Zelda was also a talented writer, and the allegations that her husband stole her work and published it under his name. It's a fascinating story of love, martinis, typewriters, and sexism.
2. "Good Girls Revolt" (streaming on Amazon Prime)
"Good Girls Revolt" takes us back to a newsroom in the mid sixties, where women are researchers for the stories produced by the magazine, but are not allowed to be writers. The women start to realize that they do all the work and get none of the credit, and they form a plan to sue the company for the right to write. The show portrays the rampant sexism present in newsrooms in the sixties and the fear involved in fighting for equal rights. In a time where protest is sooo necessary, this show takes it back to its roots.
3. "The Handmaid's Tale" (coming to Hulu April 26, 2017)
The television adaptation of Margaret Atwood's book is the most highly anticipated show of the year, at least for me. Atwood's book, and now the show, tells the story of a dystopian future where an elite religious class have taken over the country and instituted a structure of Puritanical values, which of course don't apply to the elites who are charged with enforcing said values. Other than the wives of the elites, women have been been assigned to roles as domestic servants or 'breeders' assigned to households where the wives are barren. The show follows one of these 'breeders' as she remembers her previous life and tells the story of her current life. Warning: in today's political climate, The Handmaid's Tale might be a little too real, but it's worth the discomfort. The story gives a pointed warning about the dangers of systemic sexism.
4. "Chewing Gum" (streaming on Netflix)
Though "Chewing Gum" falls in to the category of "shows that focus almost completely on the girl trying to get the guy" it does so in a completely new way. The show focuses on a black woman in her mid twenties in the projects in London who is just discovering her sexuality. She's deeply religious, but she's also dead set on losing her virginity. The show is unabashed about depicting female sexuality and sexual interest that is always on her terms. It's very rare to see women controlling their own sexuality and setting their own terms, and if that story is told, it's almost never told by a woman of color. For that reason and so many more, "Chewing Gum" is a must see.
5. "Buffy the Vampire Slayer" (streaming on Netflix)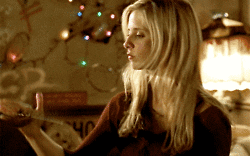 Buffy the Vampire Slayer is just plain iconic. Buffy is a normal teenage ditz until her sophomore year of high school when she's told that she is the Chosen One: a Vampire Slayer. BTVS is like 90210 with demons. All the drama of a teenage girl and her relationships and demon killing on the side. Buffy is a strong, ass kicking woman who is fully capable of taking care of herself, though she does need to be saved every once in a while. The real power of this show, though, is the focus on friendships, especially female friendships. Buffy often suffers when she tries to deal with her trauma on her own and her friends are always there to support her. This show is quirky, hilarious, sad, and super authentic all at the same time.
6. "Jessica Jones" (streaming on Netflix)
The Internet blew up when "Jessica Jones" dropped on Netflix, mostly because they'd never seen anything like it before. "Jessica Jones" follows the story of the title character, who is a private detective and also a rape survivor. We see Jessica suffer with PTSD in an honest and really messy way. We see her try to shut out the world in an attempt to protect herself. We see her confront her rapist and her own trauma. And did I mention she has super powers? Well she does. She's an actual Marvel Superhero. The show is like a punch in the gut. Trigger warning: the show deals with issues of consent and rape in a really complicated and explicit way. I was unprepared when I first watched the show and spent a lot of the time watching it really uncomfortable, but it was still worth the watch. We need discussions of consent like this in media way more.
7. "Jane the Virgin" (streaming on Netflix)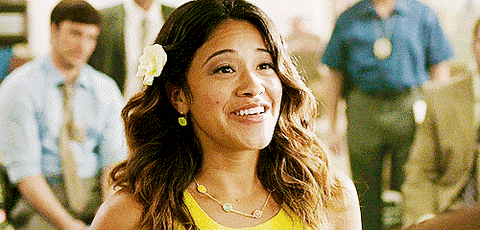 Jane the Virgin is based on the wildly popular Spanish telenovellas and pokes fun at the tropes from that format. The show focuses on a young, Latina virgin who is accidentally artificially inseminated. The story follows her pregnancy, the response from her deeply religious family, and her struggles to raise her child. One of the amazing strengths of the show is the relationships between the women. Jane's close relationships with her mother and grandmother drive the show as they struggle with their circumstances, fight with each other, but ultimately support each other unconditionally. Stories about multi generational Latinx families are few and far between, so "Jane the Virgin" is a must see, especially for any woman who grew up with an abuela who loved her 'stories'.
8. "Crazyhead" (streaming on Netflix)
Crazyhead is basically "Buffy the Vampire Slayer" for a new, more diverse generation. The main characters, who work at a bowling alley, are dealing with all the pitfalls of their early twenties, with some demon hunting on the side. The show is irreverently hilarious and gory all at the same time. A perfect combination for the right audience.
9. "Grace and Frankie" (streaming on Netflix)
When these two women find out that their husbands, who work together, have fallen in love with each other, their lives fall apart. Though they've never really gotten along, the women are forced to move in with each other, and hijinks ensue. The women stumble through supporting each other while figuring out how to rebuild their lives without their husbands. After a while, they become friends, of a sort. The show highlights the complicated ways women interact with each other and form friendships.
On your next day off, put on your comfiest jammies, grab your favorite snack, and curl up on the couch for a marathon session of woman-centric TV bingeing.