It's no secret that weddings are expensive, so why not make it an experience that will last a lifetime?
Destination weddings are cheaper most of the time in terms of food and renting venue space. Since most people travel for weddings already, why not make a vacation out of it? You can explore a new city or country and celebrate your love.
Destination weddings are the best of both worlds.
Click To Tweet
All these destinations provide a more romantic and scenic experience for your special event. Whether you're looking for a tropical backdrop, a fairytale wedding, or just want to add a little flare to your special day, destination weddings can provide an explosion of culture.
1. Australia
The land down under is full of gorgeous landscapes ranging from urban cities to rugged outback, the Great Barrier Reef, and upscale eateries. Did I mention how awesome the food is in Australia? With homegrown spices and Asian/European influences, the food here is sure to impress.
Not to mention the world-class local wine options!
With a wide range of activities for guests like zoos, wildlife viewing, scuba-diving, snorkeling, and white water rafting, there will be something to do for everyone on your guest list. Australia's weather is perfect year-round, so no need to worry about scheduling or weather conflicts!
2. Costa Rica
Costa Rica is the perfect option for those couples looking for a untouched tropical background for their wedding, but still crave modern urban tastes. This small country has something for every couple, with two beautiful coasts only a plane ride away if you're in the United States.
Ceremony options range from mountaintop outdoor weddings, a wedding on the edge of a volcano, or an all-out beach bash.
Food is also wonderful and inexpensive in Costa Rica. With activities ranging from water rafting, deep sea diving, and water rafting, you'll never be bored. Make sure to schedule your wedding during December through April to avoid heavy rain.
3. Anguilla
One of the more exclusive islands in the Caribbean, Anguilla is filled with unspoiled scenery, white beaches, and upscale resorts. The food here is also amazing, considered some of the best Caribbean food in the world. Activities range from swimming, snorkeling, and barefoot strolls. On the plus side, temperatures are perfectly pleasant all year round.
4. Cayman Islands
For couples that are looking for that all-around perfect destination wedding experience, look no further. Cayman Islands is ideal because of its blend of tropical romance and lovely hospitality. There's plenty of options for those with any budget, with venues ranging from five star hotels to smaller resorts.
Downtime activities include, snorkeling, swimming, and visiting historical sites like George Town. The weather is perfect year-round, but if you're looking to avoid crowds, December through April are the busiest times.
5. Jamaica
Jamaica is perfect for the couple looking for a blast of culture. Apart from beautiful beaches and palm trees, Jamaica offers a laid back atmosphere, lovely spices and foods, and Rastafarianism/Reggae.
Montego Bay is the most popular resort in the country, offering wonderful services and an all inclusive fee. Avoid March because of spring break season, as well as June through November, which is hurricane season.
6. Nevis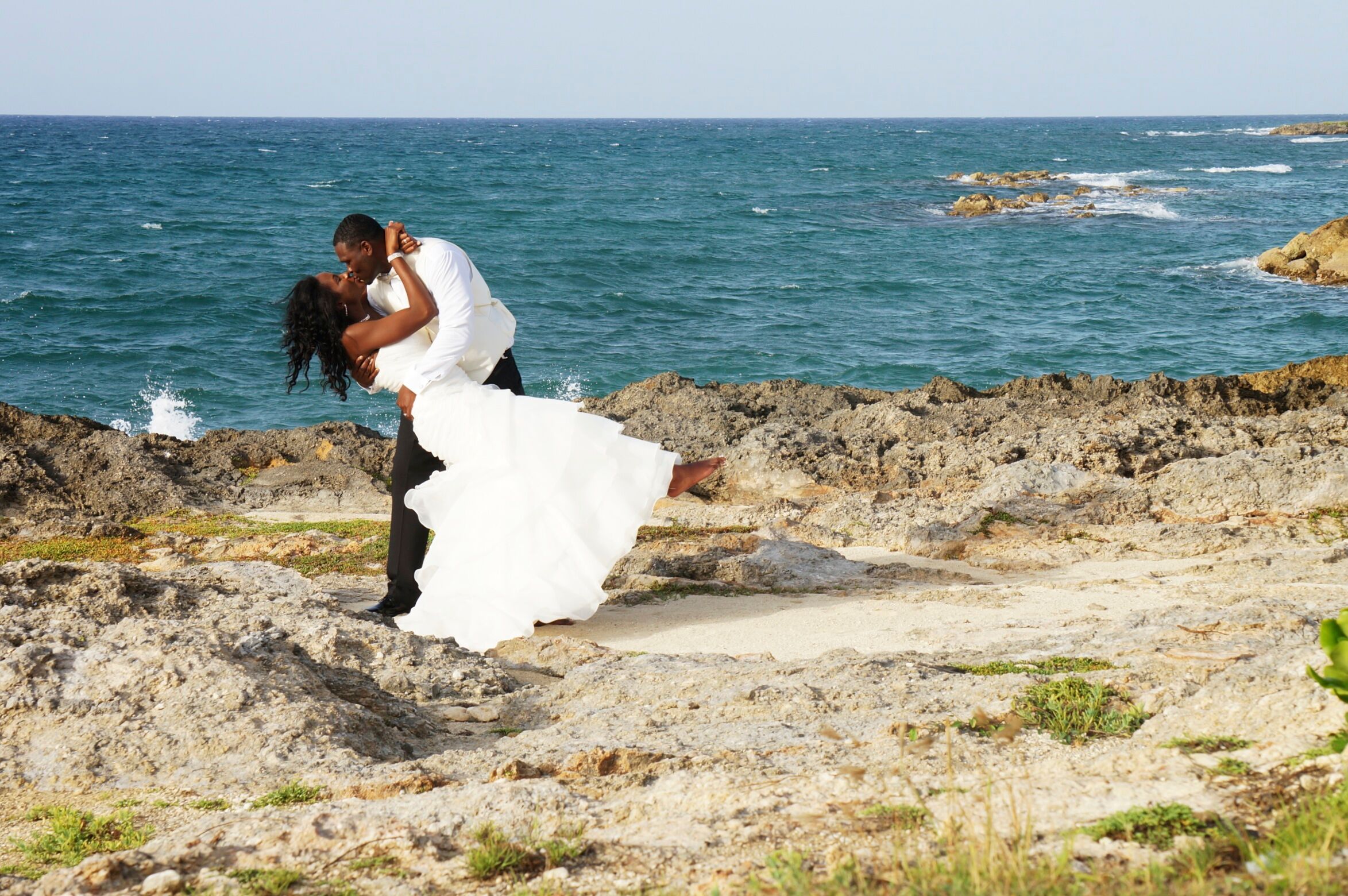 Nature lovers, this is the island for you!
Nevis is often called "Queen of the Caribees," as it is home to some of the best preserved beaches, rainforests, and reefs. You'll find a more private atmosphere for your wedding in a number of high class resorts.
Activities range from climbing to the top of Nevis Peak (3,232 feet tall), horseback riding, to exploring the rainforest, and relaxing on the beach. The weather is usually perfect year-round, but try to avoid hurricane season, which is June through November.
7. Puerto Rico
Puerto Rico has all the assets of the other Caribbean islands, with beautiful beaches and lovely resorts, but also comes with the perks of being a U.S. territory. This makes traveling abroad for you and your guests more cost-effective and just generally easier.
Benefits include the fact that there's no dealing with customs agents! Puerto Rico has the perfect blend of cultural/historical sights and traditional beach relaxation. Beware of hurricane season, which is June through November.
8. The Bahamas
The Bahamas are perfect for the couple who are looking for convenience in their destination wedding. This collection of 700 islands has something for everyone. From renting your own island to hosting hundreds in a mega resort, there are plenty of options.
The Bahamas are only a 35 minute plane ride from Florida, making this a superb choice for couples who want to keep traveling simple, but still want the luxury of an island wedding. Try scheduling your wedding during the summer because there are less tourists and it's much cheaper.
9. Amalfi Coast, Italy
When the backdrop for your wedding is a citrus grove that overlooks Italy's jaw-dropping Amalfi Coast, wedding pictures sort of take care of themselves. This is a perfect location for the food lover, hands down.
Activities include visiting the ruins of Pompeii, boat trips to the Blue Grotto, and strolling through ancient streets of Naple's Old Spacca Quarter. April-October are the best times to travel in Italy.
10. Ireland
If the words "fairytale wedding" mean anything to you, then Ireland is your wedding destination. Complete with beautiful hills, ocean side cliffs, seaside villages, luxury castles, and and lush gardens, it's the perfect space for you to make your vows.
Ireland is filled with rich cultural traditions and the natural beauty of the country side. Your itinerary includes pubs, museums, golfing, and rich culture. This makes for an unforgettable wedding experience.
11. Loire Valley, France
Loire Valley is two hours outside the most romantic city in the world. Cherished for its castles, historic villages, wines and food, you've basically got everything you need for a dream wedding.
Your guests can enjoy activities like wine-tasting, paying a visit to the Chateau d'Ussé — the setting of the French fairy tale "Sleeping Beauty" in the village of Rigny-Ussé —  and tasting delicious tarte tatin (upside down apple tart). 
Your best bets are April through June, and September through early November. Avoid August and July to avoid heavy crowds.
12. Rome, Italy
Often called "The Eternal City," Rome is the ideal destination for the couple looking for the ultimate romantic experience. Old world culture mixes with a modern metropolis and historic attractions. Rome will provide a truly unique affair, with a plethora of artistic monuments, romantic backdrops, ancients ruins, rustic churches.
Guests can take strolls down the cobblestones piazza to grand palaces or beautiful villas.
Did I mention how amazing the wine is?
The best times to travel are April-June, and September-October. Also, most Italians go on vacation in August, so many shops, hotels and restaurants may be closed.
13. Tuscany, Italy
Set along central Italy's west coast, Tuscany's green valleys, rolling hills, vineyards, olive groves and 15th-century art and architecture are what wedding dreams are made of. For a rustic, romantic affair, the wine estates and castles of central Tuscany can't be beat. And a laid-back vibe will help your guests feel right at ease—this part of Italy is all about il dolce far niente, or "the sweet art of idleness."
You'll find some of Europe's best cuisines and wines in Tuscany. Let your guests indulge in local specialties like olive oil, mushrooms (such as porcini and truffles), roasted meats and salami, sheep's milk cheeses (such as pecorino and ricotta) – and don't forget the spectacular wines!
July and August are the best months to plan a wedding to avoid heavy tourism, if you don't mind humid weather.
14. Fiji
Fiji is the ideal destination for couples seeking castaway tranquility, exotic culture and unspoiled beaches for their nuptials. Fiji is known for lush foliage and rich sea life. Called "The Soft Coral Capital of the World," Fiji is the perfect spot for nature-loving guests, who can feed sharks, explore sunken ships, and check out a World War II aircraft.
For the more adventurous guests, they can trek the Sigatoka sand dunes, scale the vertical face of Joske's Thumb, hike the Mount Korobaba Range, tee off on palm-studded golf courses by the sea or go white-water rafting down the Wainikoroiluva River. Fiji is truly a tropical dream land.
The best weather is during Fiji's dry season (called "Fiji Winter"), from May to October.
15. Santorini, Greece
Only one word can describe this beautiful location: heavenly. Filled with picture-perfect views, Santorini is sure to take your breath away. The city has a little bit of everything, with beautiful villas like Marizan Caves and Villas in Olia. Santorini may well have conquered a corner of your imagination before you've even set eyes on it. With multi-coloured cliffs soaring over 300m from a sea drowned caldera, the island spoons the vast crater left by one of the biggest volcanic eruptions in history.
Santorini is filled with a range of wedding planners to help make your special day go smoothly. A little more expensive than other locations, Santorini is filled with amazing views, scenic buildings, fun night clubs, shopping, and beautiful architecture. This culturally rich city has accomplished artists, excellent wineries, a unique microbrewery and multi-coloured beaches.
Santorini's weather is amazing year round and the food will surely impress your guests.
16. Cozumel, Mexico
Cozumel spells P-A-R-A-D-I-S-E for outdoorsy couples looking for a quiet spot away from the tourist crowds to tie the knot. With the world's largest coral reef system, wildlife nature reserves, turquoise waters, lush grounds, and beautiful swaths of sand, Cozumel also has plenty of resorts with impeccable service, on-site wedding planners, and vendors to help you plan your perfect event.
Nature-loving couples will love Cozumel's Chankanaab National Park, filled with lagoons, snorkeling, botanical gardens, and a Mayan village replica. More laid-back guests can visit the shops and restaurants of downtown San Miguel.
Summer is the best time to plan your event. Avoid spring break crowds in March and April.
17. San Miguel de Allende, Mexico
For old-world charm and romance (picture: narrow cobblestone streets, red stucco walls and Spanish Colonial–style architecture) with a mountaintop backdrop and year-round sunny temps, you won't have to look very far. San Miguel de Allende is located just outside of Mexico City and is a historic cultural hot spot dating to the  1500s.
You'll find historic buildings like century old chapels and churches, beautiful gardens, courtyards, and elegant boutique hotels. Guests will have no issue keeping busy with local galleries, restaurants, shopping, spas and numerous festivals to choose from. Spring is the perfect time to plan a wedding at this colorful location.
18. Los Cabos, Mexico
Los Cabos is filled with cozy hotels, championship golf courses, winding horse trails and white-sand beaches, so it has a little something for everyone. There's no shortage of beach clubs and villas, plus plenty of fuss-free all-inclusive packages, so finding a venue and accommodations for your guests will be super easy. You can also take a boat ride to a private beach to say your vows.
Looking for something unique? Enter your beach ceremony by horse, or make the release of baby sea turtles part of your wedding program.
Like other destinations in Mexico, avoid spring break months (February and March). April and May are ideal months because they are less busy, but still sport great weather.
19. Riviera Maya, Mexico
Riviera Maya is filled with rich cultural history, it mixes ancient Mayan ruins with palm tree filled beaches giving your event a tropical feel. Cancun feels reminiscent of an untouched jungle, yet is filled with fun nightlife and large resorts. Choose a property in Cancun's Hotel Zone, book an entire boutique hotel, or go for a hacienda-style wedding in a Mayan village, near one of the ancient archaeological sites. The ruins of the ancient Mayan empire in seaside Tulum provide a stunning backdrop.
For a slower-paced setting, try Playa del Carmen, which displays an authentic rustic charm and is home to some gorgeous beaches. And there's no shortage of natural settings here, either: Say "I do" in a lush, tropical garden, in a beautiful eco-park, or the freshwater pools that the Riviera Maya is famous for.
Avoid tourist/spring break months from February-March. April and May are the best months to plan your special day.
20. New Zealand
For the couple not in the mood for a beach wedding bash, look to the remote landscapes of New Zealand. Water-lovers will adore the miles of golden beaches, while land-lovers can admire the pristine forests.
Some special locations include the Great Barrier Island, with its more rugged landscape, wildlife sightings and secluded hot springs; the snowy Southern Alps for stunning views; and Waiheke Island, known for their vineyards and olive groves.
Like Australia, the weather is opposite to the U.S. December, January and February are the warmest months, with temperatures usually in the 60s.
21. South Africa
South Africa has been called "a world in one country," and it's easy to see why. Towering mountains rise over a vibrant and trendy Cape Town; ostrich-dotted grasslands stretch to connect quaint villages; monkey-filled forests line the deserted beaches of Natal; and the Stellenbosch wine route tucks vast vineyards into lush, fertile valleys.
South Africa's stunning landscapes, wildlife preserves (lions, giraffes, and crocodiles), and pristine beaches along the 2,174 miles of coast and rolling vineyards have made it an exotic location for a destination wedding. South Africa is ideal for the adventurous couple looking to throw a unique wedding.
With stable temperatures through out the year, summer (June to August) is ideal for beach bashes, while winter (December to February) is best for game-viewing if you want to give guests a taste of the wildlife.
22. Tahiti
Tahiti is known throughout the world for its beautiful landscape packed with palms, vanilla farms, vivid blooms and postcard-worthy rain forests. The best thing is that Tahiti is rarely visited by tourists, so your guests will enjoy hospitable service and crowd-free beaches.
Recommend that your guests visit the capital of Papeete and tour the Marche du Papeete (Central Market) for black pearls, carvings, shells, vanilla, coffee and perfumes. They can also visit popular spots like Papenoo, Punaauia, and Paea for surfing.
May-October is ideal but since it gets cold at night, remind guests to bring a sweater.
23. Thailand
It's clear why locals regard this as the funnest place, or "sanuk." From the luxurious palaces, to the large coral reefs, to the diverse wildlife, and delicious cuisine, Thailand is truly a gem that your guests will love to explore. if you're looking for more of a metropolitan experience, stop in Bangkok for urban activities like dance clubs, the Grand Palace, souvenir shops, and the Red Light District.
For nature lovers, northwestern Thailand is your best bet, with beautiful beaches, and luxe resorts like Phuket (the largest island) and Koh Samui (worth the long trek).
Avoid November-January if you're in favor of more warm climate.
24. Maui, Hawaii
Maui is often regarded as one of the most romantic islands in Hawaii, filled with waterfalls and rainbows. It's home to some of the most popular beaches that are considered hot spots for wedding ceremonies.
Activities like surfing the "Golf Coast," kayaking, snorkeling, and whale-watching will keep your guests entertained between wedding activities. Temperatures are solid 80's throughout the year.
If you're looking to save some extra money, avoid the winter and early spring, which scream tourist season.
25. Kauai, Hawaii
This island is often called "Garden Isle," because of its beautiful lush tropical landscape. This is perfect for those looking for a more secluded spot for their ceremony.
Aim for renting venues on the Southern Coast to avoid heavy rainfall. Activities include, hiking, surfing, and helicopter tours.  Avoid winter and early spring for some cheaper pricing.
Planning for weddings is always tough, but planning a destination wedding can make things more exciting. Destination weddings allow you to focus on the important things, like providing a more intimate experience for you and your guests.