TV Shows, Pop Culture
Women of color have a long history on television – and it's amazing
These amazing women are rejecting society's stereotypes by creating and producing their own honest stories.
It's no secret that, over the years, the mainstream media has convinced us that reality TV shows define women of color. It is also no secret that women have been rejecting these inaccurate stereotypes long before "The Real Housewives" was a thing.
We refuse to let others tell us what we should look like and what our lives should be like. Over the past decade, we've seen several successful shows that touch on the experiences of women of color.
1. The Entire Cast, Girlfriends
The entire UPN channel felt like it was catered to diverse viewers and we wish we could bring it back. From hit shows like Girlfriends, One on One to Moesha, UPN did it right. Shows like these provided us with something we'd never had up until then.
Girlfriends normalized the experience of black women. It was the first show that showed black women doing yoga, getting lunch, and being free of stereotypes.
2. Shonda Rhimes and Viola Davis, How to Get Away With Murder
Shonda Rhimes, the revolutionary screenwriter, created the powerful, headstrong, and vulnerable character Annalise Keating. Viola Davis is stellar as Keating in this historic and award winning show. HTGAWM shows the everyday lives of a diverse group of individuals led by their professor. Viola Davis brings humanity to Annalise, allowing us to see her at her darkest points and reminding us that it is okay to feel.
3. Ava DuVernay and Oprah, Queen Sugar/OWN
Ava DuVernay and Oprah have proved themselves to be the dream team when it comes to representation on television, producing projects like Queen Sugar, on Oprah's OWN network and the Oscar-nominated documentary, 13th. Queen Sugar is the rich story about an intelligent farm family with history dating back to slavery that is struggling to keep their land. The story maps across generations and touches on the power of family to weather through storms.
4. Kerri Washington and Shonda Rhimes, Scandal
It is no doubt that Shonda Rhimes started a cultural revolution in television, with classics ranging from Grey's Anatomy to HTGAWM to Scandal. Rhimes proves time and again that her writing can speak to many generations of viewers, and start much-needed conversations in the process.
Scandal shows that strong, smart, and positive black women in power is something that we can all respect and admire. Kerry Washington is nothing but fierce as Olivia Pope, hands down.
5. Issae Rae, Insecure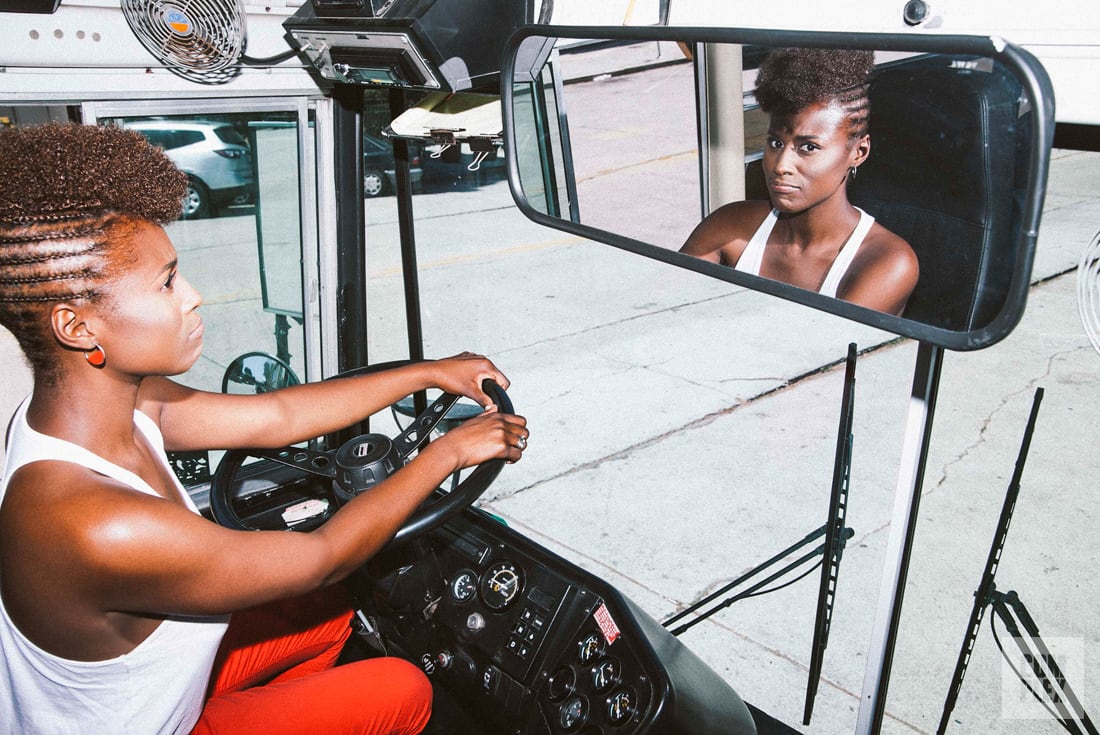 Creator of "Awkward Black Girl," Issa Rae is no stranger to doing her own thing.
She ran a successful Youtube series called "Awkward Black Girl" that quickly drew fans over the years. Now, she has her own show on HBO. Insecure normalizes the day to day work and life experiences of black women in a way that we haven't seen since Girlfriends. Issa Rae is raw and real in Insecure: she holds absolutely nothing back.
It's hard not to admire Issa: she believed in her dream and worked hard to make it happen. We need more fearless women who are not afraid to mess up and still keep going. Issa Rae is the perfect example of what happens when hard work and creativity come to life.
6. The Entire Crew, Orange is the New Black
OITNB is definitely the first show of its kind doing something that television has been craving for years. It compacts so many different stories and experiences from a culturally rich group of women, all of whom are in prison. OITNB brings humanity to prisoners, reminding us that they are people too, with good and bad qualities.
Taking a closer look at female inmates in the prison system, OITNB serves us all the female empowerment feels.
7.  Tracee Ellis Ross, Blackish
The daughter of Diana Ross, Tracee Ellis Ross is no stranger to starring in TV shows that normalize the experiences of diverse individuals. She also starred in the hit UPN show Girlfriends, and made history as the first woman to win an Emmy for Best Female Comedic performance. Tracee Ellis Ross is not only versatile but vivacious in everything she takes on.
Like Octavia Spencer said, "A strong female character is a person who, no matter what her situation is, has a voice. A strong female character is vulnerable, and it's through that vulnerability that we see that she's strong. And that's how we are defined as people. She establishes her own identity and retains her identify in spite of the men in her life."
I think all these legendary women can be defined as strong women. Because diversity and representation have always and will always matter.