USA, World News, The World
Aleppo, South Sudan, and Self-Driving Cars: The Week in Review
The situation in Aleppo turns extremely grave as government forces close in. A new UN Secretary-General is sworn in, South Sudan teeters on the brink of genocide, and global wildlife conservation efforts pick up steam.
We get it, the week can be tough to get through. In an effort to keep up with the world's ever-changing news landscape, we've put together the top 10 headlines so you can stay on top of things.
1. Antonio Guterres sworn in as UN Secretary-General
António Manuel de Oliveira Guterres, former Prime Minister of Portugal (1995-2002) and former UN High Commissioner for Refugees (2005-2015) took the oath of office on December 12 as the ninth United Nations Secretary-General, succeeding Secretary-General Ban Ki-Moon who has led the Organization for the past 10 years. Guterres pledges to work for peace, development and a reformed United Nations. His five-year term will begin on January 1, 2017.
2. 74th Golden Globe Awards nominations are announced
The 74th Golden Globe Awards ceremony (also known as The Golden Globes) is an upcoming awarding event to honor the best in film and American television of 2016. Hosted by comedian Jimmy Fallon, The 2017 Golden Globes will take place on January 8, 2017 at The Beverly Hilton in Beverly Hills, California. Damien Chazelle's La La Land seems to be dominating the awards with seven nominations, followed by Barry Jenkins's Moonlight with six nominations.
Read the full list of nominees here.
3. A policewoman and her son were harassed and yelled at with anti-Muslim slurs.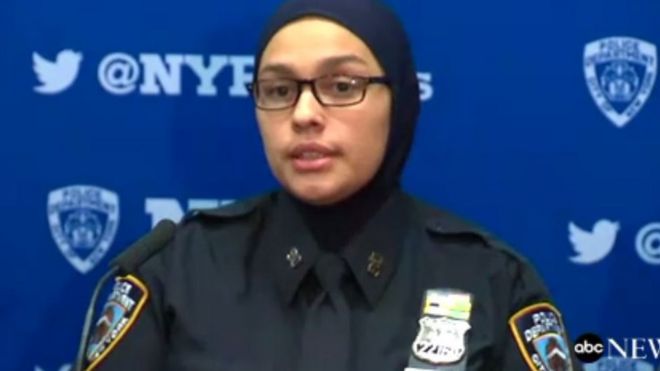 Hate crimes against Muslims are on the rise, especially for Muslim women with visible headcoverings. Officer Aml Elsokary from NYPD and her 16-year-old son were accosted in Brooklyn by a Christopher Nelson who yelled "go back to your country," and "I will cut your throat!" in addition to shoving the boy.
Esokary was off-duty when the incident took place, and Nelson has since been charged with a hate crime.
Elsokary was awarded a medal of bravery in 2014 for saving a baby from a building fire. She's a mother of five and native New Yorker.
4. A brand-new set of emojis drop in Apple's latest iOS update
Apple's latest iOS 10.2 brought more diverse characters, professions, expressions, and even a few fun ones like an avocado (finally) and a gorilla. While iOS 10 was equipped with emoji predictions and Tap to Replace feature, with iOS 10.2 has emojis "beautifully redesigned to reveal even more detail, so using emoji is more fun than ever".
5. The situation in Aleppo is the gravest its ever been
Syria has been going through a civil war between a group of rebels and government-backed soldiers who are trying preserving Bashar al-Assad's power. The conflict in Syria started in the city Deraa in March 2011 and reached Aleppo by July 2012. Since then, Aleppo and the city has since become one of the main battlegrounds for the civil war ever since and is divided into two sides.
As the rebels were gathering to depart the city on Wednesday morning, reports emerged that at least 82 civilians – including 13 children and 11 women – had been killed by Syrian forces who entered homes and killed those inside, then shot those who tried to flee, according to the United Nations.
People trapped in Aleppo sent their messages to the world to stop the genocide. From inside besieged Aleppo, the messages took form in videos and tweets.
Here's how you can contribute to help alleviating catastrophe in Aleppo.
6. Yahoo's latest security breach is the largest in history
Yahoo broke its own record for the largest data breach in history this week. The media site states that a hack that was carried out 3 years ago has left more than 1 billion users vulnerable. This announcement follows the revelation of another Yahoo breach 3 months ago, which affected an estimated 500 million users. No credit card numbers or other sensitive financial data are believed to have been compromised; however, the collection of passwords and account-related information is a serious concern, especially for those Yahoo users who use the same password on multiple websites. The perpetrators of both cyber attacks remain unknown.
7. Uber's "self-driving" cars are deemed illegal
After Uber began testing its autonomous cars to pick up passengers in San Francisco this week, the California Department of Motor Vehicles (DMV) spoke out to put an end to the road tests. DMV officials threatened legal action if Uber does not comply, asserting: "It is illegal for the company to operate its self-driving vehicles on public roads until it receives an autonomous vehicle testing permit." And so continues the never-ending story of excitable Silicon Valley companies failing to address relevant safety regulations before releasing products to consumers. However, it may be a matter of time before state and federal legislation starts evolving at the same rate as today's technology.
8. Yemeni children still suffering from starvation
UNICEF has recently released new figures regarding the ongoing crisis in Yemen, estimating that 2.2 million Yemeni children are malnourished and in need of urgent care. The organization also states that a Yemeni child dies every 10 minutes due to starvation and other malnutrition-related conditions, including diarrhea and infections. These deaths are in addition to the thousands of children killed by airstrikes in the Saudi-led coalition in Yemen since early 2015.
9. South Sudan is on the verge of genocide
The tense political turmoil in South Sudan has escalated into a civil war over the past 3 years. Extreme violence between two of the region's largest ethnic groups, the Dinka and the Nuer, has already resulted in approximately 50,000 deaths. Furthermore, 70 percent of women report being raped by soldiers and gangs based on their ethnicity. On December 14, 2016, the United Nations Human Rights Council heard a statement from the Commission on Human Rights in South Sudan. An excerpt from the letter reads: "South Sudan stands on the brink of an all-out ethnic civil war, which could destabilize the entire region. Wherever we visited people told us the country would dissolve into another Rwanda-like situation."
10. European Union takes bold stances on wildlife conservation
The European Union (EU) has reviewed and upheld a series of nature directives this week regarding the conservation of birds and natural habitats. The laws collectively protect over 1000 species of birds and 1 million square kilometers of land within the EU. In addition, the European Commission just announced that it will be taking France to court for violating the birds directive, as the nation has greatly contributed to the endangerment of the ortolan bunting.
Until next week: