Race, The World, Inequality
Vogue, my rent money will not be going towards your ridiculous safety pin "solidarity" picks
This has to be a joke, right? They have to be kidding... People in positions of power actually OK'd this?! Is there a gas leak at Vogue?! Are they OK?!
I've seen a lot of White Feminist bullshit in my day, being a feminist who is white myself, but…damn. This just takes the cake.
You may have heard about the safety pin trend that's going on. You've probably also heard how it's at best a half assed attempt at being an ally.
Sorry for fucking you over yet again, people of color! I'll put something shiny on my shirt so you know I'm one of the nice ones! Good luck existing!
But as if that wasn't enough, Vogue just published a post titled "10 Ways to Wear Safety Pins Post-Election and Show Your Support"
It's also a quiet, personal way to support your fellow Americans, especially if you're tired of cruel Facebook posts or scrolling through upsetting memes on Instagram. You can easily fasten any safety pin to your favorite T-shirt or jacket, but there are also dozens of ready-made, sequin-embellished pieces on the market right now, from punk-ish jewelry to pinned-together dresses. Shop them all in the slideshow above, then put your money where your mouth is and take real action against the forces of hate.
It's paired with a slideshow of safety pin fashion items, most of which probably cost the bulk of your rent, if not more.
I just…
For the world's preeminent fashion magazine, Vogue, this was in extremely poor taste.
Before we get to the watered down bullshit excuse of support the whole safety pin thing has become (and we'll be getting to that) are you REALLY going to use this as an opportunity to advertise overpriced jackets? REALLY?!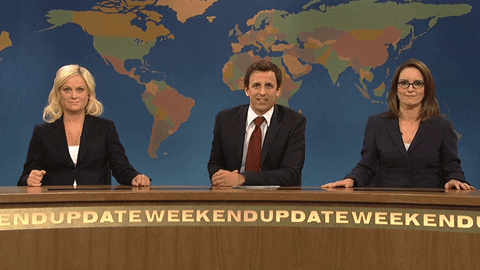 I mean, capitalism has always appropriated moral causes, that's nothing new. Those Dove ads did not cure sexism, clearly. And sure, on the one hand, these are companies looking to make a profit and that's what they're doing with campaigns like that. But on the other hand, if the cultural conversation has shifted enough that corporations think being more progressive will get them more customers? That's pretty good.
But that's not what you're doing here, Vogue. You're not calling attention to an issue. You aren't illuminating anything. You're getting on the bandwagon with an easy gimmick.
Sure, there's that throwaway line about "taking real action," but are these companies donating the profits from these items to charities that work to help the environment or any of the many people who have reason to fear a Trump administration? Are you donating anything, Vogue? Are you taking any "real action"?
I get that people want to help. They want to show support. Even if they don't run across a hate crime in progress, they want to communicate their solidarity. Chances are they're feeling bad because they didn't take a bolder stance earlier.
But you know what, fellow white people? Sometimes you just have to feel shitty for a while. We don't deserve an easy out, here. People of color are damn well within their constantly diminishing rights to feel reticent to trust us, and that's not something that started November 8th. If you see a woman in a headscarf shoot you a nervous look, you remind yourself that we all deserve that, and you sit with that feeling.
That feeling like you've done something wrong. You have. We all have.
You don't earn permanent righteousness after you turn 18. In moments like these, we need to learn a lesson like we're kids who broke a plate playing ball in the house. Because it's more than Grandma's china that's at stake here, it's people's lives.
So no thank you, Vogue, I don't think I need a single earring that somehow costs over $1,000 to "show my support." I need to consistently act and work to build equal rights and protect the people who are about to be in even more danger than usual.