Gender & Identity, Life
11 amazing and inspirational Indian women who make us all proud
Apart from being amazing at their jobs, and occupations - these women have broken barriers and came out stronger than ever.
These influential women have not only out done their counterparts in their industry, but also inspired many millennials to take a stand and speak up. Some have demanded their rights where needed.
[bctt tweet="Some broke barriers by taking up roles despite their genders." username="wearethetempest"]
Others protested against injustice. Some broke barriers by taking up roles despite their genders. Others have crossed borders to become one of the World's Most Influential people.
1. Kirron Kher
Apart from being a National Award winning actress, Kirron Kher is a Member of the Indian Parliament, and a leader for several non-profit movements including Laadi (a campaign against female infanticide) and Roko Cancer (a campaign for cancer awareness.) But this is not only why she's a badass. She's also a badass because she speaks about what is right, in front of the government.
She has spoken about consent (an important concept that not a lot of Indian men seem to be aware of), women's rights, honour killings, and against unjust censorship of valid documentary.
2. Mary Kom
This badass boxer, Mary Kom, won the Olympic Bronze Medal for India, the Gold for National Women's Boxing India, Gold in Asian women's Championship, and about 20 other medals including five World Championship titles that I can't possibly list here. She isn't just a boxer though, this woman took a two year break after a few years as a boxer because she got married and gave birth to two beautiful sons. When she became a mother, the whole world, including her coach were disappointed that she didn't pursue her dreams and instead became an Indian housewife.
But with the support of her husband, Mary Kom decided that she would compete as a boxer again. After vigorous training, Mary Kom came back with a bang and won the silver medal for the Asian Women's Boxing 2008. And later went on to win the bronze in London Olympics 2012. Unfortunately, due to shock from her previous injury, the IAC did not let her participate in 2016's Olympics. Regardless, she's training hard – fighting on. With three little boys tugging behind.
This woman showcases that being a mother doesn't stop a woman from achieving her dreams. Motherhood shouldn't handicap you, it should make you stronger. Mary Kom is a perfect example for all mothers out there waiting to fulfill their dreams.
3. Kangana Ranaut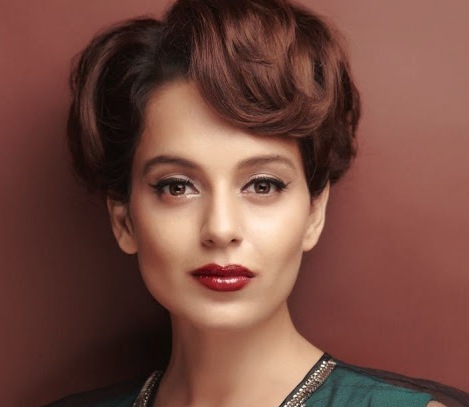 Kangana Ranaut is one of my personal favourites. Despite her rise of fame due to being an impeccable actress (watch Queen or Fashion, or any of her movies tbh), Kangana has never forgotten her values, and principals. Apart from being an National Award winning actress, she gained an immense amount of respect from India and the world, when her sister was a victim of an acid attack and Kangana protected her sister from the harsh eye of the media.  She's an amazing spokesperson that needs to get more credit for her refreshingly honest personality.
[bctt tweet="This badass has gone on record to speak about gender discrimination in Bollywood." username="wearethetempest"]
This badass has gone on record to speak about gender discrimination in Bollywood, has spoken out about being a woman in India, and has rejected brands that condone women to look a certain way. Quite recently, she rejected a popular brand called Fair and Lovely, because she was against telling women that they need to be fair to be lovely. In an interview, she explicitly states how it was unfair to ask an actress about her retirement, when none of the actors in the industry have to even think about retiring. In another viral interview, Kangana is candid about gender bias, struggle of earning money in Bollywood, abuse and nepotism – she really is the Queen of Bollywood.
4. Kiran Bedi
Kiran Bedi was the first Indian woman to join the Indian Police Service as an officer. She mapped out the road for several women to follow her path of serving the country as a police officer. She's currently the Lieutenant Governor of Puducherry (an Indian union territory). Before she became a badass officer though, Bedi was a tennis player who cut her hair short (despite the whole long-hair is prettier on women idea) and went on to win several medals.
[bctt tweet="Kiran Bedi was the first Indian woman to join the Indian Police Service as an officer. " username="wearethetempest"]
After retirement, Bedi established the Navjyoti Delhi Police Foundation which helps house homeless people, drug addicts and provides education for slum kids in India. Apart from this, she is known to be a part of several movements including the Anti-Corruption movement in 2010. This woman inspired and still inspires many women to break the barriers and achieve what they dream of – even if it means that you're the only woman doing it.
5. Dr. Tessy Thomas
India's Missile Woman, Dr. Thomas is the first woman to lead a missile operation in India. Apart from leading many missile projects, she was also honoured for breaking the barriers and being successful in a predominately male occupation. She is a mother of a son, and a wife – she has managed to balance her life as a researcher and a mother beautifully.
[bctt tweet="The media loves to call her Agni Putri, or one born from fire, after the missiles she has helped develop." username="wearethetempest"]
In January 2012, the then Prime Minister Dr. Manmohan Singh told the Indian Science Congress that Tessy is an example of a "woman making her mark in a traditionally male bastion and decisively breaking the glass ceiling." The media loves to call her Agni Putri, or one born from fire, after the missiles she has helped develop.
Another excellent example for the girls of India to pursue their dreams.
6. Irom Sharmila
Irom Sharmila is a badass civil rights activist and political figure who went on the world's longest hunger strike – 16 years. Irom went on a hunger strike in 2000, protesting the Armed Forces (Special Powers) Act in Manipur, India. This act permits the Armed Forces to act at they see fit in times of emergency. However, this act also gives the Armed Forces a lot of power, and lets them get away with a lot as well. In 2000, an incident involving the armed forces took place which caused the forces to kill 10 civilians and injure about 40+ innocent civilians – this incident is also known as the Malom Massacre. After this incident, Irom vowed to not eat or drink til this Act was repealed.
[bctt tweet="Despite all odds, Irom stood up for exactly what she believed." username="wearethetempest"]
However, after going on the longest hunger strike, and being imprisoned a few times, Irom finally broke her strike in August 2016. This does not mean that Irom has stopped fighting. She's going to stand in the elections, once she wins – she will fight harder to revoke this act from Manipur and the North Eastern India.
Despite all odds, Irom stood up for exactly what she believed. She was imprisoned, hated against, and suffered physically for a long time. But now she rests, as she prepared to rip shit apart once she's in power.
7. Neerja Bhanot
Neerja Bhanot was a purser for the Pan Am based in Mumbai, India. She was shot and killed while saving hundreds of passengers on board. On September 5th 1986, a Pan Am flight was hijacked by terrorists at Karachi airport in Pakistan. Bhanot worked with her team to prevent the flight from taking off. She later singlehandedly saved the lives of all the passengers (apart from the few who unfortunately lost their lives).
Apart from this incident, Bhanot left her abusive husband earlier – she stood up against the abuse and divorced him (in a time when it wasn't really acceptable).
Bhanot was the recipient of the Ashoka Chakra Award – which is India's highest gallantry award for bravery in the face of the enemy during peace time. Bhanot is the youngest recipient and the first woman recipient of this award. Since then, she's received many awards from various countries for her bravery and kindness. If you'd like to learn more about her, there's a biopic recently released inspired by her life.
8. Sania Mirza
Sania Mirza is an Indian professional tennis player who is currently ranked No. 1 in the women's doubles rankings. From 2003 until her retirement from singles in 2013, she was ranked by the Women's Tennis Association as India's No. 1 player, both in singles and doubles. Throughout her career, Mirza has established herself as the most successful female Indian tennis player ever and one of the highest-paid and high-profile athletes in the country.
[bctt tweet="Sania Mirza is a professional tennis player who is ranked No. 1 in women's doubles rankings." username="wearethetempest"]
Besides being an exceptional tennis player, Sania faced a lot of controversy for her tennis attire – of wearing shorts while being an Indian Muslim. But she stood up for herself and still stands by her decision to wear the right attire for her sport career.
She has gained an immense following of many other Indian women who have now pursued their careers in sports as well.
9. Sampat Pal Devi
Sampat Pal Devi as a social activist who saves, empowers women and kicks men's asses. She is founder of the Gulabi Gang, a badass Uttar Pradesh-based social organization, works for women welfare and empowerment. At the age of 16, she took a stand against abusive husbands, when her neighbour was a victim of domestic violence. Devi was enraged, and she encouraged women to step out and beat the neighbour's husband – to a point where he publicly had to apologize to his wife.
[bctt tweet="The women carry around bamboo sticks just in case they need to beat yo' ass." username="wearethetempest"]
Since then, Devi has encouraged many women (270,000 to be exact) of the district to join her Gulabi Gang. It got it's name because of the colour of sari the women of this gang wear – a bright pink (Gulabi in Hindi is pink). The women carry around bamboo sticks just in case they need to beat yo' ass (if you're an abusive man). Despite being an all woman team, this team doesn't discriminate against gender – they've spoken up against human rights and male oppression.
These women have addressed all kinds of issues from, dowry, dowry death, rape, child marriages, domestic abuse, desertion, depriving of education, to child molestation and sexual harassment. If you're an abusive human being taking advantage of another human being in their district – make sure you hide yo' ass cause they might just come beat your bum out. Seriously.
10. Arunima Sinha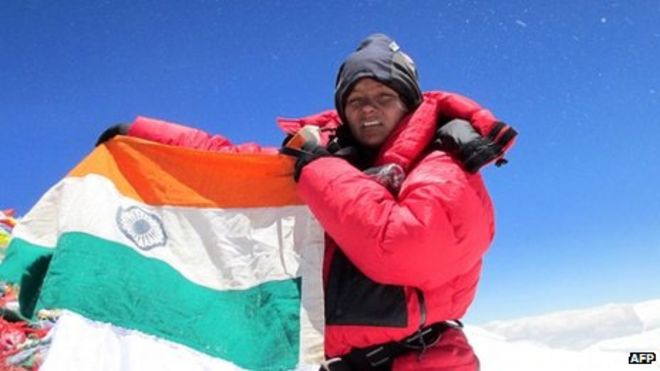 Have you ever thought about climbing the Everest? But you're too afraid because people lose their lives almost everyday trying to achieve it? Well, this badass Arunima, climbed the Everest, and five other peaks around the world – all with just one leg.
That's right, she's the first female amputee in the world to climb the Everest, and the first Indian amputee to to the same. Arunima was a national level volleyball player before she lost her leg. During a train robbery incident, she resisted against the theives and was pushed out of the train while another train was passing. The other train unfortunately damaged her leg, where the only way out was to amputate.
But this didn't stop her from achieving her dreams, Arunima has now conquered the highest peaks around the world including the Everest. Here's a decorated list of all her climbs:  1. Everest in Asia, 2. Kilimanjaro in Africa, 3. Elbrus in Europe, 4. Kosciuszko, Australia and 5. Aconcagua in Argentina.
If you've ever dreamed of climbing an unachievable peak, hopefully this inspires you to go forth and fulfill your dream.
11. Sumitha Krishnan
Sunitha Krishnan is a social worker, who has always been the one to stand up for and help everyone out in anyway possible. Krishnan was a precocious child, she was a badass from the beginning. Her passion for social work became manifested when, at the age of 8 years, she started teaching dance to mentally challenged children. By the age of 12, she was running schools in slums for underprivileged children. At the age of 15, while working on a neo-literacy campaign for the Dalit community, Krishnan was gang raped by eight men. This incident served as the impetus for what she does today.
Instead of breaking down due to the rape, she recovered from the incident. She started an organization called Prajwala, that stands on five pillars: prevention, rescue, rehabilitation, reintegration and advocacy. Her organization has saved and recovered over 12,000 survivors of sex trafficking. She sold her all to build this organization up, to educate and provide a place for the women who had nowhere else to go to.
Since she stands up for a controversial topic, she's been a victim of constant threats and attacks. She's been hit multiple times, pushed, threatened to be killed. But Sunitha stands firmly on her ground and says that these attacks only make her stronger.
Sumitha has also used her platform by creating various movies to raise more awareness of sex trafficking in India.
I hope this inspires at least one of you to go ahead and grab the opportunity to fulfill your dreams. To stand up for what you believe in and to speak out when it's needed. #MakeItAwkward