TV Shows, Pop Culture
The 5 most incredible bi+ female characters on TV
Bi+ women are told that their sexuality isn't real, or that it's just a phase and they'll eventually realize they're either gay or straight.
If you're not familiar with what the term bi+ entails, author and advocate Robyn Ochs defines it as "the potential to be attracted – romantically and/or sexually – to people of more than one sex and/or gender, not necessarily at the same time, not necessarily in the same way, and not necessarily to the same degree." People of the bi+ community may choose from a variety of labels to describe this sexual orientation, such as bisexual, polysexual, pansexual, omnisexual or fluid. They may also choose not to label it at all.
Often, bi+ women face a number of frustrating obstacles. Many times, their sexualities are erased in a phenomenon known as bisexual erasure, where our heteronormative society tries to box them up as either straight or lesbian. Bi+ women are told that their sexuality isn't real, or that it's just a phase and they'll eventually realize they're either gay or straight. Bisexuals are also stereotyped as being promiscuous. These kinds of stereotypes erase the visibility of bisexual people and reduce their access to the kind of resources they need.
So, I decided to highlight some of my favorite bi+ women on television. They're complex, contradictory, nuanced and have their own life stories and love stories.
1. Annalise Keating in How to Get Away With Murder
Played by the incandescent Viola Davis, Annalise Keating is a prominent criminal defence attorney and a law professor at the prestigious Middleton University. Beautiful, brilliant and cutting, Annalise can make and take down enemies all in the same breath. When she isn't cutting people to pieces in the courtroom, she's advising her five favourite students on how to dispose of dead bodies—literally. Annalise gets embroiled in conspiracies, murders, kidnappings and blackmail, and she takes it all on like it's just another day. It's rare that we get to see a woman of colour as fleshed out and complicated as Annalise written onscreen. But a cool bonus?
Annalise is bisexual.
It's revealed in a brilliant season two twist when Annalise kisses her ex-girlfriend, lawyer Eve Rothlo (Famke Janssen) after scenes full of tension. Annalise and Eve share a complicated history laced with betrayals and heartbreak. No matter how many more bodies Annalise helps to bury, I think a lot of viewers are rooting for Annalise and Eve to find their happy ending.
2. Korra and Asami in Avatar: Legend of Korra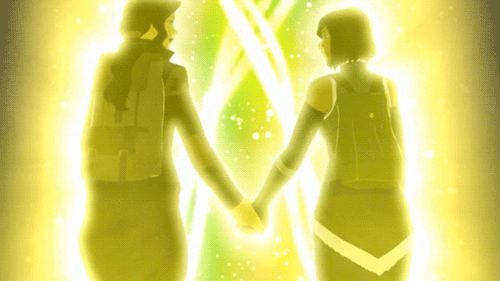 A lot of viewers never thought the day would come when a show marketed towards a pre-teen demographic would happily and proudly show a same-sex couple. But that's just what Legend of Korra did with Korra and Asami. Korra and Asami start off on a less than friendly note, with both of them placed on opposite ends of a love triangle and busy sparring over a boy, Mako. Mako dates Asami, then Korra, then Asami…as you can see, it's kind of messy.
But somewhere during their journey, Korra and Asami begin to share an honest and sweet friendship that eventually becomes something more. It was a groundbreaking moment for children's television when Korra and Asami held hands and walked off into their shared future, presumably to live happily ever after. This Nickelodeon show still got its fairytale ending.
3. Alison DiLaurentis in Pretty Little Liars
Alison DiLaurentis (Sasha Pieterse) is the definition of complicated. A former Queen Bee with a penchant for lying and manipulation, she's beautiful, charming and used to getting what she wants. But an attempt on her life leads her to fake her own death and go into hiding, and she becomes the center of a series of events that haunts her friends and her friends for years to come.
One of the most interesting things about Alison is how multifaceted she can be. Nobody is completely sure they know Alison, or understand her motives. The closest she has is best friend Emily Fields (Shay Mitchell), whose feelings she shamelessly manipulates in earlier seasons, until she finds herself returning them. I'm still rooting for Ali to find her happy ending and a way back to Emily.
4. Ellaria Sand in Game of Thrones
A major character since season five, Ellaria Sand (Indira Varma) is Prince Oberyn Martell's lover and a bastard of House Uller, a title she wears openly. She is confident enough to verbally spar with Cersei Lannister, and knows what she wants, whether it's revenge or a prostitute.
Where Ellaria falls on Game of Thrones's mesh of alliances is complex, but I'm here for any woman bold enough to declare war on the Lannisters. I'm ready for Queen Cersei to meet her match.
5. Kalinda Sharma in The Good Wife
The Good Wife came to a close a few months ago with its series finale, but plenty of viewers were most sad to see fan favorite character Kalinda Sharma (Archie Panjabi) go.
For seven seasons, Kalinda was a fiery, fashionable and fierce landmark of the show. She was insightful, intelligent and looked exceptionally good in leather. She's known for not always taking the legal route when it comes to tackling her law firm's cases. She juggles her job, her friendship with Alicia Florrick—the eponymous Good Wife—and her relationships. She was openly bisexual and not above using her beauty to get where she needed to go. Kalinda may not have been the show's good wife, but she got to be something better.
I hope you take a moment to read about some of the problems that the bisexual community continues to face while celebrating how far they've come. They deserve representation, and some of the amazing ladies above are a wonderful step in the right direction.