Food & Drinks, Life
The 9 best restaurants to get authentic Cuban food in Miami
I want real, authentic Cuban cuisine. And now I'm going to tell you where to get it.
Gone are the days of decent Cuban restaurants on every corner. The old guard of authentic Cuban restaurants, run by Cubans, with Cuban chefs in the cooking in the kitchen, and waiters in vests and bowties officially belong to a bygone era. At some point, all the old places I grew up going to either closed down, or were sold and reopened under new management.
All of a sudden, all the Cuban food was being made my Central Americans. And it wasn't the same. But the tide has changed again, thank God. And a new generation of Cubans have entered the restaurant business.
I take my Cuban food very seriously, so I've dedicated a lot of time and energy scoping out authentic Cuban food throughout the city. None of this overpriced, mediocre stuff that they shill out to tourists and others who don't know any better. None of the fake fancy gourmet fusion stuff. I want real, authentic Cuban cuisine. And now I'm going to tell you where to get it. 
What's best: the batido de mamey (mamey milkshake), the pan con lechón, and the ropa vieja. Overall it's the best place to buy authentic Cuban food, and you know it's legit because it's all counter-service. There is a direct correlation between how good a Cuban restaurant is and how many tables it has. This one only has tables outside, and no table service. In the last couple of years it's become a chain, but the best food is still at the original on Flagler & 57th Avenue.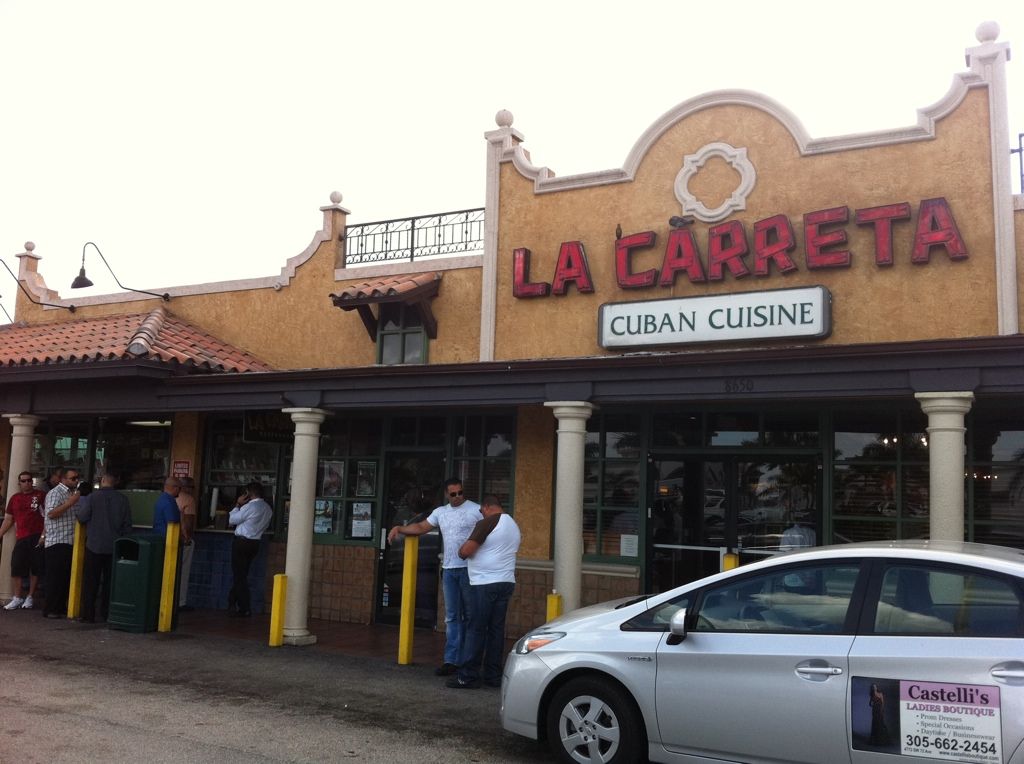 What's best: the cortadito (Cuban coffee with a little milk). The food at this La Carreta is pretty decent. Just don't ever buy the croquetas, they're disgustingly terrible. But what I like the most about this place is standing in the coffee window and ordering a cafecito for here.
When the weather drops in the winter (it didn't at all last year), they sell Cuban hot chocolate. Which is basically regular hot chocolate with condensed milk added. It's basically crack. If you want to level up your game though, try mixing your coffee of your choice with the hot chocolate. You'll thank me later.
What's best: the fresh Cuban bread. In this bakery you have to walk straight into the back and get the bread straight out of the oven yourself. It's already in the paper wrapper Cuban bread comes in, so you're not touching it with your bare hands. But this is literally the freshest bread in town.
Unfortunately you basically need to eat it immediately, because like all authentic Cuban bread, it will be hard as a rock in a few hours. The trick to storing the bread and keeping it soft is to put it inside two plastic bags, making sure to get all the air out, and then storing it in the microwave.
What's best: the pastelito de guayaba (guava pastries). I take my pastelitos de guayaba seriously af. I won't eat them from most bakeries. I'm that much of a snob. I have also been known to take the top layer of pastry off to compensate for the lack of guayaba.
But the first time I saw a tray of pastries from this bakery it felt like the heavens parted. It had been almost 20 years since I'd seen something so beautiful. Guayaba was oozing out of them. It was glorious. And then on a separate occasion I had the croquetas de jamon and they were pretty good too. Not the best I've ever had, but again I'm a snob
What's best: fried pork rinds. This place used to be home to the best pan con lechon in town. But then some new person bought it and off course messed with a good thing. You know this place is super legit because they don't have a menu. They just have markings on the tile of the counter showing you what size the sandwiches are. They still have great sandwiches, the pan con lechon was pretty good last time I went.
What they are best at is, hands down, their pork rinds. I refuse to eat the stuff that comes in a bag at the grocery store because I can't figure out what they are. But the stuff at this place is so good, it's literally making my mouth water just thinking about it.
What's best: the fritas (if your stomach can handle them, they're basically hamburgers with Cuban sausage mixed in), or the bowls. This is one of the new innovations in Cuban cuisine that I don't hate. These guys took the model of Chicken Kitchen and applied it to Cuban food.
As for the quality of the food, it's super cheap, the way Cuban food should be. I can honestly say the food at this place is super legit. They also have several locations across town, and even at the airport.
What's best: tostones. This is one of the last old school Cuban restaurants still around today, that isn't a tourist trap. The place has looked exactly the same my whole life. And it's nowhere near as tacky as Versailles. And the food is super legit. It's the only sit-down Cuban restaurant with table service that I'll actually willingly eat at.
Yes, I am that obnoxious. When out-of-towners ask for a restaurant recommendation, this is what I always say. The food has been consistently good since forever. You can't go wrong with Habana Vieja.
What's best: the people watching.
Honestly, the food is adequate at best and the bakery is terrible. But Versailles is the place to be from 2:00-3:30AM on Friday and Saturday nights for the rowdy AF, straight from the club, middle-aged crowd that will have you laughing so hard you cry. I know, because I've literally cried from laughing so hard at the antics I overheard.
Also, early morning or after lunch is the best time to stop by the coffee window to observe the OG regulars conferencing and solving the world's problems.
What's best: the breakfast which is available all day. Cuban breakfast is usually some combination of eggs, Cuban bread toast, coffee, and OJ. This is probably the best Cuban breakfast in town and for a great price. It's also a great place to eat at on your way back from the beach.
I think it's meant to be a lunch/sandwich place for people who work in the area. But I don't personally know anyone who goes there and doesn't order the breakfast.
I actually can't think of anyone I know having ever ordered anything but the breakfast here. That's how legendary it is.