Beauty, Lookbook
Moving to Qatar forced me to step up my glam game
I suddenly found myself in the world of makeup slayers.
When I was 24, I moved to the Doha – which is the only city in Qatar, a tiny country consisting of mostly desert – a tiny desert peninsula of a country that's basically a mole on the Western side of Saudi Arabia. I was going to start a graduate program at Qatar University's Gulf Studies program – and that is pretty much all I knew about Doha before I landed.
It wasn't long before I soon found out that in this tiny little Arab country, glam is some serious business.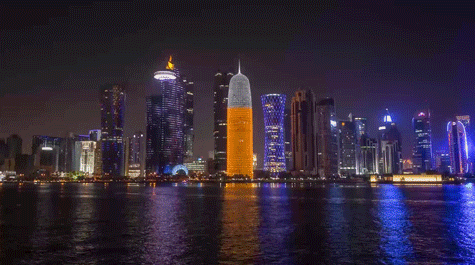 Back home in Miami, athleisure was a thing way before it was "the" thing. Flip flops, shorts, and a tank top is always appropriate. Women tend to wear their hair natural because of the humidity. And no one has ever heard of makeup setting spray. Because, well, women rarely wear a full face of makeup. Hell, only the really artsy girls know how to apply a cat-eye, and even then, they're not applying wings every day.
To this day, my uniform consists of a white t-shirt, leggings, and flats in Miami. I'll add a scarf and/or cardigan if seasonally appropriate. I do love a pair of 6′ heels, but I only bust them out for special occasions. When I was in college, I wore Crocs exclusively. And nobody ever cared.
However, in Doha, when I was out and about, everybody stared. Everywhere. All the time. As an American, conditioned to look sheepish if caught staring, it was really unnerving. I missed the ability to disappear in a crowd.
[bctt tweet="I missed the ability to disappear in a crowd." username="wearethetempest"]
In American culture, it's much more common than in other cultures for women not wear makeup every day. Campus culture in the US, where students live on campus, lends itself to the athleisure and no-makeup look. And if as a professional you choose not to wear makeup, it's usually attributed to liberal ideals. This dates back to the heyday of the hippies, when women burned bras and refused to shave their body hair.
[bctt tweet="Some people don't believe that it is Islamically permissible to wear makeup at all." username="wearethetempest"]
On the opposite side of the spectrum, in Hispanic culture, makeup is a rite of passage, and a requirement for work – and especially on special occasions. Girls start playing with their mom's makeup young; their abuelas usually get them their own to play with well before 10. Nowadays, most girls get their makeup done professionally for their confirmation. My niece is four, and her mom took her to get her makeup done at the MAC counter for her ballet recital this year. While this is by no means the norm, according to my sister-in-law, her mother raised her that way.
The funny thing is that in Doha – and most of the Arab world – if you don't wear makeup on the daily, it's usually because you're more on the conservative side. Some people don't believe that it is Islamically permissible to wear makeup at all, period. Therefore women from conservative families are pressured to appear a certain way in public. Otherwise, contouring, insta-brows, and fake lashes are part of an 'everyday' look. In Doha, you see fake lashes everyday, but they're an absolute must for anything more dressy.
[bctt tweet="Contouring, insta-brows, and fake lashes are part of an 'everyday' look." username="wearethetempest"]
So when I showed up on the first day of class with a clean face, to the local girls, I read like I didn't take care of myself. Whenever they had the chance they'd cock their heads to the side and tell me, "you look so much prettier with makeup!"
I also noticed a stark difference in the way the locals and other Arabs (the majority of the people around me) related to me as one of the only two Americans, compared to the other women in my program who presented themselves differently. The girls that wore makeup, styled their hair, and wore more stylish clothes were being treated with a hell of a lot more leniency. It's not that I don't like wearing makeup, cute clothes, or high heels. It's that, until then, they didn't seem appropriate for a university setting. My parents were really strict when I was growing up, and it felt like they had "you go to school to learn" on loop during my formative years.
[bctt tweet="Back then, I had no idea what I was buying. " username="wearethetempest"]
Determined not to play myself, I asked a friend of mine from school that used to work at Sephora in the States to shepherd me through the process of getting my first full "big-girl" face. From the moment we walked into Sephora, she immediately took charge. She showed me the stuff she would most highly recommend I buy: the Makeup Forever HD Foundation, primer, pressed powder, and loose powder. The Nars blush (no, I don't know if it was Orgasm, I didn't know Orgasm was a thing until recently).
Back then, I had no idea what I was buying. Years later I would go on to discover these are some of the best products on the market. I have been known to repeatedly preach the miracle of Makeup Forever. I'm that passionate about the brand's products now.
I also bought my first foundation brush, a blush brush, even brush cleaner.
I think I bought my Guerlain perfume that day too. That was the first perfume that I put the work into finding. And it changed my life forever. I used to be really apathetic about scents, but in Doha, it's socially acceptable to walk around in a cloud of your own perfume. Everyone around you is walking around in their own cloud of designer scents, both men and women. I'm talking about scent trails of Chanel being left behind. There are worse things in life than walking through a cloud of Mademoiselle some woman left behind. 
[bctt tweet="There are worse things in life than walking thru a cloud of Mademoiselle some woman left. " username="wearethetempest"]
Armed with my new arsenal of beauty products, my morning routine went from "shower and go" to something way, way more complex almost overnight.
First thing in the morning, straight out of the shower, I put on moisturizer. Then I would start with my Makeup Forever primer and wait a good long while, because it's such a huge pain if you put on your foundation before it dries completely. Then I would put on either my pressed powder, or in later incarnations of this routine, my BB cream (I think that's when I added an SPF).
Afterwards, depending on the era, I'd pencil in my eyebrows, put on my three different eyeliners (black liquid on top, black pencil upper water line, bronze/brown for the lower lid), several coats of mascara, blush, Chapstick, lipstick, and finishing powder. Last but not least, my cloud of perfume. Because I believe walking around in a cloud of beautiful smells is a wonderful luxury that can turn even the most frowny-frown upside down.
All-in-all, I think this process takes about 20-30 minutes. That's 20-30 more minutes than I used to spend on my face before. This is especially annoying, because you have to let things sit before you apply the next layer. You learn to approach applying liquid eyeliner like a spiritual experience, letting blind faith guide your hand. You really do have to just let the Force guide you. It's the only way to level up your eyeliner game.
[bctt tweet="You really do have to just let the Force guide you. " username="wearethetempest"]
Around that time, I also started getting serious about skin care – especially since I turned 25. So, my morning routine went from just washing my face in the shower to something way more complicated in a short amount of time.
Suddenly, for the first time in my life, I was applying a full face of makeup 6-7 days a week.
I was even styling my hair, where until then, I'd basically lived in buns 6 days a week.
I even started to wear heels regularly.
And it was addicting.
When you look good, you feel good. And this was only further reinforced every time I caught glimpse of myself in the mirror. It was empowering AF. When you go from wearing makeup only on special occasions to wearing a full face everyday, it can feel like body armor.
There's something empowering about seeing the physical embodiment of "your best foot forward" reflected in the mirror several times a day. 
[bctt tweet="Every time I caught glimpse of myself in the mirror, it was empowering AF." username="wearethetempest"]
Before going to Doha, I would always cower from confrontation. And though it still makes me super uncomfortable, I've learned that most of the time, people only push you around if you let them. My armor helped me to not let them.
As members of a society, or several societies, we need to interact constructively with others to survive. Therefore, I cannot stress enough how important it is for people to conscientious about how they portray themselves, especially when they're in a new place and not around people who share the same cultural context/baggage.
[bctt tweet="We can pretend like that doesn't matter, but we don't live isolated lives." username="wearethetempest"]
Be conscientious of the image you present of yourself. How we carry ourselves is how we express who we are to others. I know there's a lot of "don't judge a book by its cover" zen whatever, but let's be real. How we look is how others perceive us.
We can pretend like that doesn't matter, but we don't live isolated lives.
I've always said that the one thing I hated about makeup is that it lulls you into this false sense of security. You get used to seeing your face look flawless. Then when you wash it off, you look in the mirror and your stomach sinks a little and you realize, "Oh, jk. This is what I actually look like."
That is never a fun moment.
After spending only a few months wearing makeup daily, it took me days to be able to feel comfortable leaving the house bare-faced. I spent my first summer back home on a self-imposed makeup detox, because I became so addicted to my armor, I couldn't leave home without it. And I'm one of the lucky ones: people at home are used to seeing me with a clean face.
I know that it wouldn't be as easy for a lot of other women, where social pressure would make it almost impossible. I'm not advocating for either one, full face or none at all.
But I do want us to think about why we make the choice we do. Are we doing it for ourselves? Or because society pressures us one way or another?