TV Shows, Pop Culture
25 things you know to be true if you're addicted to "Shameless"
Once you start watching, you really can't stop. And you're not sorry about it.
Showtime's Shameless is more than just a television show. It's a lifestyle.
If you watch Shameless, you probably know how absolutely addicting it is. In that first episode, you're first struck by how gritty and real and messy the Gallagher family's life is. Then you love how raunchy the show is.
In the end, you stay because there's something genuine and wonderful about the heart of the family at the core of the show. At this point, you feel like a Gallagher, and you, too, must be part of the family.
This show has somehow managed to obtain that elusive "it" factor that nobody can really describe. There's magic in this series, I'm telling you. The acting, the writing, the sets, the chemistry — it all just works. And it's perfect.
So, in preparation for Season 7 of Shameless, let's review all the things that made us fall in love with the Gallagher's in the first place.
*SOME SPOILERS LAY AHEAD*
1. Fiona is a badass
The eldest Gallagher, Fiona is fierce and loving and wild and she always keeps the family together. She shows insane courage every time she takes on a new challenge in the name of family. Emmy Rossum deserves all the awards for giving life to this phenomenal character.
2. Lip and Ian's brotherly bond
Ugh, these two are amazing. Their brotherhood characterizes the essence of the show. These two talented actors, Cam Monaghan and Jeremy Allen White have managed to create such a genuine connection between the brothers and we all love to watch it on screen.
3. Kev and V are #relationshipgoals
Through all their dysfunction and crazy, these two are the only couple in it for the long haul in this show. We don't know what's coming with this whole thrupple storyline with Kev, V, and Svetlana, but it's sure to be a blast. Steve Howey and Shanola Hampton always pull through the wildest storylines with grace and humor. They give the Gallagher's hope, and they definitely give us heart-eyes.
P.S How could Ethel leave Kev and V?? She was definitely a highlight and we wish we could have seen more of her
 4. Frank is kind of a genius
He's the worst, yes, but his cunning always gets him what he wants, and it never fails to evoke some sort of emotion in us. How does he always end up on top of the world? We don't know. And we were especially puzzled over his relationship with Bianca. Because how? All we know is William H Macy is undeniably talented.
5. And you always want to believe Frank
No matter how bad he gets, no matter how awful or cruel or disappointing he is, every time he claims he wants to be better, a small part of you still kinda wants to believe him. When he got sick, his whole family made peace with his impending death, but let's be honest, we never actually want him gone. Sure, you'll deny you have any hope for him. But you're lying.
6. Sheila calls to your spirit
Come on, she's just so funny. She's so carefree and naive and she brings a strange lightness to some of the more heavy and dark plots of the show. Joan Cusack always puts on an amazing performance as Sheila, the lovable, but absolutely weird and twisted neighbor.
7. Monica's whirlwhind appearances
She never fails to leave an impact… usually a destructive one at that. And you're always a so uneasy about her sudden arrivals into her childrens' lives. Because they've been through so much, and she always brings so much misery. She also brings out some of the greatest acting from the Gallagher brood.
8. And then there's Steve/Jimmy/whatever he's called now
In the beginning, you loved him. If we're being honest, on some level, you kind of want Fiona and Jimmy to work out as a couple. But Fiona's moving on with her life… so we should too, right? RIGHT?
9. Fiona's love life
…is a rollercoaster. She was dating, then cheating, then married, then divorced, then engaged, so it's difficult to keep up. We can only imagine what's going to happen in this upcoming season. But I think we can all agree that Sean was not right for our Fiona. And that Robbie was the worst of the lot.
10. You want Kev to be your best friend
He's arguably the funniest character in the show, with a heart of gold and a protective instinct that makes you want a hug.
11. You want to party with Fiona and V
Okay, so you want to party with the Gallagher's in general. But with everyone else, who knows what kind of trouble you're getting into? But these besties just like to let loose and have fun, and you want to be with them!!
12. Ian melts your heart
Monaghan is a tremendous actor who gives so much depth to his character. Ian Gallagher is a subtle kind of strong and brave. He has tackled some emotional and complicated storylines. Ian Gallagher is not characterized solely by his sexual orientation, nor by his bipolar disorder. He's just a boy, dealing with life as it hits him, and he is loved all the more for it.
13. Lip is a dreamboat
He's alarmingly intelligent. He's broody and sarcastic and fearless. And good-looking.  And tell me you don't feel butterflies every time he's holding Liam, because he takes his responsibility of being the older brother seriously. Something about his blunt and witty attitude is just so charming. It has been captivating to watch Lip's journey from the neighborhood to university, still struggling with the chaos of his life.
14. Why do girls always hurt Lip??
We love Lip so much and it was so difficult to watch Karen manipulate and mess with Lip for so long. And then there was Helene who strung him along to his own self-destruction. There was Amanda in between, who was fine, if not a bit controlling. And it's just like, ugh. Why?
15. Gallavich is your OTP
It would be an understatement to say these two have been through a lot together. Mickey Milkovich and Ian Gallagher (Galla-vich) defeated so many odds and somehow ended up a somewhat functional couple (at least for their neighborhood). And they were so good together! Ian and Mickey and Ian and Mickey and Ian and Mickey and IAN AND MICKEY!
Which made this so heartbreaking:
16. And then there's Mandy Milkovich
We love her for being Ian's best friend. We love her for being Lip's best girlfriend in the show's run so far. She's totally badass and cool and wow, she's been through so much pain and tragedy, and she's only stronger and more fierce because of it all. Her sporadic appearances since she left the show as a regular are always so great, and we hope she'll make an appearance this season!
17. Svetlana is lowkey the hidden gem of the show
We didn't know what to expect when Svetlana first entered the stage, but she very quickly became a scene-stealer and we've found ourselves looking forward to every moment she's on screen. She's aggressively funny and blunt. She's definitely become a part of the family at this point.
18. Debbie's transformation
Debbie started out cute. Emma Rose Kenney showed depth in her acting rare for someone her age. Debbie was the little sister; she was responsible, always worrying about and taking care of the family; albeit, she was a little unhinged.
And then she became this. They really do grow up too fast.
19. The evolution of Carl
Carl was kinda barely human at first, with his lack of emotion and strangely violent tendencies. We have watched Carl grow up in the past 6 seasons, and Ethan Cutkowsky excels at demonstrating Carl's morbid humor.
And then Carl turned his life around and found new direction. This happened and he basically became your favorite.
20. Sammi is actually a crazy person
No, really. You might try your best, but you just can't like her. She's the worst. Reporting Ian and Carl was evil and she'll never be a real Gallagher. Thank goodness she's gone.
The actual worst.
21. Chuckie needs serious support
You feel kind of bad for him. His mother is psychotic Sammi. He clearly needs some kind of professional support.
At least he provides the laughs.
22. Liam is adorable
The youngest Gallagher sibling, he's already been through more trauma than a toddler should. And I mean, really, he's way too cute.
23. Gallaghers fiercely protect their own
Remember when they went to save Liam?? Golden moment, honestly.
Ugh, this family is so beautiful.
24. You want so badly to be part of this crew!
Who wouldn't, honestly? The cast themselves have really created their own family.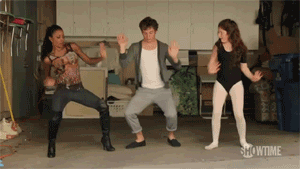 25. South side rules
Yup.
Get hyped for the season.
Shameless gives us a captivating, crazy narrative of a family living every day for survival in South Side, Chicago. We love the Gallaghers and no matter how racy or shocking or wild a plot twist might be, we are here for them every episode.