We get it, Wednesdays can be tough to get through. In an effort to keep up with the world's ever-changing news landscape, we've put together the top 10 headlines from the week so you can stay on top of things.
1. Trump vs. Hillary: the first presidential debate takes place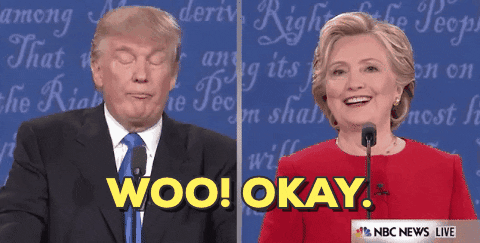 Hillary Clinton and Donald Trump faced off in the first presidential debate on Monday Night. Lester Holt moderated as Clinton and Trump discussed racism, the job market, nuclear arms, clean energy, and various personal controversies on both sides. The general consensus is that Clinton, who was clearly well-prepared and cool as a cucumber no matter how many times Trump interrupted her, cleaned the floor with Trump, who gave meandering answers and made a few easily fact-checked untrue statements.
The next debate will take place on Sunday, October 9.
2. Golf legend Arnold Palmer dies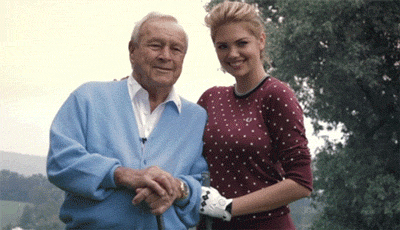 Arnold Palmer, the "King" of golf, passed away Sunday evening at the age of 87. He was the first person to make $1 million playing golf. A highly decorated athlete, Palmer won the Masters Tournament 4 times and over 90 other tournaments. You may also know him from his signature (and absolutely delicious) drink: the half iced tea, half lemonade concoction.
Palmer is survived by his family, including his wife Kit, their two daughters, and many grand/great grandchildren.
3. Bomb threat and civil unrest in Charlotte, North Carolina
The police department headquarters in Charlotte-Mecklenburg was evacuated when a "suspicious package" was found on Tuesday afternoon. Following the fatal shooting of African-American man Keith Lamont Scott, the city has been experiencing protests and civil unrest for the past week. According to the bomb squad, the "package" was about the size of a shoe box. The streets around the headquarters have been closed off until the bomb squad can resolve the situation.
4. Shooter strikes in Burlington, Washington shopping mall
Five people died in a shooting that took place last Friday at Cascade Mall in Burlington, Washington. The suspect, 20 year old Arcan Cetin, was arrested near his home on Saturday. He was identified after police investigated tips and looked over mall surveillance videos. According to court records, Cetin has a criminal record, including several domestic violence charges. Friends have described him as "socially awkward" and "introverted," and that he had sexist views towards women.
The victims thus far have been identified as Sarai Lara, 16, Shayla Martin, 52, Wilton Eagan, 61, Belinda Galde, 64, and Beatrice Dotson, 95 (the latter two are daughter and mother.)
5. Scientific history made after the first "three person baby" is announced.
Five months ago, a baby boy was born with DNA from not two, but three different people. The controversial technique is only legal in the UK, but it allows parents with rare and serious genetic mutations to have children without passing on their conditions. The boy's mother carries the genes for Leigh Syndrome, and while she herself is healthy, her first two children died of the condition. Dr. John Zhang used the mother's nuclear DNA, mitochondrial DNA from a donor, and the father's sperm. The baby has the mutation on less than 1% of his mitochondria; doctors claim this shouldn't cause him any future problems.
6. More than 500 million Yahoo accounts are hacked
Things aren't going so well for Yahoo. On Thursday the company finally confirmed that information associated with at least 500 million user accounts was stolen. The hacked data includes names, email addresses, telephone numbers, dates of birth, hashed passwords (the vast majority with bcrypt) and, in some cases, encrypted or unencrypted security questions and answers.
Yahoo hasn't exactly been at the forefront when it comes to security. They were late in implementing higher security,  as well as IM encryption and encryption of data center traffic.
This probably isn't the greatest news for Verizon, which recently bought Yahoo for $ 4.8 billion. Verizon told the BBC it had learned of the hack "within the last two days" and said it had "limited information".
7. Elon Musk wants to take us all to Mars
Moving apartments is difficult enough, but Elon Musk plans to make all of humankind move planets. Musk has a new wave of innovation headed our way with his plans, aptly titled "SpaceX Mars Colonization." Musk's presentation "Making Humans a Multi-planetary Species," was the highlight of the 67th International Astronautical Congress in Guadalajara, Mexico.
As he explains it, travel to Mars would look like this: $200,000 per ticket (with plans to drop the prices to $100,000 over time), spaceships with a capacity to fit 100 people, and more than a 1000 spaceships departing every 26 months.
8. Gun violence in America: mass shooting in Houston
A man wearing a a vintage military uniform and Nazi emblems shot commuters on Monday, wounding nine people. Police said the shooter, DeSai, used a .45-caliber handgun during the assault. 2,600 rounds of ammunition and a Thompson submachine gun were also found in his car. A search of his home turned up additional weapons, several pieces of military regalia, and other items dating back to the Civil War.
DeSai held a bachelor's in psychology from the University of Houston and a law degree from the University of Tulsa, where he graduated in 1998, according to the Texas State Bar Association. DeSai was killed during an exchange of gunfire, after he started shooting.
9. Shrines in Timbuktu are destroyed, ICC sentences perpetrator to 9 years in jail
Timbuktu used to be a centre of Islamic learning during its golden age in the 15th and 16th centuries. The Ansar Dine brigade (an Islamist group linked to Al-Qaeda) destroyed 14 ancient shrines across Timbuktu in 2012, wiping out centuries of tradition that had attracted pilgrims from across Africa and the Middle East. Islamist leader Ahmad al-Faqi al-Mahdi was sentenced to nine years in jail for taking part in their demolition.
Mahdi pleaded guilty to intentionally attacking nine of Timbuktu's mausoleums as well as the centuries-old door of the city's Sidi Yahia mosque during the jihadist takeover of northern Mali in 2012. He "begged for the community's forgiveness," his lawyer claims, and that he "lost his way" as head of Ansar Dine's "Hisbah" brigade.
This is the first case where the International Criminal Court has focused on cultural destruction as a war crime.
10. Tulsa shooting and charge for police officer
Officer Betty Shelby shot and killed 40-year-old Terence Crutcher, after she arrived on a street and found his SUV stopped in the middle of a road last week. Shelby has been charged with felony manslaughter in the first degree. The charges come after days of protests in Tulsa and Charlotte.
In the aftermath of the Tulsa shooting, Officer Shelby said Mr. Crutcher had not followed her commands and she had opened fire when he began to reach into his car window.
The shooting was recorded by a police helicopter and a cruiser camera and it shows Crutcher approaching the driver's side of the SUV. Crutcher appears to lower his hands and place them on the vehicle, but, is stung by a stun gun and shot. He was left unattended for 2 minutes before an officer attended to him.
Until next week: