When I think of films made by or starring Indian people, nuanced representations of lesbian and bisexual women isn't something that comes to mind. Instead, I would say Indian films bring to mind song and dance numbers, bright colors, melodrama, slapstick humor, and a lot of romance—the overwhelming majority of it, of course, between a man and a woman.
That's not to say that gay romances – and gay people – haven't carved a place in Indian and diasporic cinema.  Their loves and lives have long been a part of Indian history and Indian cinema. Here are four wonderful films made by Indian filmmakers that put queer Indian women and their stories at the forefront.
1. Fire (1996)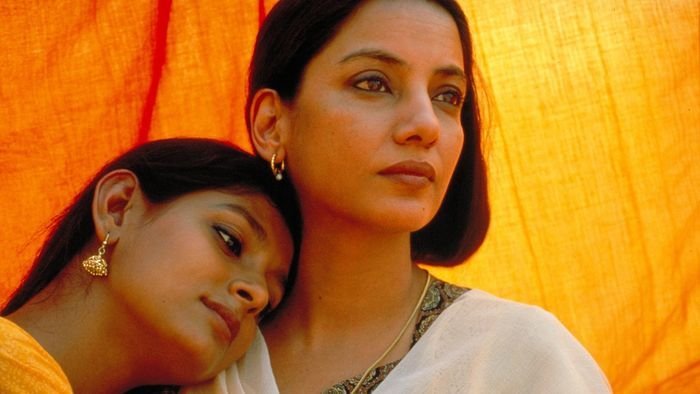 I can't discuss queer Indian women in film without bringing up Fire, directed by Indo-Canadian filmmaker Deepa Mehta. The first in Mehta's Elements trilogy of films, Fire is one of India's earliest and most explicit onscreen depictions of same-sex love, and predictably garnered immense controversy.
The film follows two women, Radha (Shabana Azmi) and Sita (Nandita Das), two sister-in-laws trapped not only in unsatisfying arranged marriages with a pair of brothers but under the same crowded, stuffy roof in New Delhi, where they tend to household chores and a paralyzed mother-in-law. They bond over the difficulties that lace both their lives; Radha and her husband Ashok (Kulbhushan Kharbanda) share a sexless marriage. Sita finds her new husband Jatin (Javed Jaffrey) would rather spend the nights with his mistress, leaving her feeling alone and neglected. Slowly, Radha and Sita find a warmth in each other that threatens to light their lives aflame.
Give Fire a chance if you enjoy artsy films with a tinge of melodrama.
2. Chutney Popcorn (1999)
Directed by and starring Indo-Canadian director Nisha Ganatra, Chutney Popcorn is fun, cute and soaked in late 1990s charm. Reena (Nisha Ganatra) is an aspiring photographer and henna artist, who like a lot of Indian girls I know, simultaneously wants to disregard what her mother (Madhur Jaffrey) thinks while desperately wanting her approval. But Reena's story is a little more complicated. Reena is a lesbian and in a relationship with her spunky college roommate Lisa (Jill Hennessy). Reena's lesbian identity is glossed over by her mother, who eggs Indian boys towards her with a particularly desi ebullience. Her relationship with her beautiful older sister Sarita (Sakina Jaffrey) is equally dissatisfying, with both women feeling like neither understands them.
This comes to a head when Sarita finds out that she's infertile. Reena, coming to an unflattering realization about her own stubbornness and selfishness, volunteers to carry her sister's baby. Baby-faced and whimsical, Reena seems completely unprepared to carry a child, a fact that may forever change her blossoming romance with Lisa.
Give Chutney Popcorn a try if you want a sweet, earnest romance peppered in with just the right amount of Indian spice.
3. The Journey (2004)
Unlike the urban settings of the previous films in this list, The Journey, directed by Ligy J. Pullappally, is a Malayalam language film located in a lush and rural Kerala locale. Despite the ever-present greenery, there is an atmosphere of palpable tension. It is here that two girls, Delilah (Shruthy Menon) and Kiran (Suhasini V. Nair), a Catholic and Hindu respectively, grow up as best friends. The relationship the girls share is intimate and loving, and the romance that eventually blooms between them seems like the most natural of progressions. But the love they share has no name and no precedence, and if discovered, threatens to rip the seams of their small, uncertain world apart.
The Journey may be the film for you if you like contemplative cinema studded with beautiful scenery and quiet, but luminous performances.
4. Nina's Heavenly Delights (2006)
There must be something about girls named Lisa.
At least, it's pretty obvious that Nina Shah (Shelley Conn) thinks so. Nina is a beautiful Indian-Scottish cook who returns home after the death of her father. Estranged from the rest of her family, Nina finds herself awkwardly treading familiar territory with disapproving relatives and lingering reminders of her past. But she's stunned to find out something she never knew about her father: he put up half his restaurant as collateral for a horse race. Who owns the other half? Lisa (Laura Fraser), who is pretty, doe-eyed and wants to sell the restaurant.
Desperate to save her father's restaurant, Nina teams up with Lisa to enter and win the 'Best in the West Curry Competition'. Their romance sparkles among cooking montages and snappy dialogues. Nina's Heavenly Delights may hit the perfect notes for you if you like rom-coms flavored with a good helping of heart.
We could all use a good hour plopped by the TV, celebrating a nuanced portrayal of lesbian and bi brown women.