Fashion, Lookbook
8 young women in fashion design empowering women in need
While the fashion industry is known to take advantage of the poor, these women are using fashion to empower
Most of these women are under 30 years of age.  When they kick-started their businesses, profit was not the only thing on their minds. In fact, solving pressing social causes was their main concern, and their stories prove that fashion brands are about more than just empowering the women who wear them.
Although the fashion industry has been relentlessly criticized for taking advantage of poor minorities, fashion can also be an empowering savior for many women in need if it's used as a means to that end. Through their brands, each of the following women combines their need for looking beautiful with their human instinct of helping others in need. Ultimately, they bring their passion for fashion and their love of philanthropy together for the well-being of themselves and society at large.
Sarah Beydoun's bags are distinctive statement pieces – as is the cause behind her whole business. The women behind the masterpieces of Sarah's Bag are underprivileged women who have just come out of prison. Sarah had initially met these women while conducting research for her master's degree in Sociology before starting her business in 2000.
Since then, she has been providing many women with a sustainable source of income after they have served their time in prison – offering them not only financial independence, but also social integration. Sarah's Bag spices up contemporary fashion with their unique designs that follow traditional techniques and the craftsmanship of old artisans. When asked about her advice to young women thinking of launching their own startups, she states that the most important thing besides being unique is supporting a social cause to "increase the notoriety of the brand."
2. Noura Galal of Rafeya
Noura partners with underprivileged women to make customizable outfits for women to suit every preference. Her brand, Rafeya, creates everyday ensembles with a touch of ethnic detail and involves customers in the process of design. She met her now partners in an underprivileged neighborhood in Cairo where she works for Educate Me, an educational NGO,  as an Operations Manager. This inspired her to start her own social enterprise.
The women of Rafeya could already sew. They even used to have some products of their own, but their problem was that they could not develop their skills or market their pieces. Noura started Rafeya with the aim of giving each woman up to 20% of Rafeya's profit instead of a paycheck at the end of every month. Although Rafeya is still young, it might be starting a ripple effect. Rafeya's women are already dreaming big  and feel driven to have a place of their own and start their own model of Noura's Rafeya.
Lama prides herself on her esoteric lines of fine and silver jewelry pieces that steer clear from  mainstream trends. Her silver line, for example, draws from Peruvian Inca, Maasai, and Arabian native art and has earned her an international following of culturally curious clients. The Lama Hourani brand is all about "connecting the world, building bridges and creating a cultural mesh", and the impact of Lama's business extends inwardly to her own society as well. 
The team behind her exquisite jewelry collections are a group of women who have been with her for more than 15 years. She outsources jewelry assembling and embroidery tasks to underprivileged Jordanian women and provides work and training for the disabled. For her efforts, she was appointed one of the Young Global Leaders at the 2012 World Economic Forum.
4.   Shannon Keith of Sudara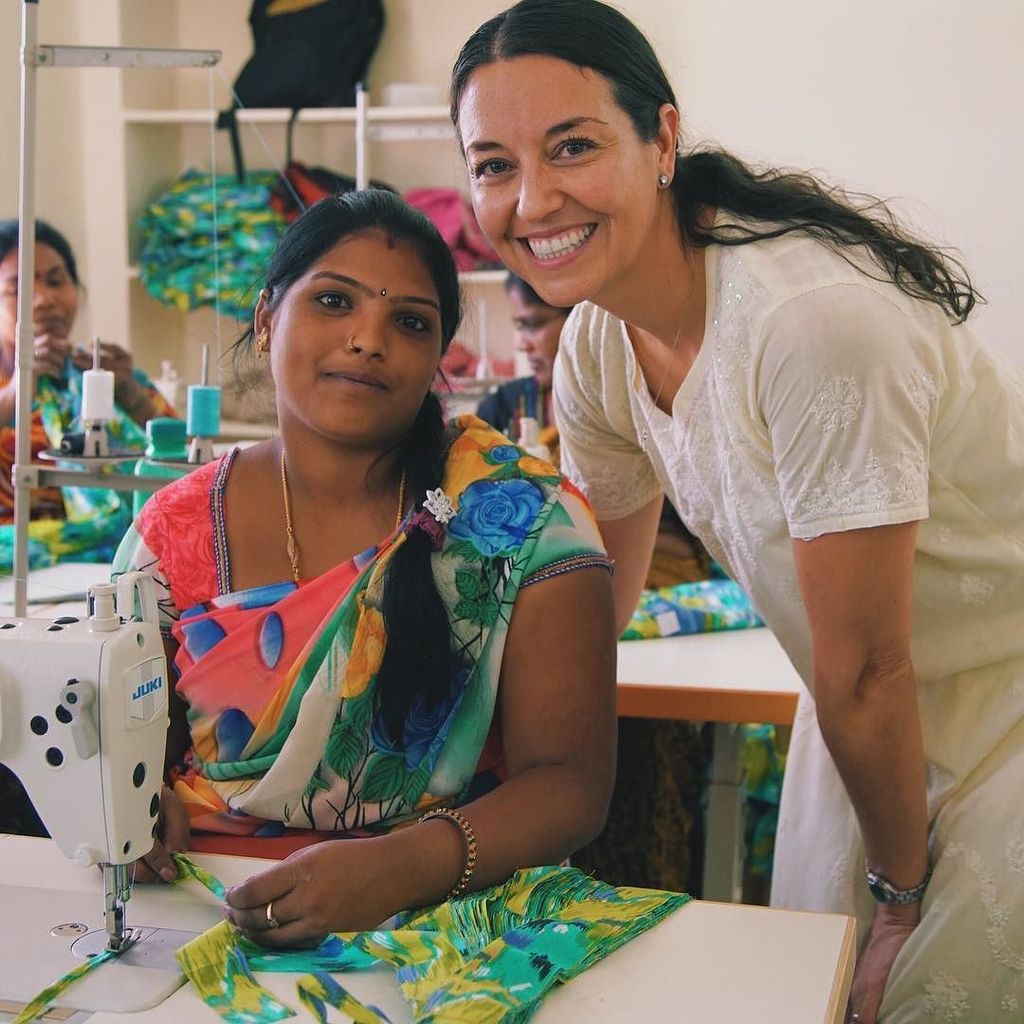 In 2005, Shannon took a trip to India only to find herself appalled by the miserable conditions women were facing in impoverished societies. Out of abject poverty and squalor, she witnessed one too many families were selling their little girls into sex trade. She felt a personal connection with the children and mothers stuck in this heartbreaking situation, and in cooperation with a group of partners in India, Shannon started to save as many women as she could from a dismal future of sex slavery.
The women of Sudara are first taught how to sew and then are employed to make beautiful Indian design inspired apparel like these PUNJAMMIES. Over the years, Sudara has been able to employ more than 200 women across various sewing centers in India and has managed to free them and their 300 hundred children from sex slavery.
In collaboration with an Egyptian charity organization, Heba Fares launched a fashion line under her brand Naomi Hanem and called it Ehky Ya Shahrazad. The initiative is about helping women in prison pay off the debts they have been imprisoned over.  Heba felt she could do something to help with this very common situation in underprivileged Egyptian societies. Within these situations, poor women, who are often the breadwinners for their families, have to sign off on big checks to help marry off their daughters or help their husbands. Being unable to pay back the debts, they are put in prison.
Heba wanted to make sure that by the time the women pay off their debts and get out of prison, they have learned and mastered new skills that would help them start a new career. The work is done entirely from inside the prison and supervised by Heba remotely, so the women are able to produce beautiful and high quality pieces featuring unique hand drawings and cues from bedouin designs after receiving intensive training.
6. Zeina Abou Chabaan of Palestyle
Fed up with the corporate world, Zeina left her three-year-old corporate job and started looking for a vocation that was more meaningful to her. In 2007, she got the idea of helping Palestinian women in refugee camps in a way that empowers them without making them feel like a subject of pity or deserving of charity. She combined her love for fashion design and her country women and started Palestyle in 2009 with her brother after visiting the Al Baqaa refugee camp in Jordan. Zeina couldn't forget the inhumane living conditions she witnessed in the camp and how the women couldn't find job opportunities despite being well educated.
So far, Zeina's social luxury fashion label has empowered over 400 Palestinian women within the refugee camps of Jordan, Lebanon and Palestine by giving them a percentage of sales. The clothes, handbags, and accessories the women make are all signed off with Arabic calligraphy, distinct Palestinian embroidery, and inspirations from the Palestinian culture.
7. Reese Fernandez-Ruiz of Rags2Riches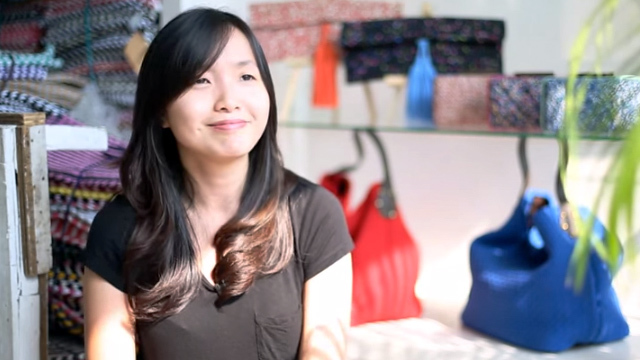 Reese is one of the most successful and most recognized social entrepreneurs in the Philippines and Asia. She started Rags2Riches a little after completing university to help village women artisans lift their families out of poverty by crafting urban artisanal home and fashion accessories from recycled and indigenous materials.
Before Rags2Riches, the women of Payatas, one of the Philippines largest dump sites, had been scavenging waste to find and recycle scrap pieces of fabric to make rugs and sell them. However, middlemen came in to control the women's supply of fabric and access to the market, thus diminishing their profit to less than 20 cents USD per day. In collaboration with her partners, Reese started Rags2Riches not only to help the women reclaim access to the market, but also to offer them financial and hands-on training as well as health care. This has provided them with the means to long-term financial and personal success.
In 2011, Ayesha started Fashion Compassion as an online fashion retailer for socially responsible brands that empower women from marginalized communities. Every time an item is bought from Fashion Compassion, part of the money goes to feed a schoolgirl in a developing country. Ayesha showcases the products of brands mentioned above as well as many others on her website and says she finds inspiration in each of the founders of these brands.
According to Ayesha, combining fashion and philanthropy ignites her soul. She has always loved both fields but never knew what to do with them until she interned at the Grameen Bank in Bangladesh when she was 16. Seeing how the bank changed the lives of thousands of marginalized women and, in turn, their societies, she got the idea of using her passion for fashion to alleviate poverty stricken girls and women in Pakistan and the Middle East where she grew up.