Books, Pop Culture
Harry Potter and the Cursed Child is anything but magical
It didn't have the original humor, creativity, and story-telling of the series.
I still remember when the last Harry Potter book came out. My sisters and I went to the nearby Walmart (because our town didn't have a bookstore) to buy 4 copies at midnight. I stayed up for the next 9 hours reading Harry Potter and the Deathly Hallows, grasping onto every word. My heart broke at every major death (RIP DOBBY & HEWDIG & FRED) and I felt a sad satisfaction as I finished the final pages of the best book series ever written in the world.
Harry Potter means to me, as it does to many of us, so much more than 7 great books. I met some of my best friends in a Harry Potter chatroom (that we named SPEW) and some of my best memories relate to the series in some way. So when JK Rowling decided to release Harry Potter and the Cursed Child, parts 1 & 2 on Harry's 36th birthday … I was VERY EXCITED.
I picked up the books on July 31st around 3pm.
I was unreasonably excited and felt like a pre-teen/teenager again. It's been 9 years since a new HP book came out. IT FELT SO GOOD. Also Snapchat had a Harry filter and it made everything so much better.
I immediately started reading. The difference between a novel and a play was quickly apparent. The pacing was weird and (obviously) the dialogue was central to the story. But… I wasn't drawn in or compelled. I was becoming more and more disappointed as I read on.
Without giving too much away, the play begins 19 years post-Battle of Hogwarts as Harry and Ginny's son Albus Severus Potter (come on) boards the Hogwarts Express for his first year. Albus is scared of being sorted in Slytherin. None of this is news — this is the shitty epilogue we were all forced to read at the end of book 7.
And since most of us are competent humans, it's 100000% predictable that, hey, Albus gets sorted into Slytherin.
And then the play fast-forwards through his first 3 years and his solidified BFFness with Scorpius Malfoy (seriously?) and his growing isolation from his hot-shot celebrity father. All that happens in like 4 pages.
And then Albus and Scorpius have a bad idea to save Cedric from dying and go back in time to screw some shit up so Harry has to find them and save them/the world because that's what The Boy Who Lived does. Except he's doing it for his son because #fatherhood.
Oh also at some point Harry tells Albus he wishes he wasn't his son or something because apparently men are incapable of expressing feelings so they just say things that are clearly not okay to say to your children.
OH THERE'S ALSO THIS AWESOME SCENE THAT INVOLVES THE "ANYTHING OFF THE TROLLEY, DEARS?" WITCH GOING H.A.M. BECAUSE ALBUS AND SCORPIUS ARE TRYING TO ESCAPE FROM THE HOGWARTS EXPRESS.
About 250 pages into the book, I actually left to go get dinner. I remember not sleeping or eating for hours during HP 5, 6, and 7. So me leaving before finishing should tell you a lot. Anyway, when I came back, my cat had taken my seat.
From this page onward, the play sort of picked up. It was slightly more amusing. Particularly because of Draco and Ron, who were both brilliant and true-to-themselves which I very much appreciated. Also Ron has the BEST quote of the play. I won't post it here, because out of context it makes no sense. But just know it happened and that it's lovely and that you should read the play for that purpose alone.
[bctt tweet="Just read it, but certainly consider yourself warned." username="wearethetempest"]
When I finished the Cursed Child, I didn't really feel much different. I hadn't been moved by the text like I had with the original series. I was, very plainly, disappointed. It didn't have the original humor, creativity, and story-telling. And, honestly, I feel like I'm betraying my childhood by admitting the script didn't have that Harry Potter magic we all adore.
I imagine the pacing and plot may suit a play much more than a sit-down reading. J.K. Rowling herself insists that this story needed to be told as a play. Unfortunately it's not showing in America anytime soon, so I won't be able to confirm/deny that. So I can't help but feel let down and wanting more.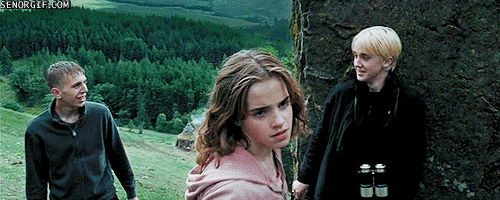 Overall, the play is maybe a commentary on parenting or growing up or how weird teenagers are or what not to name your children. And, because of my undying love for the original series – I recommend this read to any Harry Potter fan. It's a bit nostalgic and all Ron-Hermione shippers will appreciate the timelessness of their love (because it is the only true love other than Buffy+Angel). And it's really quite fun. Don't expect any deep meaning or intention from JKR – reread the series if you're looking for a compelling and powerful story. Just read the Cursed Child as it is, and certainly consider yourself warned.