When you google "Saudi Arabia women", the first thing you get is eleven things women in Saudi Arabia cannot do or other articles talking about how women in Saudi Arabia can't drive.
Yes, we can't drive, and this is a harsh truth we live with every day, but we are so much more than a single entity with "can't drive" pasted on our foreheads.
Here are some of the many brilliant women who represent all facets of what it means to be a Saudi woman.
1. Raha Moharrak
Raha Moharrak is both the first Saudi woman and one of the youngest Arabs (having been 25 at the time) to conquer Mount Everest. When she isn't climbing mountains and breaking records, Moharrak is a graphic designer and inspiration to many women. She's says, "I really don't care about being the first, so long as it inspires someone else to be second."
2. Hayat Sindi
One of the Saudi ballers in the scientific communities, meet Hayat Sindi. Sindi was named one of Newsweek's "150 Women Who Shake the World", was a UNESCO Goodwill Ambassador in 2012, and was also named a 2011 Emerging Explorer by the National Geographic Society. These acclaims are a result of Dr. Sindi's contributions as she is the founder and President of the Institute for Imagination and Ingenuity (i2institute), in Jeddah, Saudi Arabia, and a co-founder and director of 'Diagnostics for All', a 'non-profit enterprise saving lives through the creation of low-cost, easy-to-use, point-of-care diagnostic devices designed specifically for the developing world.'
3. Maha Al-Muneef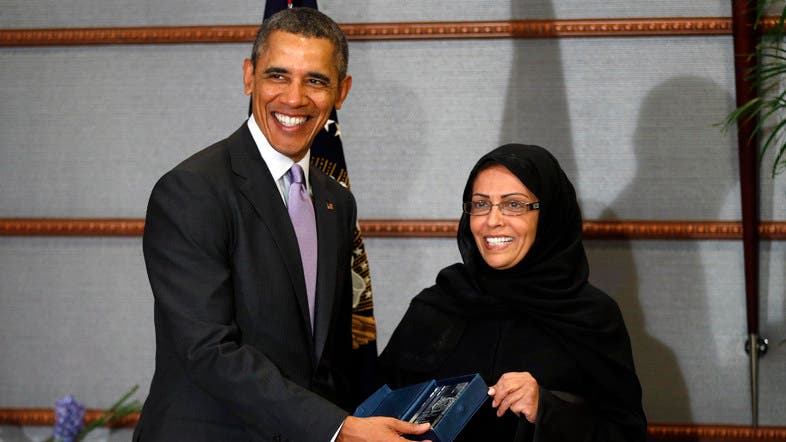 Why yes, that is President Obama. Dr. Al-Muneef is an Executive Director of the National Family Safety Program and councilor of the International Society for the Prevention of Child Abuse and Neglect. She was one of the main forces pushing for the country's first laws to criminalize violence against women and children. Oh, and she's also one of first 30 women appointed to be a part of the Majlis al-Shura (the Consultative Assembly).
4.  Razan Alazzouni 
Emma Roberts, Ashley Tisdale, Paris Hilton, Giuliana Rancic, Elizabeth Banks, and Kelly Osbourne. What do all these celebrities have in common? Only that Alazzouni has styled each of them. The Saudi designer studied at the School of Museum of Fine Arts and Tufts University in Boston, Massachusetts, and has been steadily changing the fashion world ever since.
She has a popular tumblr  where she posts many of her designs, and she frequently holds galleries in Saudi Arabia showcasing her work. In an interview with Arab News she said, "Women in our region have their minds set on creating their own trends and making a place for them in the fashion scene. I admire their uniqueness." Check out some of her designs on her blog, and feast your eyes on the exquisite beauty.
5. Halah Alhamrani
Saudi women don't have to break world records to prove diversity. Halah Alhamrani has her own business as a kick-boxing instructor in Jeddah, with a fierce tagline of "fight like a girl" on her Instagram page. In addition to kickboxing, her business helps girls learn boxing, Calisthenics, and Crossfit.
Saudi women cover all grounds in the country, from sciences to fashion to sports. We are more than the label Western media wants to place on us. We are strong, fierce, beautiful, and beyond powerful. We see limitations, but we don't let those limitations stop us. We take those limitations and turn them into opportunities.
Don't tell us we can't drive because we can do so much more than that. Check out Mithaal for more brilliant Saudi women inspirations.
Get The Tempest in your inbox. Read more exclusives like this in our weekly newsletter.
https://thetempest.co/?p=26208